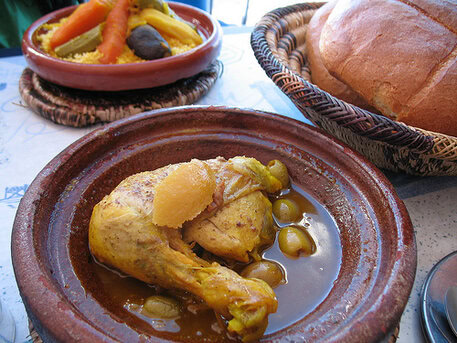 After much jetlag, dilly-dally, and time spent getting my head back on straight and my body back into the habit of working, cooking and such and such, I'm pleased to share with you my extraordinary culinary adventures in Morocco. Many thanks to all those who offered great suggestions on my previous posts about the trip. I would never have guessed on my own that the cinnamon and powdered sugar-dusted pastries bastilla actually had meat inside them (but would have been delighted anyhow — they're delicious!).More things that were delicious: Fresh-squeezed orange juice has never tasted better. Thanks to the good fortune of Morocco's climate and the ubiquity of orange and grapefruit juice stands in Marrakesh, I was able to drink up for 3 dirhams a glass (about 39 cents). While orange juice may have been plentiful and cheap, its antithesis, booze, was not. Morocco has some great wines, too, but you'll have to pay a pretty penny for a bottle of it in a super-swank bar or restaurant, or else trek out to a supermarket for one. I consider my vacation a relatively healthy one given this. Plus, all the mint tea. I love green tea, and I can think of few better companions for a hot, sweetened glass of it than a fresh mint sprig.
in Moroccan society, genuine hospitality comes with a glass of hot mint tea
Before one goes giddy at the prospect of rivers of free Vitamin C as I did though, beware. All those tall orange trees that line the busy streets throughout the city? Those don't have oranges on them. They're bitter oranges. Let me demonstrate, invoking my inner Peter, Paul & Mary:
Orange tree, very pretty, and the orange flower is sweet
but the fruit of the poor orange (plucked from a tree on a street in Marrakesh)
is impossible to eat.
Just so you know, I tasted this, the sourest orange in the world, before handing it over to Jordan, and had my camera poised for the moment. At least photo-op success is still sweet.Moving on to the so-so: After a few days of eating in restaurants and stands in Marrakesh, I was able to identify three classes of flavors that most dishes fell into. These consisted of intensely pungent, salty and/or spicy (i.e. chicken tajine with preserved lemon and olives, pictured at top), super-sweet (i.e. lamb tajine with raisins and couscous, bastilla) and subtle bordering on bland if not properly executed (i.e. vegetable couscous, harira).
Harira, aka "Moroccan soup," made with saffron, rice, beans and bits of meat and thickened with flour and tomato paste
a typical Moroccan salad
This breakdown, however, does not include all the salads, or first-course vegetable dishes. In Morocco, a salad can be served hot, cold or anywhere in between, just so long as it consists of vegetables. Unlike the main courses I sampled, salads also range wildly in variety and were never spiced too heavily or sparsely. These could be anything from dressed chunks of cold beets to a warm roasted green pepper and tomato dip. My favorite one from the trip were thick slices of eggplant, cooked (possibly fried?) until its surfaces were golden and crispy and its purple skins thin and crinkly as nori. When cut into, the warm eggplant flesh was just the color and texture of pudding. Joy.This was eaten at a typical food stand in the Djemaa el Fna, the main square of the city's medina, which alights every night with the sounds and sights of drummers, storytellers, snake charmers, magicians and food stands — rows and rows full of them. Often offering the same fare as its neighbor, each stand has a long, communal table for casual dining by tourists and locals alike. (Although, if you're a tourist, the experience is likely to be much different than the local's.)
where the magic happens: the Djemaa el Fna
salads, roast chicken and bastilla (the sugared flat-looking pastries in the center) at a fully-loaded stand
If I'm making this all sound like a pretty magical fairy tale, well, it was. But here's where the sinister troll rears its ugly head. Or should I say, the boiled-to-death, de-eyeballed sheep's head. I kid you not.By the time Jordan and I decided it was a good idea to try the other signature dish of the Djemaa el Fna culinary repertoire, we were on a relative food high, and hungry for more flavors. So we sat down at one of the sheep's head stands and waited for our main course, which we smartly decided to share. As we nibbled on bread, we watched the cook lift a massive head out from a vat of steaming liquid and plop it onto a butcher block. With one deft swipe of a cleaver he broke the head into two clean halves. It must have been boiled for the better part of the day. From this steaming mass he pulled out the animal's jaw and tossed it into a nearby bucket — nearby us, that is. He then began to chop little bits off the head with a corner of the knife. Our plate consisted of a thorough sampling of these parts. There were some brains. To add to our disenchantment, this meal — like many in Moroccan cuisine — is meant to be eaten only with bread and no utensils, so we were hyper-aware of every minute particle that ended up in our mouths. Yes, some of it looked and tasted more or less like falling-apart stewed lamb meat, which was fine. But in my opinion, so not worth it. When I turned over a strip of meat and saw a greyish, thick and blubbery skin I was finished.
"everything is consumed except for the eyeballs," my Lonely Planet Morocco book informed
proof that sheep aren't the cleverest of animals
our plate
As if the whole sheep head/brains/teeth spectacle weren't uncomfortable enough, the food here was almot as creepy as the guys at the table who were leering at us the entire time. So after putting a few dirhams on the table, we left for the safety of another stand we'd visited the night before, and ordered a pile of french fries and kebabs. Pretty good ones, too.
grilled mixed meat and veggie skewers with a few merguez sausages on the side
So I guess that takes me full circle with my little survey of Marrakeshi eats. But really, it was all good in terms of culinary exploration. My first recipe inspired from the journey is likely to be a warm winter salad. I like the broad application of the word salad here. It makes me realize that I don't need to have expensive, highly perishable, shipped-from-California little greens to get my vitamins in the dead of winter when I can just cook up some squash and perhaps mushrooms. Can't wait.
But first, the oddyssey continues: Eating out in Essaouaria, the Berber mountain villages, desert, and my cooking class at La Maison Arabe are soon to be posted!
the pink clay city at sunset