I know what you're thinking. Your mouth is slightly agape. You read Brie and apples and your brain is skipping along at a jovial clip, then comes "risotto" and everything comes to a crashing halt against a tangled mental wire fence. Does that go? Apples in risotto? Remember, this is coming from a person who recently tried to put beets in pudding.In all honesty, this is something that I wasn't too sure was going to work. But I was prepared to take the punishment of eating it for dinner, alone, if so. It came to me after a friend talked up a dish served at one of her favorite brunch spots: Pancakes with chunks of Brie and fresh raspberries tossed into the batter. (Dismayed that they only served the specialty occasionally and in the summer, she gushed longingly over the way the berries and cheese oozed onto the plate.) Now, after trying this risotto, not only do I think that the apples — cooked only slightly but melding nearly invisibly into the risotto — worked, but I can't wait until summer to try the same trick with peaches & Brie. And the combinations won't stop there.
unlikely panfellows
I realize there is a degree of blasphemy involved in adding a decidedly French cheese, like Brie, to a staunchly Italian dish, risotto. To further the confusion, I added a strip of bacon to the onions while they softened for just a little extra savoriness. (I guess my mind was still on brunch food.) Let's just call it a melting pot of cuisines. To my slight surprise, the chunks of Brie retained none of their original shape after a few seconds' stirring.The warm, cooked rice and tart apple enveloped their flavor and texture wholly. Smooth, white streaks that remained from larger pieces of Brie added to the dish's overall creaminess. It was a win-win integration. Were any party to be snubbed or not represented equally, I couldn't taste it.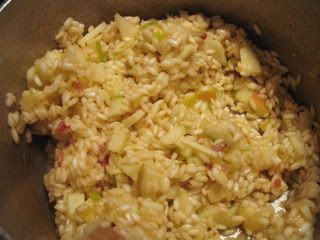 apples soften up to the risotto
Because of the subtle flavor of Brie, I resisted the urge to add more garnish, like herbs or a dusting of grated cheese. As it turned out, the few leftover slices of tart, raw apples came in good use at the end for just this purpose. This dish might take some getting used to for some — there's smoky and tart; salty and sweet. As for me, I think I'm in the honeymoon stage.
Green Apple & Brie Risotto
(makes about 4 servings)
1 1/4 cups arborio rice
3 1/2 cups low-sodium chicken stock (or more)
about 1/2 large Granny Smith apple, cored and chopped to thin pieces
4 oz Brie, white casing trimmed and cut to small chunks
1 medium onion, finely chopped
1 strip of bacon, finely chopped
juice of 1/2 lemon
1 teaspoon lemon zest
1-2 tablespoons extra-virgin olive oil
salt and black pepper to taste
Squeeze lemon half onto the chopped apples while you prepare the rest of the ingredients. Heat the chicken stock in a covered pan on low.
In a medium-sized heavy-bottomed pot, heat the olive oil. Add the onions and bacon and cook on medium-low, stirring for 6-8 minutes. Turn heat down if onions begin to brown. Add the rice and stir for another 1-2 minutes. Add a ladleful of the chicken stock and stir occasionally until it has absorbed. Repeat adding chicken stock and stirring occasionally, one ladleful at a time, until the stock is used up by a little over one half. Add the apples. Continue cooking, stirring occasionally, until the stock has been used up and the risotto is cooked through but slightly al dente in the center.
Taste for seasoning, adding salt and pepper as desired. (Add more stock or water if necessary.) Remove from heat and add the Brie. Stir once more, and serve immediately.
Cost Calculator
(for 4 servings)
1 1/4 cups arborio rice (at $2.69/lb): $1.35
1/2 Granny Smith apple (at $0.39/each): $0.20
4 oz Brie (at $4.99/lb): $2.50
3 1/2 cups free-range chicken stock (at $2.99/32 oz. carton): $2.00
1 medium onion (at $1/lb): $0.25
1 strip bacon (at $4/pack): $0.25
1/2 lemon: $0.17
1 tablespoon extra-virgin olive oil, salt and pepper: $0.25
Total: $6.97
Health Factor






Six brownie points: This may not be the one to reach for when you're on a diet. But after seeing risotto made on a couple of episodes of The Iron Chef, I'm deeply suspicious about the butter content of all restaurant-made risottos. I thought the whole miracle of risotto was that the process of drawing out the starches (a tiring one, at that) resulted in a creaminess such that one might achieve by adding loads of cream and butter. Anyway, in this version of it, you've got your extra fat in the form of silken, oozy, double-creme-y Brie. You've also got a little extra with the bacon. Balancing out the fattiness is the acidic green apple, which offers Vitamin C, potassium and fiber and trace amounts of just about everything else.