My favorite nut (besides, perhaps, my mother) is the buttery cashew. For a long time I thought there was no better way to enjoy them than alone, roasted, straight out of the can and without the pesky accompaniment of lesser nuts mixed in. A little coat of salt, maybe. But that was all. This may or may not still be the ultimate cashew experience, but recently I've discovered this nut to be a little more versatile to add.

In wintertime, there's no better dessert-making comfort than a simple fruit crisp. Its ease of preparation and satisfying pie-like results seem almost impossibly duel attributes. The trick works with any fruit, too — apple, peach, fig, etc. But the amount of butter required to create that crumbly, brown sugary "crisp" topping is a downer. Yes, I get glum when I realize how much fat is required to make things I love to eat — and as a result I often cut down from what a recipe calls for, usually to unsatisfactory outcomes.

creamy, silky, luxurious, rich, wonderful, nutty cashews
Tinkering around with the formula one day I decided to say so long to butter, sugar and oats, and welcome crushed, naturally crispy (and fatty) nuts. My next question regarded how I was going to make the nuts bind together to form a uniform crust without all that butter. Then I remembered its classic sweet pairing, honey.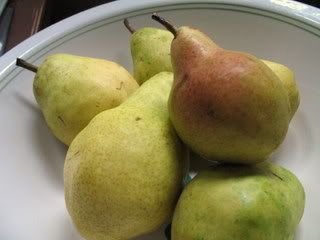 the mild taste of pear paired nicely with the similarly mild cashew
This dessert is quick and informal — it's something you can do when you don't feel like just crunching into that apple or digging into that bag of nuts. There's probably never going to be a much of a following for a messy sprinkle of stuff on top of sliced apples amongst formal pastry chefs. When it's this plain and simple, the only place you'll likely get to enjoy it baked fresh is at home.

… but since I had an apple on hand, I made two versions: apple and pear
Honey-Cashew Fruit Crisps
(makes 4 individual ramekins)
4 cups thinly sliced tart apples or slightly underripe pears (may also be substituted with berries or cored stone fruit)
1 1/2 tablespoons sugar
1/4 teaspoon cinnamon
3/4 cup roasted unsalted cashew halves and pieces
3 tablespoons honey
Preheat oven to 375 degrees. Toss the fruit with the sugar and cinnamon. Spoon into individual baking ramekins. In another bowl, stir the cashews with the honey until evenly coated. Spread cashew mixture on top of the fruit. Bake for 15 minutes, or until the cashews are golden and only just slightly browned at parts (not burnt). Remove from heat and let cool for 5-10 minutes before serving.
Cost Calculator
(for 4 servings)
2 pears and 1 large apple (at $1.25/lb): $1.88
3/4 cup cashew halves and pieces (at $3.99/10 oz.): $1.20
3 tablespoons honey: $0.40
1 1/2 tablespoons sugar, 1/4 teaspoon cinnamon: $0.10
Total: $4.58
Five brownie points: There's some conflicting theories as to the health value of nuts, in general. The opposition points to its high fat content, some even advising not to eat a relatively fatty nut (unfortunately) like the cashew more than three servings per week. Others laud their high protein as well as copper, magnesium and heart-healthy antioxidants. I'm not exactly sure what to make of all of it but I'm biased since I enjoy their taste so much. The one thing for sure is that they're a lot healthier than crumbs of butter and sugar.