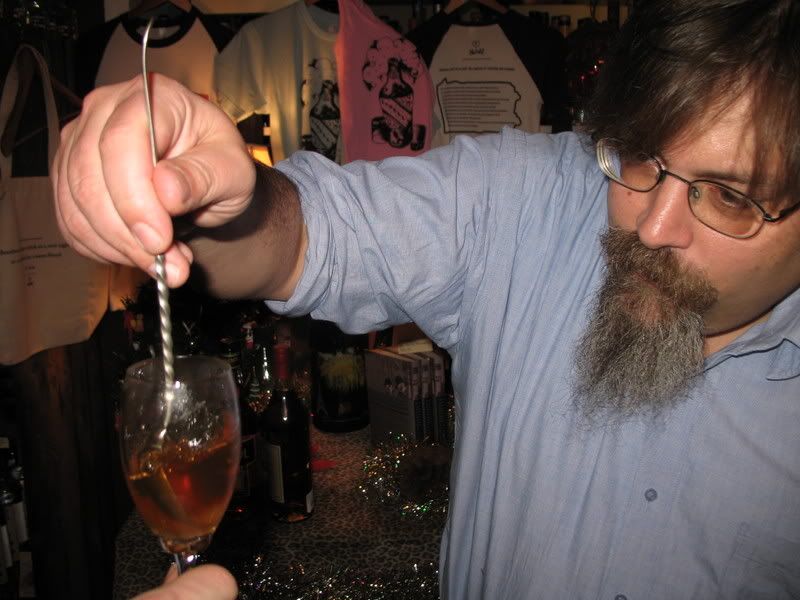 If it's the season for cuddling up with hot toddies and passing family reunions by in a drunken haze, then I've just sampled two very merry ways to embrace the holiday "spirit." Local author and cocktail expert David Wondrich paid a visit to Lenell's liquor store last Saturday, and I was not alone in imbibing. The quaint, small store was transformed into a a lively cocktail hour as David offered drinks featured in his latest book, Imbibed: From Absinthe Cocktail to Whiskey Smash, a Salute in Stories and Drinks to "Professor" Jerry Thomas, Pioneer of the American Bar. As its title suggests, it pays tribute to the modern father of making sousing look swank.

For his first demonstration, David prepared a few rounds of Tom & Jerrys, a rich Christmas cocktail similar to an eggnog, with soft mounds of eggwhite froth topped with a hint of nutmeg. Made with hot, sweetened whiskey and rum, this little glassful made all my muscles instantly melt. I felt like splaying out in a darkened bar booth and propping my feet up on the opposite bench.

the Tom & Jerry, freshly concocted and sprinkled with nutmeg
Next up, and last, was the one we had all been waiting for: The daring Blue Blazer. As David explained, the draw of this drink has less to do with the particular booze used to concoct it, but the panache required to prepare it. Essentially a mixture of a high-proof whiskey, water and sugar (David prefers sugar in the raw), the substance is lit on fire and then poured between two cups while aflame, both aerating the drink as well as mixing it. The fire cooks off some of the alcohol content, bringing a liquor usually too strong to drink without mixing down to a more palpable form. For this demonstration, David appropriately chose to use Lenell's famous Red Hook Rye.

Wondrich, about to get freaky with a match and a bottle of Red Hook Rye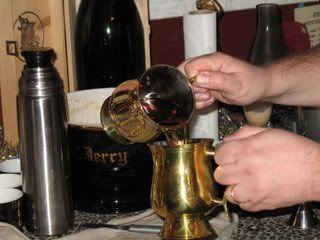 the Blue Blazer gets blazing

its namesake flames may elude photography, but are a real threat
This is one I might not be trying at home any time soon. Or least of all, not without two flame-retardant oven mitts. But the finished product was delightful — sweet, a tad bit smoky (perhaps just a character of the Red Hook Rye), and generously potent. Fortunately, I roused myself from its soporific spells by the end of the demonstration enough to head over to nearby Sunny's Bar, and spent the rest of the night listening to bluegrass. There's nothing like a good old-fashioned imbibing.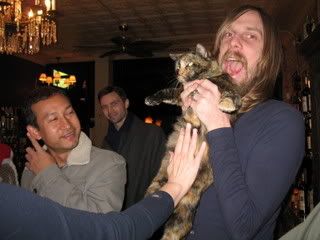 Lenell's resident feline, Whiskey, gets a lift from store clerk Damon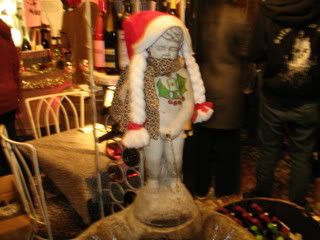 even the store's fountain is decked out for the season