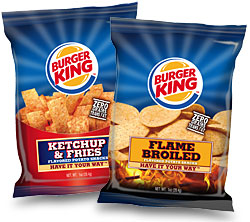 My co-worker proudly marched down the hall yesterday with a bag of Burger King "Ketchup & Fries" Flavored Potato Snacks (for lack of any more specific word such as "chips" or even "crisps").
"Look what I got from the vending machine!"
Look we all did. Two whole aisles of us emerged from our pod-like cubicles to take a look at the fast food-inspired snack. Though from the minute we heard his announcement, we could already faintly smell it.

Sure enough, the yellow-and-red logo was prominently placed on an otherwise normal-looking bag of chips that my co-worker was already digging into. I went in to take a closer peek, and the first real whiff from the bag threw me a sharp olfactory memory of ketchup baking onto a paper french fry boat under a hot Coney Island sun. As my co-worker tore through them, I detected that the chips — sorry, snacks — were squat and rectangular in shape, and gave way to an unnaturally loud, brittle crunch. Okay, so maybe fast food hadn't quite invaded my workspace — yet. But the intent was there.
People in my office want to run out and grab a bite all the time. But for obvious reasons, we often instead go to the vending machine on the same floor. The co-worker who'd snagged one of the first bags of Burger King snacks was clearly tickled by having "fast food" come to him. But I worry about the longevity of this effect. Even though I didn't taste one of these snacks myself (didn't feel like mooching or, more likely, bursting anyone's bubble by gagging) I'd have to rate them in the very basest order of the junk food respectability hierarchy. Which is really the basest order of food, period.
While other junk food manufacturers seem to be straining to hurdle the bottom rung by pandering to the health and whole food-conscious (i.e. the introductions of two new flavors of Sun Chips in the last two years), Burger King's line of snacks mimicking fast food menu items looks clownish. Heck, even without any trends moving towards "real" foods, I would have to say that this snack looks ridiculous.
For one thing, the "Ketchup & Fries" flavor does not look like a Burger King fry or any french fry that I've ever seen before, but more like a fat tortilla strip. On their unusually dark-colored surfaces is a dusting of ketchup-flavored powder, as if an actual squirt-pack of Heinz ketchup were hard to come by. But at least these are still meant to taste like another potato product; the only other available flavor in the brand (which I have not yet seen) is called "Flame Broiled." Presumingly, these potato snacks aspire to taste like a Burger King burger. Which tastes like… oh yeah, imitation meat and smoke flavors.
Maybe the bagged snacks really do have more in common with the real thing than I originally thought. But really, besides the brand name, the two commodities serve very different purposes and have little to do with one another. Like TGI Friday's before it, Burger King is just trying to cross into the snack food market. Nothing more complicated than that. Curiously, they kept the slogan, "Have it your way" on the bags. This seems like an odd decision, since it's directed at a consumer probably staring at a whole rack full of other junk food options. So I'll have it my way, too. My favorite crispy, chippy snack (and one that I feel somewhat healthy about eating)? These simple sweet potato chips with creamy jalapeno dip. Thanks for the inspiration, Burger King. I think I'll make these tonight.
Related articles: USA Today, from July; Nation's Restaurant News, from August; Burger King's corporate press release, from July