the Ugliest Gourmet winning dish (albeit with parsley), Aubergines in Spicy Honey Sauce
Food is everything about the holidays to me, and I'm thankful this Thanksgiving for having a family who understands that. This year's feast in New Jersey was a smaller production than previous years but you wouldn't have known it from the type of emphasis placed on every aspect of the meal.

One thing I love about these big at-home cooking productions is the unexpectedness of it all. In a restaurant, the moment you place your order the fate of your fare has been sealed, and is in the (hopefully capable) hands of the chef. Making a Thanksgiving meal, things can turn at any minute. The potatoes could become gummy or stiffen. The gravy always needs last-minute thickening or seasoning. Then there's the nagging quandary of when the turkey will be done. Each year, you swear the bird must have retained a mind of its own. While all this might sound stressful to some, it does make for an exciting course of events. Also when cooking with family, even the worst of disasters usually become the most fun and memorable moments. So, in attempt to better remember all of them — even the mundane — I've logged each hour of the food odyssey that was my Thanksgiving 2007:
Thursday, 8:30am
My day begins early, as imagining all the cooking to do kept me from being able to sleep in. Still in my bathrobe and socks, I start a pot of coffee in the percolator. It's Chock Full 'o Nuts, not my favorite blend, so I make it extra-strong as if to blast away the nutty idiosyncracies. It doesn't quite work. After a quick survey of the refrigerator and pantry, I begin work on a frittata. I slice up an onion into rings and let it sizzle on a pan with a few pinches of fresh rosemary. The eggs and some milk and sour cream are beaten in a bowl with about half a diced tomato and a few shakes of feta crumbles. These await the onion's long caramelization process.
9:30am
My mom joins me in the kitchen to make a batch of pancakes for everyone. There's too many walnuts in a Costco-sized bag that my Dad bought for the stuffing, so she crushes the nuts and adds them to the pancake batter.
10:30am
My dad comes downstairs to stuff the turkey. We fight over the frying pan I'm using to cook my onions for a while, then he steals it and makes me use another. The bread stuffing we're making is on the simple side, a mixture of white bread, onions, celery, dates and walnuts — lots of walnuts. I unload some of the fresh rosemary and sage that I brought from Union Square onto it as well. Lifted from its sugar-salt brine and patted dry, the 15-lb turkey gets its cavities filled and is ready to go into the oven. Except my frittata is now in there. We fight over the oven.

you say tomato, I say frittata
11:00am
The frittata is out, turkey is in, pancakes are browning, and a spread of muffins and leftover apple streudel from last night's dessert are on the table.
12:30pm
Showered, dressed and ancy, I head back into the kitchen. I baste the turkey and lower the heat. What to do? Remembering the turkey liver pâté I made the night before, I take it out of the refrigerator to bring to room temperature. Pâté, or mine at any rate, has to be the most ugly delicacy known to carnivores. This one's positively gray-brown, a smooth, creamy mixture of onions and the leftover turkey liver sauteed in butter with rosemary sprigs, then braised with sherry, and blended with hunks of butter.

turkey liver, onion and rosemary
1:00pm
It is declared that the pâté — which really has the most unfortunate color in the world — tastes good. A wedge of cheese and an assortment of crackers and mini toasts are plated along with it for midday munching.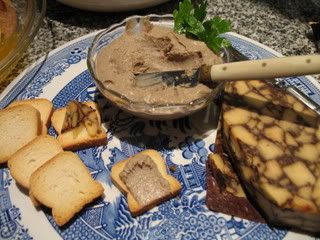 homemade turkey liver pâté and Irish port cheddar on mini toasts
1:30pm
I take a dish of baked brie with mango sauce out of the oven, the cheese just starting to pool in the center of the bubbly, gooey mess. My aunt and I dig in with little cheese knives and spread them onto crackers and bread. My aunt talks about a self-help book she's reading that identifies five ways that people show one another their love in relationships. There's acts of service (i.e. helping around the house), giving gifts, physical affection, verbal affection, and I can't recall what the fifth was. The book explains that couples tend to fare better when they share the same ways. Cooking food falls into the acts of service, she tells me. Then I suggest it can be contained within giving gifts, because you can cook something particular for someone's birthday, or make someone else's favorite food for them. Now that I think about it, though, cooking is physical… and sharing a meal together leads to verbal conversation. Can't cooking span all the five ways?
2:00pm
I begin work on peeling a butternut squash and two eggplants. Meanwhile, at the mashed potatoes station, a large pile of fibrous Idaho potato peels get clogged in the sink garbage disposal. Accusations fly. A small army of relatives crouch in a huddle beneath the sink and eventually decide to screw apart the pipes. I baste the turkey. My brother finally untwists the plastic pipes and begins the unwanted task of scooping out potato peels and — what's that gross black stuff? Eggplant peels. I suddenly remember the brussels sprouts. After chopping off their stubs, I place the sprouts in a colander and rinse them in the sink. An onslaught of shouts inform me that I just sprayed everyone working on the pipes with water. The good news is that the de-clogging has just been successfully completed. And the vegetables are prepped and ready to be cooked.

roasted-then-braised brussels sprouts with garlic and rosemary
3:00pm
The turkey's built-in plastic thermometer pops, indicating it's fully cooked. A tray of brussels sprouts goes in the oven, and the butternut squash already roasting for the past half hour are flipped once. I get to work on the spicy honey eggplant "ugly" special, courtesy of The Blog That Ate Manhattan. Frantic, non-stop cooking consumes the rest of the hour, including the roasting-then-braising (in chicken stock) of the sprouts and an impromptu white wine, shallot and sage sauce for the roasted butternut squash cubes.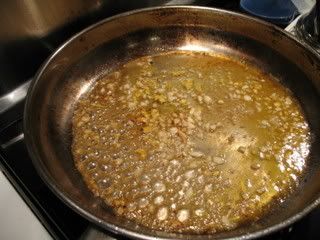 even the eggplant's spicy honey sauce is not the prettiest sight alone

vibrant butternut squash roasted then tossed with a sauteed shallots, sage and white wine butter sauce
4:00pm
The gravy's been made, thanks to my aunt, the turkey carved by my Dad, and at the last minute, we remember to bring the cranberry sauce that my mom made last night out of the fridge. The feasting begins. Everything is delicious — including the ugly eggplants. Except… all the sudden, my mom remembers she forgot to add any sugar to the fresh cranberry sauce. Except for the cranberry sauce, which makes everyone squint and suck in their cheeks at first bite.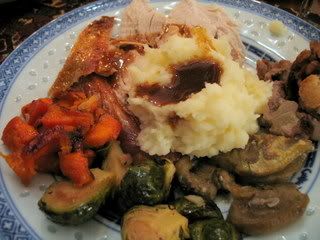 my mountainous plate
5:00pm
To keep ourselves from slipping into turkey-induced stupor, we head to the card table and break out the mah-jong tiles. This is a relatively new game for my family. We play a round of four games. I win three and my 14-year-old cousin wins one. Turns out that this super-smart teenager doesn't need to know Chinese characters — or have ever played mah-jong before — in order to win. A simple chart that my mom jotted down illustrating the characters for each number is enough to get by with.
8:00pm
It's time for dessert! Or simply, pies. We're not quite hungry yet — actually, I don't think I allowed my body a chance to feel hungry the entire day, but who cares. There's pies. Each night before Thanksgiving, my family engages in a ritual pie-making ceremony. This includes outdoing last year's decorative touches and filling the oven with at least four different varieties. This year's assortment consist of an apple cranberry, pumpkin, pecan and cherry pie in addition to my cranberry orange mince. The only problem is, two members of this Thanksgiving gathering don't eat pies, leaving us with a ratio of pie-to-person an even 1:1.

a classic pecan pie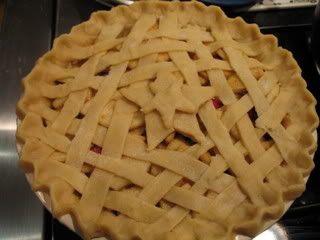 an unconventional pentagram basketweave on the apple cranberry pie

the baked batch
10:00pm
The eating extravaganza is officially over. I'm sure I couldn't count on both hands everything I've eaten today, but am already looking forward to tomorrow, when I visit my uncle and grandfather in Queens for a post-Thanksgiving wonton lunch.
11:30pm
The eating extravanza is officially over, after a few nibbles of a thousand-year egg that my mom was snacking on with soy sauce around midnight. (She's one of the non-pie eaters.)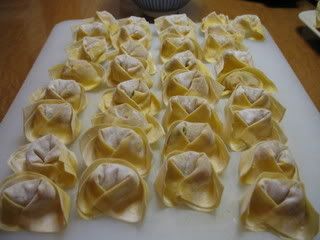 freshly folded pork and shrimp wontons lined up, before boiling and adding to soup
Friday, 6:00pm
The supposed lunch turns into an early dinner at my uncle's apartment, and for once in the past 24 hours I've actually let my stomach produce hunger pangs before sating them. These finally came around while filling and folding wonton wrappers with my brother. We learned how to fold them in the Shanghai style (pictured above) from my grandfather's elder care assistant, as opposed to the more triangular Cantonese version of my mother's tendency. I also learn that the square, prepackaged sheets of dough used to make these wontons is remarkably similar to Italian fresh pasta dough — essentially eggs, flour and water. I think another batch may soon be in store…
Friday, 7:00pm
Appetites sated, we break out the mah-jong tiles for another four games with my uncle. My grandfather actually recognizes the game (a surprise given his current state).
Sunday, November 25th, 3 days after Thanksgiving, 9:00pm
The holiday weekend is over, I'm back in Brooklyn, and getting hungry again just looking over all of these photos. Why can't there be more Thanksgivings (and day-afters, and night-befores) to go around in a year? For now, I guess I'll just be thankful that there is at least one.