So, nobody was exactly clamoring for me to remake a traditional British Christmas mincemeat pie this year at Thanksgiving. Blended dried fruits and the word "meat" in its name doesn't conjure the most appetizing dessert (even though today, meat is commonly left out). It certainly never did for me, especially since I've only had mincemeat once before as a straight-out-of-the-can pie filling. This was at a Thanksgiving long ago, and I recall reading the ingredients on the can: It was essentially a heavily spiced puree of apples and raisins. This irked me. Why mess around with dried and canned fruits when there was plenty of fresh apples and cranberries to go around? Worse yet, nobody seemed to know that this was in fact what was in the can.

It seemed to me that it only needed a fair chance. Traditionally, mincemeat was a paste of minced meat, fruits and spices that developed as a way of preserving the meat — like making jam. I don't generally have meat on hand that needs preserving, so I searched around for strictly vegetarian-friendly versions. I finally settled on loosely adapting this recipe on the UK iVillage site, with some exceptions. I replaced the currants for fresh cranberries, in season and perfectly accessible at this time of year from any Farmers' Market. Secondly, the suet… I'm not sure which specialty market carries this type of clarified beef tallow, and second-guessed the value (versus heart-attack probability) of seeking it out. It would scrap the whole vegetarian-friendly mincemeat stance besides. So it was butter instead.
Treading through the recipe was a fun feat in itself. Along with suet, I'd had to look up the word "sultanas," which despite its exotic sound (Indian royalty?), is really only crazy UK slang for golden raisins. My favorite part was trying to decode the recipe when it mentioned removing the lemon from the boiling water: "Keep the juice, rind and skin but remove the pips." The what? Gladys Knights' backup singers?
Clearly, I still have a lot to learn about making mincemeat. But this cranberry-orange version wasn't bad at all. Refreshing, tangy and citrusy — just what you need after a rich meal.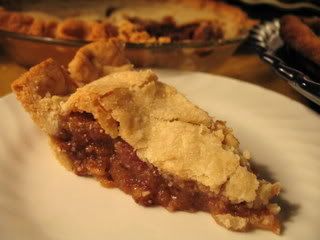 Cranberry Orange Mince Pie
(makes 1 9-inch pie)
for the crust:
1 stick plus 2 tablespoons cold unsalted butter, cubed
2 cups flour
1 teaspoon salt
1-2 tablespoons cold water
for the mincemeat:
1 cup raisins
1 cup golden raisins
1 large baking apple (like Rome or Empire), peeled, cored and chopped
1 cup cranberries
peel from one Navel or Valencia orange, thinly sliced in strips no wider than 1/4″
1 small lemon
1 cup light brown sugar
1/4 cup sugar
4 tablespoons butter
1/4 teaspoon each of cinnamon, nutmeg, allspice, ginger, cloves and freshly grated ginger
1 tablespoon brandy or triple sec (such as Grand Marnier or Cointreau)
Make the crust: Combine the flour and salt. Using a pastry blender, your fingers or a food processor, cut the butter into the flour. If using the food processor, pulse several few times until the pieces of butter are no larger than a pea. The mixture should look grainy. Add water one tablespoon at a time and stop when the dough is malleable enough to form a ball. (If using food processor, slowly add water one tablespoon at a time to the mixture while pulsing it just until a ball is formed). Break into two balls. Cover them with plastic wrap and chill at least 30 minutes. (Crust can be made several hours beforehand and chilled.)
Make the mincemeat: Place lemon in a pot and fill with cold water to cover. Add the orange peel, cover, and bring to a boil. Drain the water. Fill pot with more cold water and bring to a boil again. Drain, and refill with cold water. This time, let the lemon and orange boil for about 45 minutes, or until soft. Remove peels and lemon and let cool. Slice the lemon in half. Remove the "pips" (aka seeds), and quarter the rest in its entirety. Finely chop the orange peels. Add lemon, orange peel, apple, golden raisins, raisins and butter to a food processor and pulse several times until mixture becomes a chunky paste. Transfer to a bowl. Stir in the sugar, cranberries, spices and brandy. (Mincemeat can also be made several hours beforehand, covered and chilled.)
Preheat an oven to 375F. Grease and lightly flour a 9-inch pie pan. Roll out one ball of dough for the bottom crust on waxed paper. Place it centered over the pan and carefully peel off paper. Set into the pan and chill, covered, for at least 20 minutes before baking. Roll out dough for the top crust on waxed paper and if desired, decorate with cut-out designs or cut to strips to make a lattice-style crust. Pour the mincemeat into the bottom crust. Top with the top crust (if not making any cut-out designs, pierce the top crust with a fork several times). Crimp along the edges to seal the crust however desired. (Optional: Top crust can be brushed with a little egg wash, milk or cream for added color. It can also be sprinkled with some sugar.) Bake for about 50 minutes, or until top crust is lightly browned and bottom is thoroughly cooked. Let cool for at least 15 minutes before serving.
Cost Calculator
(for 1 9-inch pie)
1 stick and 6 tablespoons butter: $1.75
2 cups flour: $0.30
1 cup raisins: $0.35
1 cup golden raisins: $0.40
1 baking apple (at $1.25/lb): $0.40
1 cup cranberries (at $2/lb): $0.60
1 lemon: $0.35
peel from 1 Valencia orange: $0.20
1 cup light brown sugar: $0.75
1 tablespoon Grand Marnier: $2.00
1 tsp salt, 1/4 tsp each cinnamon, nutmeg, allspice, cloves, ginger and fresh ginger: $0.50
Total: $6.60
Health Factor
Six brownie points: Like most pies (or desserts), you won't get off easy with the caloric count. Raisins, while natural and full of antioxidants, actually pack a whopping 250 calories for 4 oz. Good for kids at recess, maybe, but not for turkey-comatose me. Copious butter in the standard pie pastry crust as well as the filling notwithstanding, the Vitamin C-rich fresh cranberries are a welcome addition to this sweet treat.