Don't be swayed by the length of this rather unwieldy-sounding recipe's name; the latter two ingredients, candied orange peels and fresh mint, are almost inessential to the sparkling culinary gemstone that is roasted beets and fresh orange slices. "Wow" hardly nips at the issue I'm talking about here. Okay, so it's only food — two foods to be precise. But sometimes, all's it takes, as they say, is two to tango.
Playing matchmaker was never my game when it comes to humans. People have these strange rinds, and you're never sure of what's underneath them. This is especially true for New York humans, who are often actually alien, nearly always blemished, underripe and not what they are on the surface. So I find it comforting to unfurl the beets' leathery skin or the oranges' juicy hide and stringy web of membrane to get at the unfalteringly sweet stuff inside. Sometimes I think fruits and root vegetables are my favorite friends.
gushing beets come out of the oven
But enough of the dramatic hyperbole, and — oops! — the friend-bashing. I just had a wonderful pre-Thanksgiving fall feast with a number of them, and it was everything that a friends-only "holiday" (excuse to booze) feast should be.Aside from the salad, my duty was to roast a 15-lb turkey. This guy:
I admit I was a little intimidated taking on this beast for my first roast turkey. Not that you can tell from the picture, but this was an organic, free-range, hormone-free bird that my friend was able to order wholesale through the Brooklyn restaurant where he works. Now, after tasting this type of turkey roasted or the first time, I'm going to have to say that this whole new fad about brining your turkey the night beforehand is horse manure, invented by the people who are sucking the natural juices out of turkeys by raising them in the conventional, pesticide-ridden juggernaut. This was just one fine-tasting bird. Moist. I didn't do anything fancy to it, save for a couple of lemon wedges tucked under its skin.
I wish I could tell you who to order one from right now, in time for Thanksgiving, but since ours was finagled wholesale, I regret not having a source. For that, I'll escort you to Local Harvest, Sustainable Table, and a farm that still has birds for sale on Amazon, Branigan's.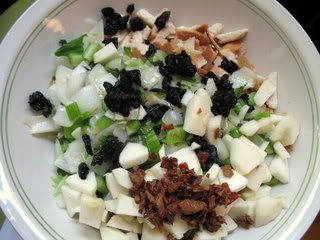 stuffin'
savory gravy
To go inside, I improvised a chipotle apple stuffing with a combination of white bread and fresh corn tortillas cut into squares, quickly sautéed celery, onions and garlic, chopped dried cherries, one dried, soaked and minced chipotle chili and a chopped apple. I hesitate to provide a recipe, though, because I still think it could use… something. I'm not a big stuffing person, so for me there's some tinkering yet to do until it satisfies. Maybe lime juice? A cornbread base? I don't know. But if you want to give it a try yourself, do tell me how it went.
so good, it knew how to fly
So many good sides, so many desserts, and such sharp, pre-Thanksgiving bellyaches were had last weekend. I can't even begin to describe all the food without experiencing one right away, so I'll stick only one of the simplest for now — this salad. As mentioned, the candied orange peel, definitely the most complicated part of the recipe, can be forgotten when in a crunch. But transforming an otherwise wasted part of a fruit into candy is something I don't look back sadly on. I can't wait to try dipping all the leftover pieces I have left into melted chocolate next.
peeling away
ready-to-eat, 1 hour of boiling later
Roasted Beet & Orange Salad with Candied Orange Peel and Mint
(makes 6-8 small side servings)
8 small-medium sized beets, scrubbed and rinsed
2 large, thick-skinned Valencia or navel oranges
1 cup sugar
1-2 tablespoons fresh mint leaves, coarsely torn
1 teaspoon fresh lemon juice (or substitute with cider vinegar)
1 tablespoon extra-virgin olive oil
Roast the beets: Preheat oven to 375 degrees. Wrap the beets in foil pouches of 3 or 4. Place on a baking sheet and bake until tender, about 45 minutes, or until a fork goes in smoothly.
In the meantime, make the candied orange peel. Score the peel of one orange in quarters, being careful not to cut into its flesh. Carefully remove the peel quarters. Slice the peels into very thin strips. (Note: the peel from one orange should make more than enough candied peels for this recipe, but you can make a lot extra if desired with the other orange.) Place peels in a small pot and fill with enough cold water to submerge. Cover, and bring to a boil over high heat. Remove from heat and drain. Fill again with cold water and repeat this process two more times. Set peels aside. Whisk sugar with 1 ½ cups water in the pot until dissolved. Add peels to the sugar water, and bring mixture to a boil. Reduce heat, and simmer lightly, covered, for about 45 minutes. Rotate peels just once or twice during this time. Peels should be slightly translucent. Remove with tongs and set on paper towels to dry. Either let these dry for 3-4 hours, or place them evenly across a baking sheet and roast them along with the beets for about 5-10 minutes, until dry (careful not to overcook).
Once beets are tender, open the foil packages and let cool 5-10 minutes. Chop off the stems and tops of the beets and peel off the skin (it should peel off easily by hand; if not, use a paring knife to help skin them). Cut beets into quarter wedges or sixths, depending on size. Place in a large bowl. Peel the other orange, and gently pull or scrape off some of the extraneous pith from both of their surfaces. Using a long paring knife, cut out the sections of the oranges. The idea is to cut around the separating membranes so that your wedges all have slick, juicy surfaces. Cut over the bowl of beets to catch any juices that run down in the process. Add oranges to the bowl.
In a small bowl, whisk the olive oil into the lemon juice or vinegar until emulsified. Drizzle over the beets and oranges and gently toss. This can be covered and set aside at room temperature for a few hours before serving, or refrigerated overnight. Just before serving, sprinkle with mint leaves and a handful of candied orange peel.
Cost Calculator
(for about 6-8 small sides)
8 small-medium beets (1 3/4 lb at $1/lb): $1.75
2 Valencia oranges (at 2/$1): $1.00
1 cup sugar: $0.35
2 tablespoons fresh mint (at $1/bunch): $0.50
1 teaspoon lemon juice: $0.10
1 tablespoon extra-virgin olive oil: $0.20
Total: $2.90
Three brownie points: Not too shabby for a recipe with the word "candy" in its name. If only all candies were a good source of calcium, fiber and Vitamin C as the orange peel is, we'd be hearing this word more often. While fresh oranges lend this salad much-needed winter Vitamin C, beets also play a leading role in the healthy scheme. Aside from providing a bulk of vitamins like iron, folic acid, potassium and antioxidants, they're known for cleansing your vital organs, like the kidneys, and even helping constipation. But you didn't hear that from me.