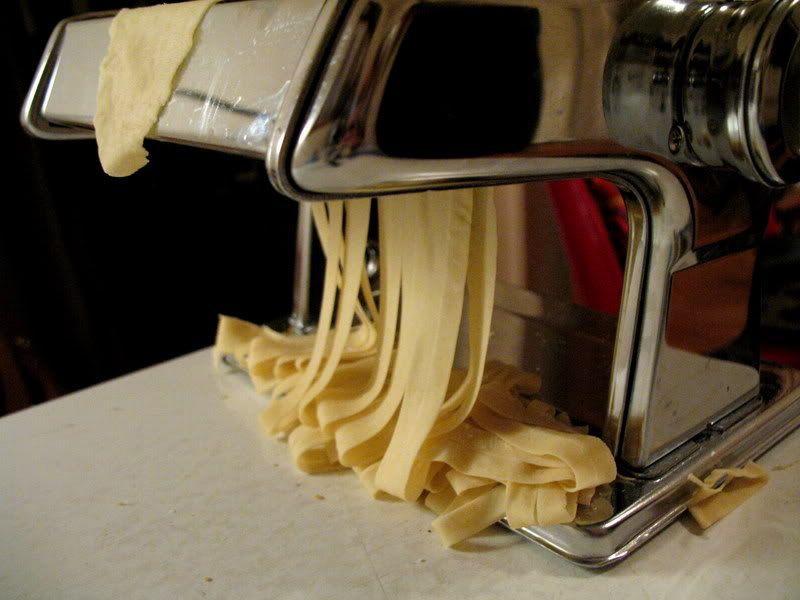 I got a brand new toy. Alright, it's gently used and I bought it on eBay for $10, but check this out: A true Italian Marcato (aptly named) "Pasta Queen" pasta crank with 7 thickness settings, 2 pasta widths and a table clamp. Early Christmas in New York.
I must sound like a hobby geek right now, sharing my good luck in finding a machine without any rust, and in like-new condition despite its dated (very cool!) packaging. But I think my interest in the tool falls to the wayside when considering the immediate question at hand: How's the pasta it makes? Let's try it right now!
any recipe where your hands are a key tool is A-OK by me
And what a pasta it makes. I steered clear of making fresh pasta from scratch about a year ago, after an incident that had me rolling out dough for nearly three-quarters of an hour. Now it seems I've forgotten how fresh pasta is so… eggy. I was prepared to experience something remotely chewy but all I got was a mouthful of pure, silken richness. Eggy richness. I can't explain it in any other way than it tastes like fresh eggs. It's a far cry from pre-packaged fresh pasta that you find in stores. With a drier texture out of the box, when cooked it always resembled, to me at least, thick Asian wheat noodles such as udon. Freshly kneaded and boiled egg pasta has a completely alien elasticity and flavor. I might group it more firmly among the proteins than the starches, to be honest.
fresh, clean sheets
I'm not going to tell you that this trial with the pasta crank didn't have its share of errors, too. For one thing, the final thickness setting on this machine is really, surprisingly thin. The biggest lesson learned this time, though, is to avoid letting finished pasta sit for longer than a few minutes. Always keep them at close watch. And never, ever leave them together a jumbled mound in a bowl, covered or not. Once I was finished cranking out the pasta, I had separate strands. When I came back for them 20 minutes or so later, I had one big clump of dough. Well, I had to shake them out for quite a while and go to work on stirring them about once they hit the boiling water. But even so, I managed to cook up a number of fat clumps of stuck-together pasta, which are not so appetizing.But enough about the follies of pasta making 101. Enter this creamy and fragrantly seasoned fettuccine dish. Just something that sounded yummy.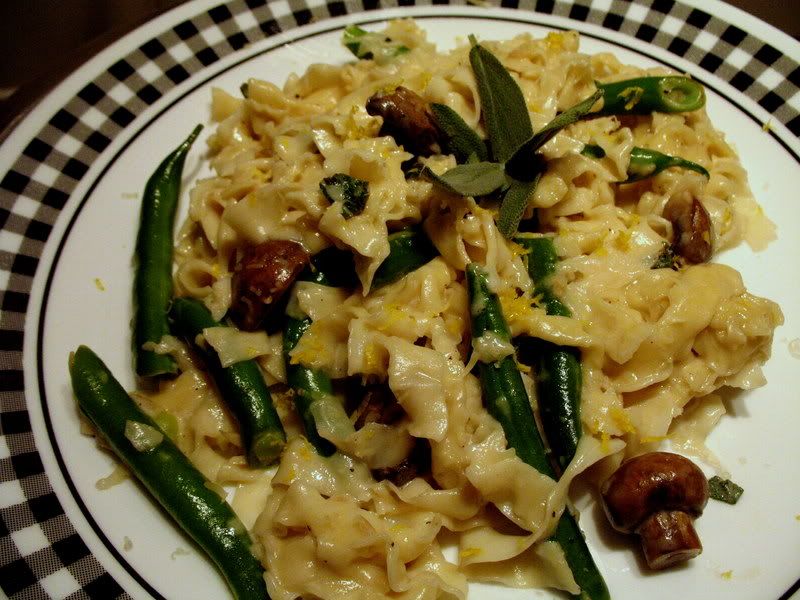 unsnarled to (near) success
Fresh Fettuccine with Baby Portobellos, Green Beans & Sage in a Cream Sherry Sauce
(makes 2-3 servings)
1 cup flour
2 eggs
1 cup baby portobellos, halved or whole, depending on size
1/2 pound green beans, trimmed
4 tablespoons fresh sage, coarsely chopped
1/2 cup dry sherry
3/4 cup heavy cream
1 tablespoon olive oil
1 medium shallot, finely chopped (or 1/4 cup finely chopped onion)
2 cloves garlic, minced
1 tablespoon fresh lemon juice
3 tablespoons or more grated parmesan
salt and black pepper to taste
optional: 1 tsp fresh lemon zest
Make the pasta dough: Place flour a large bowl and form a well in the center. Crack eggs into the well and stir just the eggs first with your fingers. Gradually expand your stirring span to incorporate more and more flour into the eggs. You may add a little splash of water if necessary, but preferably no more than a tablespoon. Create a ball with the dough and transfer to a floured surface. Knead the dough for 6-8 minutes. Dough should have a smooth and silky feeling and no lumps. Cover with plastic wrap and let rest for 15 minutes.Cut ball of dough into about 4 sections and run through the pasta crank to desired thickness. Be sure to coat the surface of the pasta sheet with dough before each crank so that it resists sticking. To make sure that the final pasta strands don't sit for so long that they begin to stick together, cut pasta into fettuccine-sized noodles just minutes before they will be put into boiling water. Boil for only 2-4 minutes (depending on your pasta's thickness). Strain.
Meanwhile, blanch the green beans: Bring a medium pot of water to boil. Drop in green beans and remove after one minute with a slotted spoon, placing them into a bowl of ice water. Once beans have cooled for a minute or two, strain from water. Cut beans in half to about 2″ long pieces.
Heat olive oil in a large skillet. Add shallot and garlic and stir under medium heat until softened. Add sherry and bring to a boil, stirring. Add the mushrooms, sage, lemon juice and a pinch of salt and pepper. Cook on medium heat, stirring occasionally, until mushrooms soften and deepen in color. Add the cream and bring to a very slow boil. Turn off heat. Add the pasta and green beans to the pan and toss to coat evenly with the sauce. Taste for seasoning, adding more salt and pepper if necessary. If mixture is too dry, add a little more cream or some reserved pasta boiling water. Finally, add the parmesan, toss once more, and serve immediately with a garnish of sage leaves and optional lemon zest.
Cost Calculator
(for 2-3 servings)
2 eggs (at $3/dozen): $0.50
1 cup flour: $0.25
1 shallot (at $2/lb): $0.20
2 cloves garlic: $0.10
1 cup baby portobellos (about 2/3 package for $2.50): $1.67
1/2 lb green beans (at $2/lb): $1.00
1/2 cup sherry (at $7/bottle): $1.00
3/4 cup heavy cream: $1.00
3 tablespoons fresh sage (about 1/4 of a bunch for $1.50): $0.38
3 tablespoons grated parmesan: $1.00
1 tablespoon fresh lemon juice and zest: $0.15
1 tablespoon olive oil, salt, pepper: $0.15
Total: $7.40
Health Factor





Five brownie points: I like to give myself a little something healthy to qualify the use of heavy cream, and in this instance that something is obviously the green bean. I didn't realize how much it would add to the dish in terms of texture and mild flavor, too. Admittedly, green beans are not quite the star of this dish, but with low calories, protein, Vitamins K, A, C, fiber, and did you know that it also has Omega-3 fatty acids?, I consider it a fine supporting player.