This was a leftover dish. It might not sound like one, but every ingredient used down to the parsley was already in my fridge for various reasons and past uses. It was so perfect, that because I didn't have pasta, I decided to make pasta myself. I had flour, eggs, and salt…I even had fresh rosemary that was going to dry up soon. Dismissing the fact that I had never actually made pasta before, why not?

Easier said that done. From recipes and cooking shows, it looks like all the cooks have to do is make a pile of flour on their board, make a well in the middle and crack some eggs in there, and mix it all together for dough. That was easy, but rolling it out . . . wasn't. The delicate balancing act of having enough flour so that the dough doesn't stick and having too much flour so that the dough doesn't want to stay rolled out isn't something I'd enjoy repeating in the future. I don't know what shape of pasta you could call what I made–sloppy irregular wide fettuccine?–but the taste of fresh pasta did seem worth the effort. Or close to it.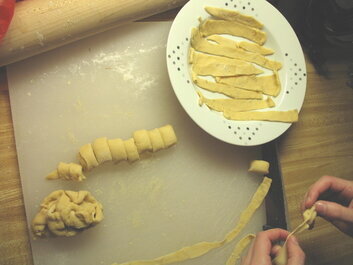 Rosemary Pasta with Sausage, Peas, and Parmesan Beschamel
(Makes 2 big servings)
Ingredients
For the Pasta:
1 1/2 cups flour
2 eggs
1 tsp salt
1 Tb finely chopped fresh rosemary
1 Tb water (if needed)
For the sauce:
1 Tb butter
1 1/2 Tb flour
2 cups milk
3 links sweet Italian sausage, chopped to 1-inch pieces
1 cup frozen peas
3/4 cup grated or shredded parmiggiano
Salt and freshly ground pepper
Fresh parsley for garnish
Incorporate pasta ingredients and knead into a dough. Flour surfaces and rolling pin continually as you roll the dough into a paper-thin sheet. Cut into desired pasta shape (for long strands, carefully roll the sheet up, cut pieces off in desired width, and unroll strands).
In a small pan, brown the sausages. In a separate medium pan, melt butter. Add flour and blend thoroughly into a roux. Slowly add milk, stirring frequently. Add a little salt and pepper to taste. Heat until sauce thickens and begins to boil. Add parmiggiano and stir until melted; add peas and sausage, and serve over pasta with a little fresh parsley and ground pepper.
Cost Calculator:
(for 2 big servings)
1 1/2 cups flour: ≈ $0.15
2 eggs: ≈ $0.20
1 Tb rosemary: ≈ $0.30
2 cups milk: ≈ $0.35
3 links sausage (at $2.99/6): $1.50
1 cup frozen peas (at $1.19/box): ≈ $0.38
3/4 cup parmiggiano: ≈ $1.00
Butter, salt, pepper, parsley: ≈ $0.25
Total: $4.13
Health Factor:







Six brownie points – I don't have great news here health-wise. But, it is rich in calcium and protein, and the peas add nutrients, even frozen. And, of course, it beats your bottle of Alfredo sauce.