For any of you foodies living in or around Williamsburg, Brooklyn, there's finally a place where you can go and everybody knows your name. No, it's not a bar, it's a kitchenware and specialty foods shop called The Brooklyn Kitchen. I had the pleasure of watching the shop's first gathering this evening on "A Different Way to Bird": how to de-bone a turkey, just in time for Thanksgiving. I've noticed in magazines and cooking shows how popular this method has become as an alternative to roasting a whole turkey with bones. It takes a bit of skill with the knife, but after a quick informal session like the one The Brooklyn Kitchen offered, pretty much anyone can give it a go.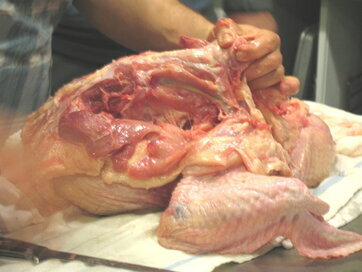 Now, de-boning a turkey is not an easy thing for me to explain on a blog post. But I can tell you that owners Harry Rosenblum and Taylor Erkkinen recommend using the leftover bones for a succulent turkey soup, and passed around a recipe for one. (Soon, you can go to their website and probably find these recipes but for now it's under construction.) Also on their menu for the night was a tangy cranberry salsa made with fresh cranberries and cilantro and served with chips, sample wedges of McClure's Pickles, and the finished, deboned turkey was brined in a bath McClure's Pickles brine and stuffed with a bread stuffing from the NYTimes. It was fun to watch Harry wiggle a boneless, whole bird back into its original shape on the counter, as if it had just turned into Gumby. And the turkey tasted great, but I have a feeling that Bob's pickles stole some of the show, and many of the customers bought a jar and got to chat up the humble salesman himself.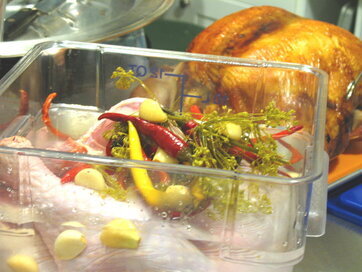 The bird gets the benefit of McClure's Pickle brine and some water.
After just opening the store two weeks ago, Harry and Taylor tell me that their goal is to keep doing fun cooking sessions like these every month or so. (Check out their blog to find out when.) When the NYTimes article on the bread recipe by Jim Lahey of The Sullivan Street Bakery came out a week ago (the recipe that EVERYONE's been talking about), customers flocked to the store to buy dutch ovens. Many of which, in fact, were candid with Harry that they were buying the dutch ovens (previously an unheard-of appliance for breadmaking) for the first time in order to make that bread recipe. Harry gushes that even one customer came back to his shop the next day to show him the bread that he had made with his purchase and share some of it. That's the story with The Brooklyn Kitchen–it really is a community kitchen.
I'm feeling the not eating out love, and it's a warm and juicy feeling.

The newly deboned turkey, alongside the succulent, stuffed, and baked bird.