I find it no coincidence that so many cultures like to tame eggplant by beating them to a pulp. My run-in with not-so-well-cooked eggplant earlier this summer has put me off the poisonous plants for a little while, but I'm not calling it quits just yet. Baba ghanoush, eggplant "caviar," so to speak, has been enjoyed throughout Middle Eastern, North African and Eastern European cuisines for many centuries before peasant food became chic. They must know what they're doing.


true colors
Tempted by their sheer beauty, I scooped up a small assortment of eggplants at the Farmers' Market last weekend: a common deep-purple one, a snow-white one, and a lavender brushstroked-looking one. Aside from these colorful specimen, I kept the recipe for the dip very basic. Drawing from the traditional recipes, I added only tahini, lemon juice, garlic and a splash of spice — cumin, cayenne and smoked paprika to play up the smokiness of the roasted eggplant. While mint is a common herbal addition, I found tender basil leaves a complementary match, too, and a convenient one, as my little outdoor plant is on its last legs.
I always liked the way over-cooked eggplant melts into the sauce of a Chinese braised or stir-fry dish (which, by the way, if you're looking for a recipe for, one can be found here). The range of sliminess to meatiness plus the texture of its silken skin is fascinating, if slightly weird. Therefore, I decided to mash up my eggplant for this baba ghanoush with the skins (ooh! the scandal!). They were so pretty, I had to question why they needed to be sacrified, as I generally question, likewise, why any part of any vegetable needs to be sacrificed. But what would happen? Would it turn purplish? Leave unpleasant things in my mouth?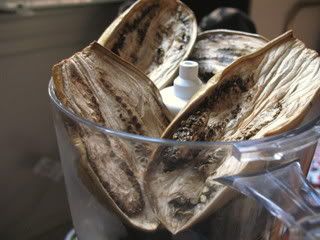 keepin' it real
Yes, to its color darkening significantly (which translates to more vitamins). No to the unpleasant texture. The optimum texture for baba ghanoush may indeed be skinless. But after a long roast, the skins had become thin and elastic, and when torn to tiny bits in the food processor, they were barely detectible in the texture of the dip. This result was probably helped by the variety of eggplants I had chosen — the white ones having slightly thinner skins. All told, I can't see what the fuss over scooping eggplant from its skin to make baba ghanoush is all about. It's not like the color of baba ghanoush is beautiful to begin with.
If I haven't said so already (and looking back, I haven't, though I often wanted to), I highly recommend checking out Amanda Park Taylor's excellent case for freezing the last of the summer's harvest in her column in The L Magazine a few weeks ago. The hard reality is that the Greenmarket won't be giving us the same love in tomatoes, eggplant, or zucchini or fruit for much longer. Eggplants, it's almost time to kiss goodbye. So make some fresh tomato sauce, she says, and keep it in your freezer all winter. It'll keep your freezer full of thaw-able delectables, and even conserve energy in the process.
So why not make fresh baba ghanoush, and take it out of chilly hibernation when you have a party. You can be the Goddess of Ghanoush; the Ali Baba of Eggplant. Also, the stuff has proven to be fairly versatile so far. It's worked its way into sandwiches both warm and cold, in addition to being a dip.

applications Part I: dipping doodads (with homemade "flat" bread, aka "foccacia" that didn't rise)

applications Part II: chimichanga-like baked wrap with baba ghanoush and red onion, topped with fresh homemade tomato sauce
Basic Baba Ghanoush
(makes enough servings for a fine party)
2 pounds of eggplant, about 2 or 3 depending on size, any color or variety
1 1/2 tablespoons fresh lemon juice
1 tablespoon tahini
1 garlic clove, minced
1 teaspoon salt
1/4 teaspoon cumin
1/4 teaspoon cayenne pepper
1/4 teaspoon smoked paprika
3 tablespoons extra-virgin olive oil
sprinkle of fresh basil or other herbs (optional)
Preheat oven to 375 degrees. Trim and halve eggplants lengthwise. Coat with a little olive oil and roast for 45-60 minutes. Let cool, and squeeze out any remaining juices.
Cut eggplant into coarse chunks and place into a food processor or blender, working in batches if necessary. Pulse together with tahini, lemon juice, garlic, salt and spices for a minute or two, stopping to scrape down the sides occasionally. Drizzle in two tablespoons of olive oil while pulsing. Taste for seasoning, adding more salt or spices if desired.
Transfer to a bowl and serve immediately with a drizzle of olive oil on top. Or, cover and chill for an hour before serving to let flavors develop. Keep covered in the refrigerator for up to 1 week.
Cost Calculator
2 lbs eggplant: $2.00
1 lemon: $0.33
1 Tb tahini (at $4/jar): $0.25
1 garlic clove, salt, spices: $0.25
3 tablespoons olive oil: $0.50
Total: $3.33
Health Factor
Four brownie points: My only objection to this dish is the copious amount of oils it flaunts. Tahini is a lovely flavor and protein packer, but it's as fatty as peanut butter. It's traditional to serve baba ghanoush as a dip with a generous drizzle of olive oil on top, in addition to the olive oil already in it. But other than that, it's essentially eggplant, which are high in fiber, potassium, and plenty more vitamins — especially when you leave on the skins!