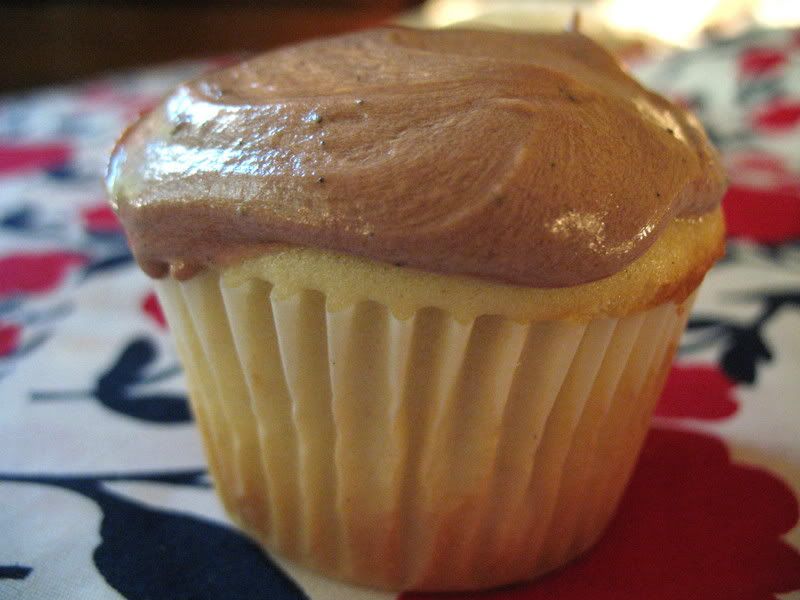 No, it's not my blog's birthday part II. Last weekend was the birthday of a couple friends of mine — a couple, who happen to share the same birthday. No, they're not twins. So, since everyone loves cupcakes and two birthdays is certainly that much more reason to, I baked up a batch of mini white cake delights topped off with my own mocha frosting. These friends are keen on coffee, as am I and most people I know. But, like myself and probably not so many others, they're not particularly cake lovers, nor frosting aficionados. I don't know what it is about it, but it takes a little something extra to get me excited about frosting. This mocha one, fortunately, rose to the challenge.

Dessert making is no longer my natural enemy. We've made amends. We've had some good times together. We've both grown up a little together. It's a beautiful thing. But cake decorating… now that's another story. It has proven to be a much more persistent foe. Case scenario: To give my cupcakes true birthday flair, I pulled out the old-fashioned tube 'o red goo. I suppose I could have whipped up a batch of contrasting-hued buttercream and piped it through a Ziploc bag instead — actually, that would have been smart. Anyway, my intent was to decorate on these cupcakes alternating big fat "R"s and "S"s for the birthday couple's names. Yet as infantile as this task's degree of difficulty (and creativity) may sound, it managed to push this entry dangerously close the "disasters" category.
You see, this tube of red goo was not just old-fashioned but, literally, old. It had been lingering in my cupboard for no reason that I could remember nor condone. After the first few squiggly letters were squirted out, the tube felt almost empty. I began to squeeze so hard that my knuckles turned white and my hands shook from the effort to get the goo down on the frosting. Of course, this made the letters turn out that much cleaner. Then, like a signal from the heavens to PLEASE STOP, something fell down from the top of the refrigerator and onto the cupcake I had just finished decorating. It was the carton of cupcake paper liners. Its surface cleanly flattened the frosting and red goo on the cupcake and stuck like a suction cup when I removed it.
So with that, I threw in the towel. I was running late, anyhow. More eating, less decorating, that's my motto, and will probably be for a long time.

cakelets

whisk it good

cacao + cafè (+ butter + sugar + more butter!) = mocha

finished, and good enough to eat alone. Freshly ground coffee adds a very subtle graininess to the texture, which I find appealing
And it seems my friends feel pretty much the same way. Although I was pretty embarrassed about the appearance of my tray of cupcakes — half of them poorly decorated, half of them not decorated at all — no one at the party remarked on them except to say that they looked "good." And, much later on at around midnight, that they tasted "good." So I was duly satisfied. So satisfied and full from eating, in fact, that I promptly fell asleep on the couch. With a dog curled beside me. I'm such a party animal.
Mocha Frosting
(makes enough frosting for about 24 cupcakes)
1 stick unsalted butter, softened
2 cups confectioner's sugar
1 tablespoon milk (or last tablespoon of milky coffee at the bottom of your mug, like I used)
1 tablespoon unsweetened baking cocoa
1 tablespoon very finely ground fresh coffee beans
Using an electric mixer or whisk, beat butter with half of the confectioner's sugar until smooth. Add cocoa, coffee and milk. Beat until thoroughly blended. Continue adding confectioner's sugar a scoopful at a time until it has completely blended into the mixture. Use immediately, or cover with plastic wrap for up to a few hours only before use.
Cost Calculator
(for about 24 cupcakes worth of frosting)
1 stick butter: $1.00
2 cups confectioner's sugar (at $2.50/2 lb bag): $1.00
1 Tb milk: $0.15
1 Tb cocoa: $0.40
1 Tb finely ground coffee beans: $0.30
Total: $2.85
Health Factor

Eight brownie points: Health gods, look away. This recipe hangs its head in buttery shame. On the plus side, though, heart-healthy antioxidants are a well-known redeeming quality about chocolate. However, while providing trace vitamins and minerals, both coffee and chocolate pack not-so-heart-happy caffeine.