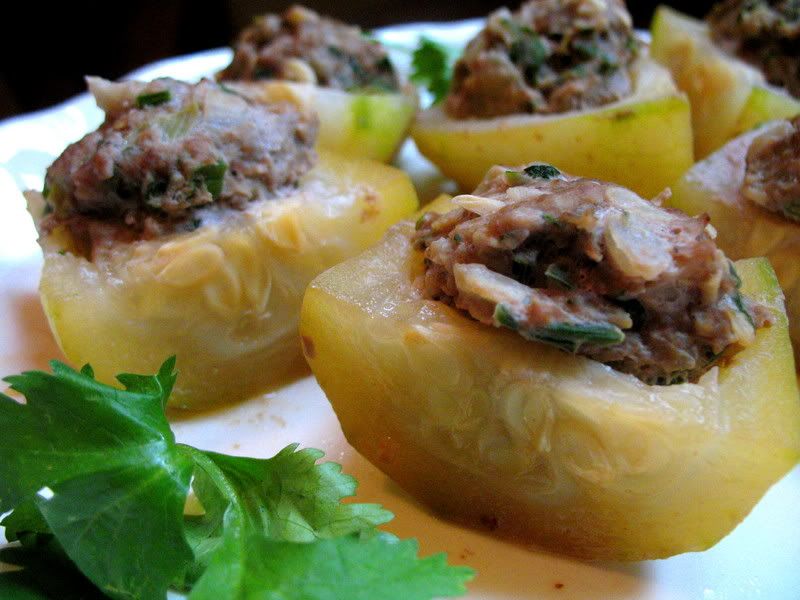 a fuzz-free steamed fuzzy melon stuffed with turkey appetizer — works well with zucchini, too

A few months ago, I posted a recipe for a Thai-inspired stir-fry of shrimp 'n okra and received among other comments, this one, from Matt:
"Where can I actually get thai basil? When I go to Chinatown, I usually don't find anything remotely resembling basil. As a matter of fact, I hardly recognize most greens when I'm shopping in Chinatown"
This blogging platform doesn't seem to allow me to reproduce it, but Matt's original comment was followed by a sad-sack, little yellow frowning face. This international symbol of distress became the ultimate kicker in my next decision: To do something about this. (I think it must have set off some alarm nestled deeply in my conflicted half-Asian, half-American psyche.)

And so thanks to the far-reaching foodscope of the website Culinate, this article ensued. Launched last week, it briefly introduces five Asian vegetables I felt worthy of your attention. Obviously, whole families of flora are left out of this short list. But as long as there's interest — and plenty of time — each will have their chance at the spotlight soon enough. Enjoy!