This side is:
a) 100% vegetables
b) 100% hearty
c) oddly Christmasy-looking
d) all of the above
If you guessed "d," then you hate these kinds of questions because you always know whoever's posing it is trying to get you to say that. And I don't blame you. But you've got to try these green beans to believe how true it is.

I became a little disillusioned with oil-packed sundried tomatoes a while back. They taste great, but are hard to find. You use up that toadstool-sized bottle in one sitting. They come cured in a set of flavors that the packager decided, not you. Hence, I've turned my eye to the dried dried variety, the kind that usually comes in clear plastic bags and costs substantially less. Steeped in hot water for five minutes, they create a rich, sweet broth as they plump up that would be much too shameful to discard. For the past week, I've been tossing this reddish ochre-tinted solution into pasta sauces, soups and — case in point — these simple green beans.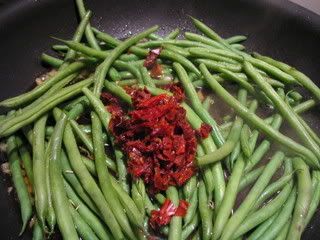 frying with flying colors
I almost wonder if, in a pinch, soaking sundried tomatoes and maybe a few dried porcini mushrooms would produce a vegetable broth even more savory than the slow-simmered real deal. Why not? It seems to make perfect logic in terms of time use: it took a good deal of time for the sun to dry out these vegetables into their more concentrated forms. Like veggie bouillions, if you will. Plus, when you add the softened, soaked tomatoes to dishes at the last minute, it almost achieves that perfect denseness and concentrated flavor of a fresh tomato cooked down for 20 minutes or so — something which I'm often too impatient to let happen properly.
If I'm talking all of the sudden in drastically different gears than the fresh produce-hailing hippie of summer's excesses, it's not exactly the way I had intended it. Fresh tomatoes are very much alive and kicking. But it's getting cold up in this 'hood, fast. Soon we'll all be talking about soups and Thanksgiving turkeys. But for now a slight compromise of seasons. I served this side alongside a simple crusty baguette-grilled cheese for dinner one night. The bread was perfect for mopping up those thick remnants of burgundy sundried tomato goo.

a toasty early-Autumn meal
Sundried Tomato-Braised Green Beans
(makes 4 side servings)
1 dry quart or about 1/2 lb string beans, stems removed
about 5 sundried tomato halves
1 cup boiling water
1-2 tablespoons olive oil.
2 garlic cloves or one large one, minced
Pinch of dried thyme
salt and freshly ground black pepper
Place the tomato halves in a bowl or pot and submerge with the boiling water. Cover, and let sit for 5-7 minutes as you prepare everything else. Once time is up, remove the tomatoes and coarsley chop them, reserving the water. Set tomatoes aside.
In a large saute pan, heat the olive oil on high with the garlic until the oil begins to sizzle. Add the green beans and stir to coat with the oil. Add a pinch each of salt, pepper and thyme and let sizzle another minute, stirring. Add the soaking water from the tomatoes, stir, and cover. Open lid after 2-3 minutes to stir and cover for another 2 minutes. Remove lid and continue stirring. Add the chopped sundried tomatoes and stir until most of the liquid is cooked off. Serve immediately.
Cost Calculator
(for 4 servings)
1 dry quart string beans: $2.69
5 sundried tomatoes (at $2/3-ounce bag): $0.35
2 Tb olive oil: $0.25
1 clove garlic, salt, pepper, pinch of thyme: $0.25
Total: $3.54
Health Factor



Two brownie points: Well, I'm not sure where NutritionData's getting their sundried tomatoes from, but the sodium count on my dry organic sundried tomatoes from Trader Joe's spoke of only 25mg of sodium per serving, which is, um, less. So this ingredient confuses me a little. Perhaps it varies greatly in additives and production methods that each one is, essentially, a slightly more altered species of tomato than I had originally bargained for. Or perhaps mine are just delicious nuggets of vitamins, antioxidants and lycopene, without much negative repercussion. Either way, I can safely say that a little of these go a long way in terms of flavor, so it would be difficult to overdose on them. And, that a green bean is a low-calorie blessing in many ways.