This weekend, I answered the question, "What do you get when you have four pounds of white bread, two kinds of meat, and a propensity for non-traditional picnic food?" Easy. Thai chicken satay and Vietnamese pork banh mi tea sandwiches.

At least in theory, it seemed easy. I'm not going to bore you with the details of managing the crumbs on my apartment floor in the aftermath, or of my cluelessness regarding how to stack triangle-shaped sandwiches onto a platter in such a way that they didn't topple or spill their contents. What did make it onto a tray and a few miles north to Williamsburg's East River Park, though, were gobbled under the sun on a warm, crisp August day by attendees of the first-ever fête of the Ladies Auxiliary of Brooklyn.
The what? Who? Simply put, as a member of the newly-formed collective called the Ladies Auxiliary, we are a group of artists of many types who are combining our talents toward various multi-media projects. And we all happen to adore food. Some colorful examples: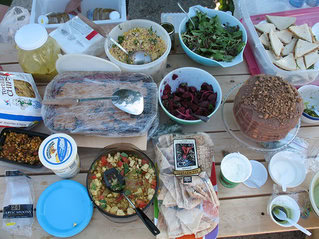 aerial shot of the sweet and savory spread by Meredith Modzelewski

I was not the only one coconut milk-happy: Lindsay's chilled mango coconut curry soup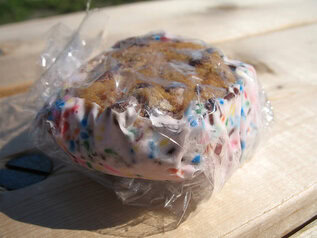 unlikely survivors of picnic basket-travel were Jill's individually-wrapped ice cream sandwiches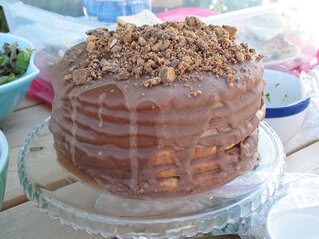 a short-lived, seven-tiered chocolate peanut butter monster cake made by Sean

also translated to tea-sandwich form: Vietnamese pork banh mi, slightly improvised with garlicky ground pork meatballs and chile mayonnaise
Preparing this picnic fare reminded me, humbly, of a chapter in Laurie Colwin's "Home Cooking." In it, she warmly recalls a period of time during college when she and a girlfriend carried out the task of preparing tons of sandwiches to feed the angry masses of campus protestors in the late 1960s. Her description of breaking down industrial-sized cans of tuna with industrial-sized vats of mayonnaise, and slathering the mixture between plain white bread slices, stuck — if somewhat unappetizingly — in my mind long after reading. (I believe the chapter was titled "Feeding the Masses," but I've returned the book to the library.) The sense of duty that this chapter conveyed — and the pride that comes with it — is what stood out, whether in feeding the homeless, righteous or simply glamorous. It seemed to trump anything as flimsy as being a passionate or very creative cook — or at least show the latter as complementary assets at best.
Not to say that quality necessarily decreases when producing food on a larger scale. But once I had finished putting together 60 half-sandwiches, I could barely care what they tasted like.
Thankfully, they were good.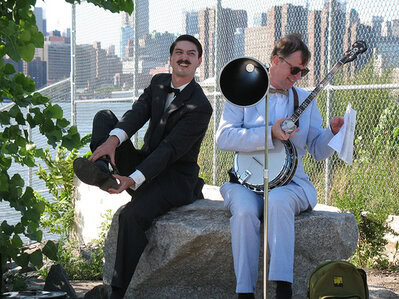 our esteemed musical guests, Honne Wells and Al Duvall (photo by Meredith Modzelewski)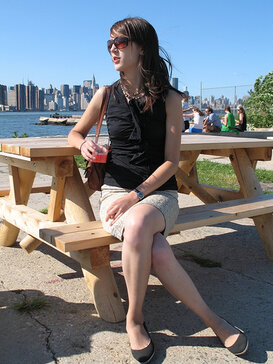 enjoying watermelon cooler and unaware of being photographed by Meredith Modzelewski
Chicken Satay Tea Sandwiches
(makes 15 full sandwiches, 30 diagonally-cut tea sandwich halves or 60 quarter tea sandwiches)
3 lb boneless chicken breasts or thighs, in thin cutlets or pieces no thicker than 1″
30 slices (about 2 lb) white sandwich bread, crusts trimmed
3-4 scallions, both white and green parts chopped
1 bunch cilantro, coarsely chopped
1 Tb vegetable oil
for the marinade:
1 Tb smooth peanut butter
1 Tb fresh lime juice plus leftover rind
1 tsp soy sauce
2 cloves garlic, coarsely chopped
1/2 tsp ground coriander
1/2 tsp cumin
1/2 tsp turmeric
1/4 tsp white pepper
1/4 tsp cayenne pepper
1/4 tsp coarse salt
for the sauce:
1 16 oz. can of coconut milk
1/2 cup smooth peanut butter
2 Tb fresh lime juice
2 Tb brown sugar
1 Tb soy sauce
3 cloves garlic, minced
1 Tb fresh ginger, minced or grated
1/3 cup seafood stock
3-4 green and/or red Thai chilies, finely chopped
1/4 tsp cayenne pepper
1 tsp corn starch
Marinate the chicken at least 2 hours in marinade mixture, covered and refrigerated.
The sauce can be made a day ahead and refrigerated, or cooked immediately and then chilled to at least room temperature before using. In a small bowl, combine half of the seafood stock with the corn starch and set aside. Combine the rest of the ingredients in a saucepan over medium heat, stirring until blended thoroughly. Taste for seasoning, adding salt if necessary, or more brown sugar if it's too sour. Bring mixture to a slight boil and stir, constantly, until it slightly thickens, about 2 minutes. Add corn starch and seafood stock mixture to the saucepan while stirring constantly. Stir for another minute and remove from heat. Let sauce cool completely in the refrigerator, at least 2 hours (or chill overnight).
Brown the chicken: Heat a large frying pan on high heat with oil. Shake off excess marinade and any garlic cloves, lime peels, etc. from chicken pieces and place down on pan. Let brown thoroughly on one side, then flip and brown thoroughly on other side until piece is fully cooked (cooking time depends on size of chicken) on medium-high heat. Set chicken on paper towels and let cool. Once cool enough to handle (or until completely chilled in the refrigerator), dice chicken into small cubes.
In a large bowl, fold together diced chicken with sauce and scallions. Spread mixture onto one side of the sandwich bread. Evenly distribute the fresh cilantro throughout the sandwiches, and cover with the other slices of bread. Slice sandwiches on a diagonal into half-sandwiches or quarter-sandwiches.
Cost Calculator
(for 30 half-sandwiches or 60 quarter-sandwiches)
3 lb boneless chicken thighs (at $2.50/lb): $7.50
2-lb loaf white sandwich bread: $3.69
3 scallions (at $0.33/bunch in Chinatown): $0.20
1/2 cup plus 1 Tb smooth peanut butter (at $5.75/2 lb jar): $0.75
1 16 oz. can coconut milk: $1.50
2 limes (at 5/$1): $0.40
3 Thai chiles (at $2.40/lb): $0.10
1 bunch cilantro (in Chinatown): $0.50
5 cloves garlic (at $1/tube of 5 heads): $0.18
1 Tb fresh ginger: $0.05
2 Tb brown sugar: $0.20
1 Tb plus 1 tsp soy sauce: $0.20
1/3 cup seafood stock (homemade from shrimp shells): $0.25
salt, peppers, ground coriander, cumin: $0.15
Total: $15.67
Seven brownie points: Like many other classic tea sandwiches, these look like the innocent flower but are like the serpent beneath 't. A dainty-looking presentation of Thai satay sauce, rich in coconut and peanut buttery saturated fats, are no less saturated with fat. However, this recipe eschews mayonnaise for the satay sauce, which is a fine trade-off. Add a few more vegetables like thinly sliced cucumber or crisp bean sprouts and a little less of the saucy chicken if you're going to eat a lot of these (which you probably aren't, because they're tea sandwiches after all).