A week or so ago, I bought a pint of thick, full-fat Greek-style plain yogurt. I planned on making the most mouthwatering, yet-undiscovered frozen yogurt flavor, but had no idea what it would be. A week of contemplation went by. What about a fresh, spicy ginger flavor with brown sugar? Maybe those sour cherries can be cooked down to a syrup and swirled in. What if I threw blueberry cobbler pieces into it with mascarpone cheese?

My mind ran amok with ideas, which eventually spilled into the phone receiver at odd times of the day as I shared some of them with Ben.
Me: A cucumber dill or mint frozen yogurt, you know, like a spin on raita?
Ben: Uh, what about that cucumber thing you have in the freezer and never ate?
(the white icicles of strangely cucumbery-tasting "ice cream")
Me: So?
Ben: Maybe you should stop trying to make something crazy and just make something easy that you like.
What a novel idea. While in theory I wanted to try and perfect my cucumber dill raita frozen yogurt, in practice — and at this time of the year especially — I would really love to munch on fresh, juicy mango bits as I worked about the kitchen. Maaangooo. If I were Homer Simpson, it would be my donut. I know that these things travel many fossil fuel-burning miles to get to the bodega on the corner of my block. But since I've been spoiled by the availability of this tropical delicacy my entire life, I cannot lie. They're truly my favorite fruit.

pulverized to perfection
Nothing could be simpler about the theory behind this frozen yogurt. It combines good, Greek-style yogurt — which I am happy to eat out of the carton already, and a good, juicy mango –- which I am likewise happy slurping off its core like corn on the cob. Mashed up and mixed together, these two things were nearly perfect: the thick, velvety brightness of the mango puree just sweet enough to mellow the fierce tang of the yogurt. I could have eaten this soft mixture, unfrozen, just as well. But if only because it was 80 degrees most of this past weekend I saw people eating ice cream on every block I turned in my neighborhood, I followed through with the frozen plan and gave it a churn in the ice cream maker.

fruit on the bottom
What resulted inspired abnormal bliss. It sparked "Heavens to Betsy" exclamations and "Well put me in a spaceship and light me on fire" bad hyperbole-slinging wonder.
Why would anyone eat mango ice cream? I wondered. This version was far superior — tangy. Sweet. Fresh, fresh, fresh. I guesstimated a modest 1/2 cup of sugar to mash with my (very ripe) mango and it turned out well, though this hinges upon the ripeness and flavor of the particular mango used. No lemon juice was needed, due to the tartness of the fruit as well as the yogurt. No cream or egg yolks needed due to the dense, buttery richness of the Greek yogurt.
As further testimony of its overwhelming creaminess, I placed a scoop before Ben, who did not witness the cooking and had no idea what the orange stuff was (or was supposed to be) and asked him to guess. Apparently not being very familiar with mangoes, he could only come up with three things to describe it: "like apricots," "creamy" and "buttery." Ha!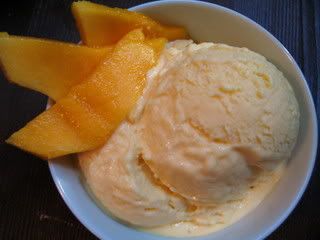 mango 'n cream
Mango Frozen Yogurt
(makes almost 1 quart)
1 pint (16 oz) Greek-style plain yogurt (preferably not light or reduced fat)
1 large, ripe mango
½ cup sugar
Peel mango and cut as much flesh as possible away from its pit (reserving a couple small pieces for serving with later if desired). Coarsely chop the mango and transfer pieces to a food processor or blender. Pulse for a few seconds until pureed. Add sugar and pulse for a few more seconds.
In a large bowl (or container you will eventually use to freeze the frozen yogurt in), gently fold the yogurt in to the mango mixture. Do not whip. Turn mixture into an ice cream/frozen yogurt maker and follow the machine's instructions for churning. Once it's done, serve immediately or freeze for 2 hours first to "ripen" the frozen yogurt.
Cost Calculator
(for about 6-8 servings)
1 pint Greek-style plain yogurt: $2.99
1 large mango: $1.50
1/2 cup sugar: $0.25
Total: $4.74
Health Factor








Five brownie points: Someone needs to help me understand the science behind the trend of probiotic yogurt cultures that help aid indigestion (and what types of yogurt it includes), but the one thing I do know is that all yogurt offers a laundry list of nutritional benefits, from supporting the immune system to being an excellent source of protein. Even though the indulgent full-fat Greek style yogurt I purchased packs 10 grams of fat per half cup serving, I'd like to think that it's fat well spent. A fresh fruit high in Vitamins A and C like mango never hurt matters, either.