I digress…
I don't really think of myself as an all-American girl, being a New Jersey-bred half-breed who grew up mostly on stir-fry. It was a long time until I had a meal that was all baked in one casserole dish, and wasn't dessert. I didn't like many of these American classics at first, encountered at friends' houses or potlucks. And whose crazy idea was it, anyway, to cook a whole dish in the oven in one pan?
A genius of convenient cookery, that's who.

That person may be in large part credited to Ms. Fannie Farmer. Before they became distinctly American homecooking favorites in the 20th century, casseroles were, according to the Oxford Encyclopedia of American Food in America (2004 edition), an economic way to stretch meats during the depression of the 1890s. Farmer's landmark 1896 Boston Cooking School Cookbook included one recipe for a Casserole of Meat and Rice.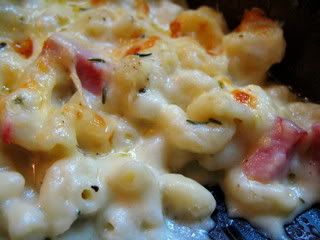 Me and Fannie, I'm sure we would have gotten along grand. I never owned any of her cookbooks and much of her simple, practical cooking still sounds foreign to me. But I can only aspire to be her kindred spirit of sorts. She championed piousness in the kitchen with regard to nutrition and domestic well-being. She took exact measurements so that other women wouldn't have to. She created a cache of recipes justly for ladies-who-just-want-to-get-on-with-it-while-wowing-her-family. And hopefully, herself in the process.
There are few recipes more Fannie-tastic than her classic baked macaroni and cheese. To macaroni and cheese purists, it is simply a moot point.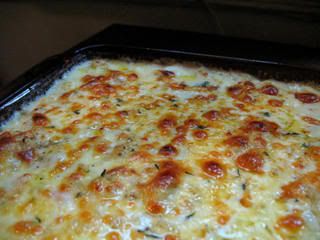 At a potluck a few months ago, someone brought in a baked macaroni and cheese with bread crumbs and described it as the only thing she cared to make, and the only way it was made. There's seldom a recipe for a classic macaroni and cheese that doesn't ascribe to this recipe's basic tenets — a mornay sauce with sharp cheddar cheese, added to cooked pasta and topped with more cheese and bread crumbs before baking in the oven. Even Alton Brown, today's scion of cookery science by a long shot, has a recipe just like it which he aired on Good Eats (although he called for the nouveau-trendy panko bread crumbs for topping).
There's a couple problems with it, after all that. I still don't enjoy bread crumbs on my pasta. I don't find that cheddar cheese melted into beschamel creates a creamy enough result when baked uncovered in an oven. So you'll have to trust me (and the photos), that this four-cheese variety fills the lacking texture factor sufficiently. And the flavor of it — well, now it's practically a completely different dish in its own. Whatever it is, it isn't Fannie Farmer's macaroni and cheese.
Forgive me, Fannie, for I have sinned.
Not Fannie Farmer's Four-Cheese Macaroni
(makes 3-4 servings)
½ lb elbow macaroni, cooked al dente and drained well
6 oz sharp cheddar aged at least 6 months, shredded
4 oz pepper jack cheese, shredded
2 oz blue cheese, crumbled
2 oz Emmental Swiss cheese, shredded
3 tablespoons flour
3 tablespoons butter
3 cups milk
1 teaspoon fresh thyme leaves
¼ teaspoon dry mustard
¼ teaspoon fresh ground black pepper
6 oz ham steak, cut to ¼-inch cubes (optional)
coarse salt to taste (add very sparingly if using ham)
In a large bowl, combine the shredded cheddar, pepper jack and Emmental cheeses.
Preheat oven to 375 degrees. In a large saucepan, melt the butter with the flour over medium heat. Add thyme leaves and continue cooking, stirring constantly, for 3-4 minutes. Add milk, dry mustard and pepper and stir frequently until mixture comes to a slight boil; continue stirring while mixture thickens for another 2 minutes. Turn off heat. Stir in all but roughly ½ cup of the cheddar, pepper jack and Emmental shredded cheese mixture and the blue cheese. Once cheeses and thoroughly melted and mixed, add ham, if using. Taste for seasoning, adding a very small pinch of salt at a time if desired. Fold in macaroni.
Turn mixture into a greased, 9" x 9" square baking pan or casserole. Top evenly with the reserved ½ cup of cheese mixture. Cover casserole with foil and bake in the middle rack of the oven for 30 minutes. Remove from oven and preheat broiler for a 1 minute. Broil uncovered for 3-4 minutes until cheese on top is slightly browned. Remove from oven and let stand for 10 minutes before serving.
Cost Calculator
(for 4 servings)
1/2 box pasta: $0.60
6 oz New Zealand cheddar aged 12 months (at $3.99/lb): $1.40
4 oz pepper jack (at $3.50/lb): $0.86
2 oz blue cheese crumbles (at $2.99/4 oz): $1.50
2 oz Emmental cheese (at $6.99/lb): $0.87
3 Tb flour: $0.10
3 Tb butter (at $1/stick): $0.38
3 cups milk (at $5/gallon): $0.94
1 tsp fresh thyme (at $2/bunch): $0.40
dry mustard, black pepper, salt: $0.10
6 oz optional ham steak: $3.00
Total: $9.88
Health Factor
Seven brownie points: If you're treating macaroni and cheese as a delicacy, not a staple, then this is just fine. Problems arise if not. I strongly believe in adding a little ham not only to make it that much more decadent — because you might as well go all out there with it — but to provide its saltiness and protein when otherwise you might serve macaroni and cheese alongside an already greasy, salty animal protein (ahem, fried chicken). Even still, easy does it.