Three words: Smoked Monterey Jack. A creamy composite of dove-complexioned tenderness on the inside, roughed up to a bronze smokehouse char on the outside. Not as piquant as smoked cheddar, or slightly spongy like smoked Gouda. It's more like a mouthful of pure, cool summer barbecue breeze, the kind that wafts into your window from the neighbors' yard and tantalizes you like crazy because you're not invited.

I grabbed a wedge of this Wonder Wheel from Trader Joe's the other day and thought it would make a perfect flavor packer to cook with. I've never made chilaquiles before, so the recipe you'll find below is mostly my guesswork taken from the few times I've had it — in restaurants way back when, and, more specifically, from the time my friend Sam made it. I've also only had it with a green tomatillo-based chile sauce, but after deciding to double up on the smoky theme, I went with a red chile sauce made mostly from sweet, dried ancho chiles.

ancho chiles (dried poblanos) get a steamy bath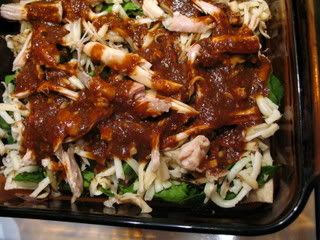 loading up the casserole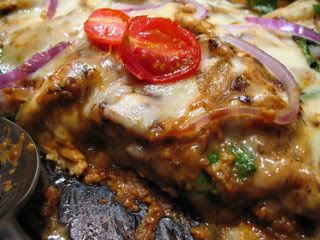 digging in
Ingredients are everything, and sometimes when you combine two of them, you may end up with everything and more than you could have dreamed for in a recipe. I cannot stress enough that miracles do happen. Trying the smoked Monterey Jack with the ancho chile sauce for the first time, I felt like Remy the rat when he inadvertently toasts a mushroom in an explosion and jumps for joy at its taste. (If I'm the only food blogger who hasn't made reference to Ratatouille yet, I apologize for the delay in calling out the cutest food film of the summer. I did rush to see it on the first weekend, though.) Furthermore, the range of textures in the corn chips — from saucy cornmeal mush to crisp and everywhere in between — would make any rat or human happy. Though the dish might resemble something like lasagna when you bake it in a casserole as I did, this texture reminded me more of an authentic Cantonese chow mein, in which crispy noodles try to stand up to the test of a rich, savory sauce slowly seeping in.
Smoky Ancho Chicken & Spinach Chilaquiles
(makes 3-4 servings)
1/2 lb boneless chicken (or use 1.5-2 cups shredded, leftover cooked chicken)
about 3 medium-sized dried ancho chiles
2 cups packed fresh spinach, chopped
12 oz smoked Monterey Jack cheese, shredded (or substitute with regular Monterey Jack or Pepper Jack)
about 5 oz fried salted corn tortilla strips, can be stale (or substitute with tortilla chips — these will get mushy anyway)
1 large shallot, finely chopped
3 garlic cloves, finely chopped
1/4 cup chopped onion
1 jalapeno pepper, cored, seeded and chopped
2 tsp cider vinegar
2 tsp brown sugar
1 tsp salt (or more to taste)
1/2 tsp oregano
1 Tb vegetable oil
small handful of grape tomatoes, halved
sprinkle of finely sliced red onion (for garnish)
Tear off the stems of the ancho chiles and pour out the seeds. Break each one into a few pieces. Place into a covered pot with 3 cups of water and bring to a boil. Turn off heat, and let sit, covered, for 15 minutes.
Heat a large pan with a lid with oil at medium-high. Brown chicken on one side for 3-4 minutes. Sprinkle with salt. Turn over, and cover. Cook until the chicken is cooked through. Remove from pan and set aside.
In the same pan, sautee shallot, jalepeno and 2/3 of the garlic on medium heat for about 5 minutes, until softened. Add the ancho chiles with their soaking water and bring to a low simmer. Add salt, oregano, brown sugar and vinegar. Turn off heat and let cool for at least 15 minutes. Transfer chile mixture to a food processor. Add onion and remaining 1/3 of the chopped garlic. Pulse until liquified into a smooth sauce. Taste for seasoning. Sauce may taste very bitter at this point, which is fine.
Preheat oven to 375 degrees. In a 9 x 9 baking dish at least 2″ deep, begin layering the chilaquiles. Scatter a somewhat even layer of half of the tortilla strips on the bottom. Add about 1/3 of the sauce evenly on top. Add a layer of half the spinach. Add about 1/3 of the shredded cheese, then about half of the chicken. Add another layer of tortillas, more sauce, the rest of the spinach, more cheese and the rest of the chicken. Top with the rest of the sauce, then the rest of the cheese. Scatter the halved grape tomatoes on top. Bake at 375 degrees for 30 minutes. Remove from the oven, and scatter sliced onion on top. Let cool a moment before serving.
Cost Calculator
(for 3-4 servings)
1/2 lb boneless skinless chicken thighs (at $3.99/lb): $2.00
3 dried ancho chiles (from a pack of about 10 at $1.29): $0.40
2 cups fresh spinach (about 1/6 of a 10oz bag at $1.99): $0.33
12oz wedge of smoked Monterey Jack: $4.69
5 oz tortilla strips (from a 10oz bag at $1.99): $1.00
1 shallot: $0.10
3 garlic cloves: $0.05
1/4 cup chopped onion: $0.20
1 jalapeno: $0.20
2 tsp each cider vinegar and brown sugar: $0.35
salt, oregano, 1 Tb vegetable oil: $0.10
4 grape tomatoes, few slices of red onion: $0.30
Total: $9.72
Health Factor








Seven brownie points: Not your average light summer meal. Nothing about chilaquiles — from the fried corn tortillas to the more-than-a-lot-of-cheese usage — is particularly light, with the exception of perhaps shredded slivers of lean chicken or another meat. I tried to compensate by adding some fresh spinach, which withered and cooked gently with all the oils surrounding it.