Last week I reached for a jar on the back of the refrigerator door, knocked over the marinated artichoke hearts — the cap must have been lazily placed on top rather than screwed on — and spilled artichoke juice all over three shelves and the floor of the fridge. It didn't smell half bad. Tonight, I intentionally did much the same to this simple spinach salad — that is, didn't bother whisking up any dressing. Nada. It wasn't half bad, either.

There was a joke my late Grandpa Erway once told (he could have written a book of all the jokes stored in his head, if only he had the faintest idea where he'd heard them all) that went like this:
What were Joan of Arc's last words?
[What?]
I'm smoking more, but enjoying it less.
No disrespect to poor Joan's situation here, but I feel the same way about a lot of things. Lately, it's been cooking. I mean — it's hot! It's rainy! It's humid, mucky. You want to go out and flop on the grass. Or hole up in a theater and watch movies all day. But I've solved the whole eating issue by cooking as little as possible, to the best possible results. Like this salad. It may not be the most sensational thing you've ever had in your life, nor the most unexpected, but if you have at least two of these ingredients on hand, then you'll be a happy luncher. Or dinner-er, if you're the type who'll tolerate salads as dinners. Plus, a half-moon of pita when folded in your hands makes the most incredible edible salad chopsticks/scoop type of thing — no utensils required. I'd recommend next time not even bothering to slice the grape tomatoes. Bon appetit.
Enjoyably Easy Spinach Salad with Artichoke Hearts and Walnuts
(makes 1 serving)
1/8 lb baby spinach
3 or so marinated artichoke hearts with 1 Tb of liquid from the jar
handful of grape tomatoes
1 thin slice of red onion
handful of crushed walnuts
dash of salt and freshly ground pepper
Toss ingredients and serve immediately.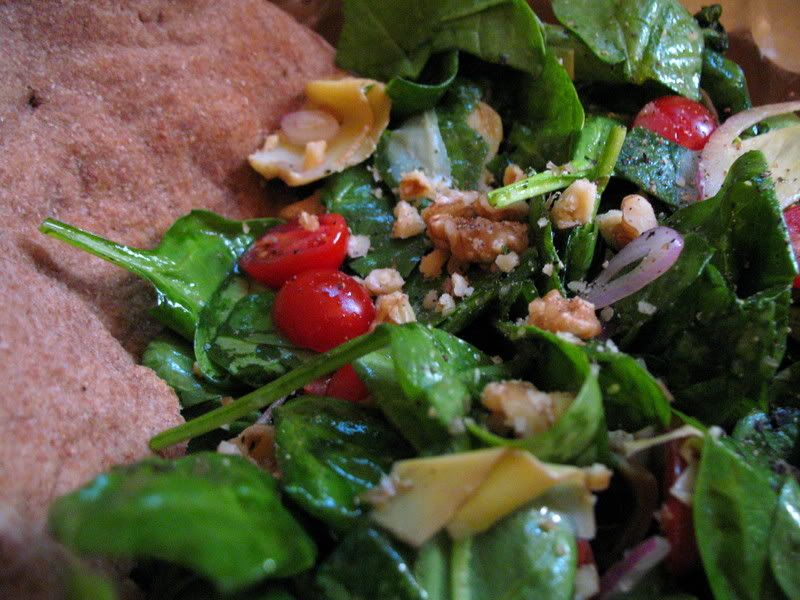 Cost Calculator
(for 1 serving)
about 1/4 jar of marinated artichoke hearts (at $2.19 for 12ozs): $0.55
about 1/4 lb baby spinach (at $6.99/lb): $1.75
about 1/8 package of grape tomatoes (at $2.50 for ): $0.31
2 Tb crushed walnuts: $0.50
thin slice of red onion: $0.10
Salt, pepper: $0.02
Total: $3.23
Health Factor




Three brownie points: It hinges largely on the marinated artichokes you buy pre-marinated. It just occurred to me since that I don't use bottled salad dressings, this artichoke marinade solution may seem a bit more magical to me than for most — after all, it has a good deal of the stuff you'll see in bottled dressings, and hopefully nothing more caustic than citric acid. But happily unprocessed raw spinach, tomatoes and walnuts more than make up for its flaws.