I'm taking Arthur's advice this month and eating plenty of asparagus while they're in season. In fact, I owe so much to the erudite and challenging wisdom he's extended me that I had even considered blending this vegetable with strawberries (the other food he mentioned is best in June) in a salad, and took this idea for a good mental romp in the park, but ultimately, I chickened out on the big kid slide. For now.

The other thing I feel I must mention is the decades-long tiredness of the basic ingredients which make up an "Asian" flavored salad. We all know and love an Asian Chicken Salad, that low-on-carbs-but-not-on-flavor very California cuisine dish which combines shredded, light green greens with chicken and carrots in a sweet, sesame oil-infused dressing. I like The Delicious Life's rant on its clownishly un-Chinese heritage (as well as the recipe). But the reason I bring it up is that almost every salad recipe that has the word "Asian" in it these days invariably has a sugary, sesame and soy dressing sometimes hit with peanut butter or fish sauce, and with always ginger and garlic. And it just doesn't have to be that way.
And, since most of these salad dishes aren't Asian in any authentic sense, why the monotonous labeling of "Asian" this, or "Asian-style" that? We're talking about Asian fusion here, after all. Fuse some Asian ingredients with some not so Asian ones and hold that dressing, please. The world our oyster sauce-marinated, five spice-powdered, chili oil-scented squid, parsnip and sweet potato salad, and so let's start exploring it.
One of these days a perfect June strawberries and asparagus recipe will come to me. But until then I toyed around with some quickly roasted (still crisp) asparagus and Chinese lap cheong sausages (since they make such a great shape pair), a little watercress for leafy crunch and a few other basic flavors like shallots, garlic, lemon and a little touch of fresh chile heat.
Take it to your next barbecue, and you can be sure no one else will bring the same salad.

not it

not it (but a really good idea)

definitely not it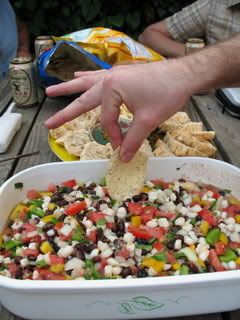 not it, not one bit
Roasted Asparagus Salad with Chinese Sausages and Watercress
(makes 6-8 servings)
1 lb fresh asparagus, ends peeled or snapped off where the stalk naturally breaks
1 bunch watercress
2 Chinese lap cheong sausages
2 medium shallots, thinly sliced
1 garlic clove, minced
2 red Thai chiles, thinly sliced
juice of 1 lemon
1 tsp lemon zest
1 tsp soy sauce
salt and pepper
1/4 cup olive oil plus 2 Tb
Preheat oven to 400 degrees. Toss asparagus in olive oil and some salt and arrange on a baking tray. Place Chinese sausages on top of asparagus and roast together for 6-8 minutes, shaking or tossing the pan once midway. Let cool completely (or refrigerate to speed up cooling). Slice the asparagus to about 1-inch pieces, cut on a bias. Slice the sausage into thinner slices on a bias, about 1/8 inch.
In a large bowl, whisk together lemon juice, soy sauce, garlic, shallots, chiles and zest. Drizzle in olive oil while whisking until emulsified. Add fresh ground black pepper to taste. Add watercress, asparagus and sausages and toss to coat thoroughly. Serve at room temperature. Let sit refrigerated for an hour or two before serving and the watercress will absorb more flavors and be better.
Cost Calculator
(for 6-8 servings)
1 lb asparagus: $3.49
1 bunch watercress: $1.29
2 Chinese sausages (from package of 18 at $6.99): $0.77
2 shallots (from bag of 12 or so at $2.00): $0.33
1 garlic clove: $0.03
1 lemon: $0.33
2 red Thai chiles (can't remember): $0.35
1 tsp soy sauce, salt, pepper: $0.10
1/4 cup and 2 Tb olive oil: $0.75
Total: $7.71
Health Factor




Three brownie points: Ah, lightness. Here, sausage takes the place of the little bit of bacon that often goes into salads like a magical fairy dust of flavor. It's not absolutely necessary, though. For a really, truly healthy salad that's so sober and green it could make you cry with self-congratulation, you could eliminate it completely. But I like to keep it in there as a reward for giving myself so many nutrients and so few calories with asparagus and dark leafy greens at once.