Look at what I found the other day:
It isn't a paddle to play any sport.


back
It isn't an elaborate spoon or ladle.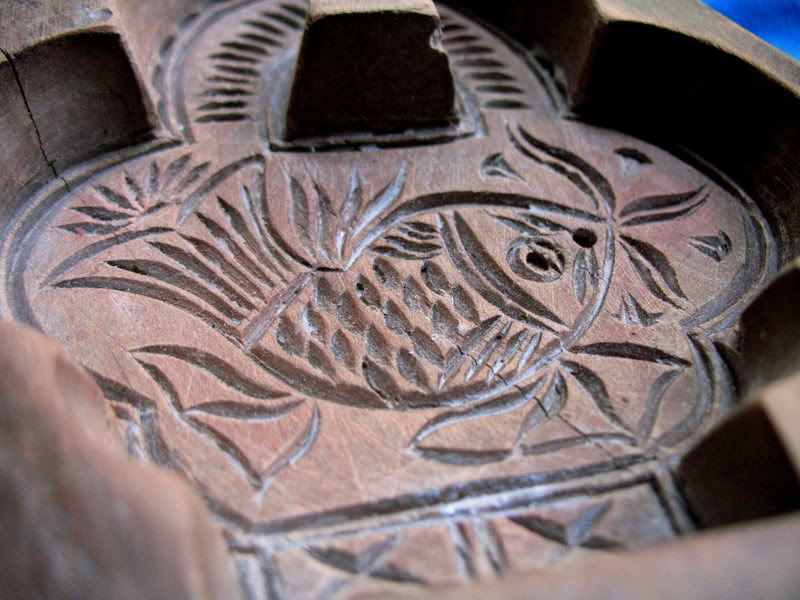 It isn't a percussion instrument, a ceremonial candy dish or a cumbersome shovel.
It's a Chinese cookie or cake mold. And that is quite simply all I know about this object. The question is, what cookies — and who's got a recipe?
I picked up this gadget last week when I was walking along Smith Street in Boerum Hill and wandered into a cute vintage and craft knick-knack store called Enamoo. In a small box, there were three of these wooden cookie molds, each one nearly completely different in shape and design except for its long, stemlike handle. Mine was the largest one of them. It has a crack down the middle and a carved fish design symbolizing good luck. The lady at the store knew that these were antique cookie molds, though how antique, I have no idea. She told me that her partner had collected them on an antiquing trip.
The cookie/cake type dessert with the mysterious triangular shaped hole that this tool would form could not be any deeper than about 3/4 inch. That leaves out moon cakes, the traditional Mid Autumn Festival dessert that are also molded in a decorative cast and have a sweet filling inside a cakey shell. Or does it? Is there some shallower version of the cake made in certain regions of China, perhaps not served solely on the holiday? How is the handle necessary? And what about the cluster of identical little ring-shaped indentations on the back of the mold? A sign it was used industrially in some commercial kitchen with lots of machines? A sign it was used by aliens?
Before I go hit the books looking up any and every Chinese cookie or cake recipe, I thought I'd put this one out to my wise and cultured readers. When this mold finally gets its second breath of life, I want to be sure it's the right one. Any thoughts and suggestions are hugely appreciated — you don't have to be a trained kitchen gadget archaeologist to speak up on this episode of antiques blogshow.