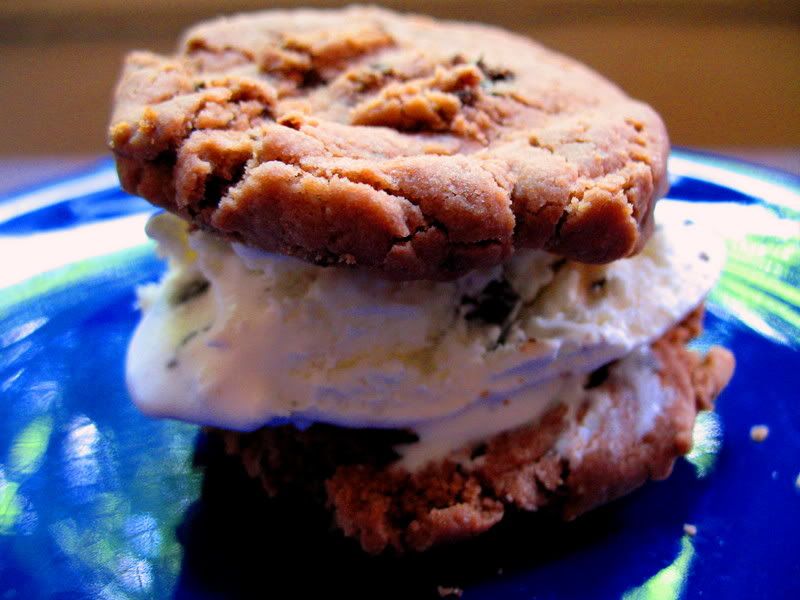 Fresh-mint infused ice cream flavors have grown up quickly from the esoteric awe they might have once induced. Now that Ciao Bella even makes a fresh mint chip ice cream, it's no longer the domain of chefs and home cooks, either. Fresh mint leaves are a world of difference from the minty mint chip flavor we grew up with (read: peppermint oil); it's kind of one of those delightful twists on a flavor that you didn't even know needed improving. But since there are so many varieties of fresh mint, I'm curious to see what happens when we begin to discern them in things like ice cream, too.

Hence, this experiment. I recently discovered the fresh, minty flavor of wintergreen while I was on "Wildman" Steve Brill's tour of Prospect Park. Rather than coming from a stick of Winterfresh gum, it comes from a stick of the black birch tree (also the flavor source of birch beer). It's mild, and I should have grabbed a couple more twigs than I did on the tour — but we'll get to that later. Brill explained that aside from its minty flavor, the black birch twigs release mild pain relieving qualities when chewed on. It's a great natural alternative to aspirin, especially for children and babies. Brill's daughter, Violet, recently went through teething and was given black birch to chew on to calm the pain.
Could there be a pain-relieving ice cream flavor, I immediately wondered. It sounded too good to be true.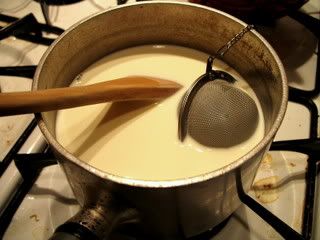 black birch twigs take a beating before going into the pot

Okay, I'll step the excitement down one notch and let you know that the end result of my chemistry experiment (steeping black birch in cream and milk instead of, for instance, vanilla beans) didn't work out quite as magically as I had hoped. I had been so accustomed to steeping just a tiny bit of vanilla and reaping a big flavor reward that I didn't expect it to be much different for black birch. I steeped just two twigs (pictured above) in three cups total of milk and cream, and it turns out that wasn't quite enough. I tasted the mixture while stirring it so many times, searching for that mint flavor and not finding nearly enough of it, that I think I was beginning to dream it was there. When it was all churned and finished, I thought I could taste it, though mostly in the aftertaste. Concerned about hallucinating, I asked Ben to try the finished ice cream product, and he confirmed: for some reason, the wintergreen taste comes out in the aftertaste. So I've concluded that it takes more than two black birch twigs to make this much ice cream. Perhaps a lot more. The same probably goes for the pain relieving qualities.
So to pamper my disappointment, I made chocolate chip cookies and smashed them together with the ice cream for some super chip-tastic creamity cool ice cream cookiewiches. It relieved the pain, alright.
Wintergreen Chip Ice Cream Cookiewiches
(makes about 1 quart of ice cream for 8 sandwiches)
1 1/2 cups heavy cream
1 1/2 cups whole milk
1/2 cup sugar
5-6 black birch twigs (just making an educated guess here… )
1/2 cup dark chocolate chips or chunks
for the cookies:
ah, heck, don't listen to my cookie-making advice, go here for a sound 24-cookie recipe, and then make slightly bigger, flatter cookies for a total of 16
Combine milk, cream, and black birch twigs, broken or sliced apart to release flavor, in a saucepan. You can also use a tea steeper (as pictured above) to keep any bits of twig contained. Bring mixture to a boil over medium heat, reduce heat to low and simmer for about half an hour, stirring occasionally. Remove black birch twigs. Add sugar and stir until dissolved. Transfer mixture to a covered container and refrigerate for several hours until completely cold. Pour mixture into ice cream maker and follow machine's instructions. In the last ten seconds of churning, toss in chocolate chips. Use immediately, or transfer to freezer to "ripen" the ice cream, about two hours.
Bake cookies according to recipe and let cool completely. You can also refrigerate them for quicker cooling. Spoon about 1/2 cup of ice cream in between two cookies. Serve immediately, or wrap in waxed paper to store in the freezer.
Cost Calculator
(for 1 quart of ice cream and 16 cookies)
1 1/2 cups heavy cream (at $3.25/pint): $2.40
1 1/2 cups whole milk (at $3.99/gallon): $0.75
foraged black birch: $0
1/2 cup sugar: $0.20
1/2 cup dark chocolate chunks: $0.70
for the cookies:
2 sticks butter: $3.00
24 oz dark chocolate: $3.00
3 eggs: $0.60
1/3 cup flour: $0.15
1 cup sugar: $0.40
1/4 tsp baking powder: $0.05
Total: $11.25
Health Factor

Nine brownie points: Purported medicinal benefits of black birch aside, this dessert is still a big gob of ice cream between two buttery discs of chocolate chip cookies. Calci-yum.