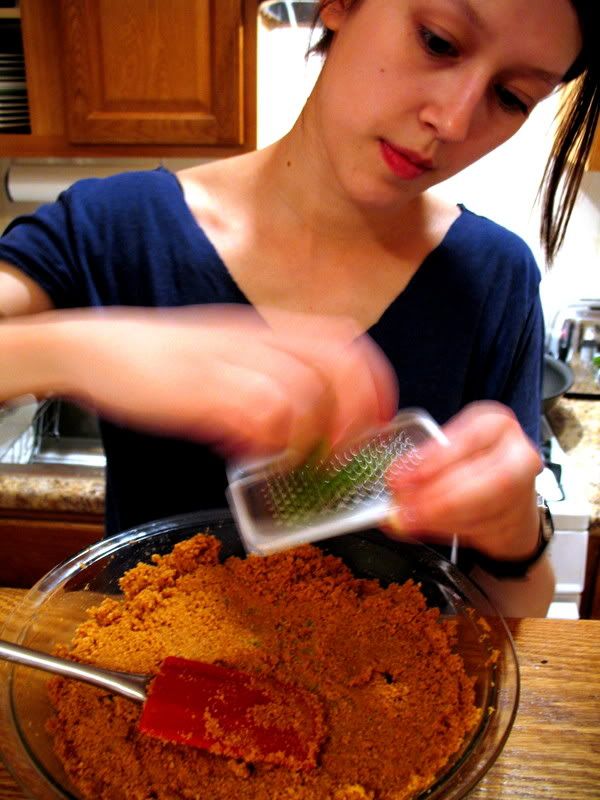 me (not Steve) grating zest into a not-so-authentic crust
Don't get me wrong: I've nothing against the venerable institution that is Steve's Authentic Key Lime Pies. There is no contest — key lime pie greatness has been said for, and I couldn't tell you of a better way to spend an afternoon than to go down to the waterfront in Red Hook and sit on the picnic table outside the old warehouse where the key lime pie magic happens and pet one or two of the dogs hanging around in the shade as you kill your afternoon appetite with a 4-inch pie, or better yet, one dipped in dark chocolate on a stick, called a Swingle. But for the home chef, there is nothing like the pride of making a pie that tastes almost as good as Steve Tarpin's. And I'll speak to that.

There are a few reasons why this version is decidedly not Steve's recipe. The most obvious is that it's not made with real key lime juice. I'm hard pressed to find one of these distinctly tart cousins to the common Persian lime that we use to spike our marinades and top our tonics with around here. I can understand why — have key limes graced any recipe besides that of its infamous pie? It just wouldn't make sense to stock it at any Northeast grocery store in its right mind.
The second rule about not making Steve's Authentic Key Lime Pie was not doing the no-bake, just chill-and-set custard method. I've tried this in the past and gotten varying degrees of mush; for one reason or another, the custard never quite gelled. So I'm following the directions of most of the key lime pie recipes I'd found in magazines and online recipes and baked mine for 15 minutes before chilling it overnight. This turned out a success at first attempt.
The third rule, and it's certainly just an option, is sprinkling zest into the homemade pie crust mixture just to reinforce the lime flavor a little. I highly recommend baking your own graham cracker crust, as it tastes so much fresher and butterier than the flat, cardboard-like store-bought ones. And there you have it: a simple, fresh, crowd-pleasing pie unlike that of its declared master and still, in my opinion, pretty darn good. I suppose I shouldn't get any points for decorating though, since it could have done without the stupid zest swirl I placed on top of the pie (stupid because when serving, everyone just had to move it over each time they cut themselves a slice, not because it wasn't beautiful-looking).

patting your own crust into a pie dish is easier said than done — but still only took about 5 minutes
Not Steve's Authentic Key Lime Pie
(makes 1 9-inch pie)
1 1/4 cups graham cracker crumbs
5 Tb unsalted butter, melted
1 Tb sugar
2 tsp lime zest
4 egg yolks
1 14 oz can sweetened condensed milk
1/2 cup fresh squeezed lime juice (preferably from key limes, if you can find them)
To make the crust, combine graham cracker crumbs, butter, sugar and lime zest thoroughly in a bowl. Preheat oven to 350 degrees. Press crumb mixture into the bottom of a pie pan with a spatula or the back of a spoon to make a somewhat even crust. Bake for 6-8 minutes, remove and let cool completely before filling.
Very gently beat egg yolks with a fork or whisk (without beating in any air). Stir in sweetened condensed milk until completely blended, and stir in lime juice just until mixture is a smooth consistency. Pour into pie pan with crust and bake at 350 degrees for 15 minutes. Remove, let cool completely and chill for several hours before serving.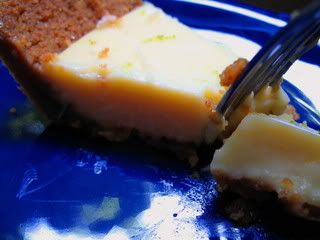 Cost Calculator
(for about 8 servings)
1 1/4 cups graham cracker crumbs (1/3 of a $2.99 box): $1.00
5 Tb butter (at $3.50/8 oz): $0.90
4 egg yolks (at $3/dozen): $0.50
1 can sweetened condensed milk: $1.59
1 Tb sugar: $0.03
Total: $4.02
Health Factor







Seven brownie points: Key lime pie is a very classic custard encased in buttery graham crackers. Its lime juice offers some Vitamin C, and I find that its intensity and creaminess help fill me up pretty quickly after one slice — just like any good dessert should.