the tasting frenzy at Mo Pitkin's left no chili standing
For those of you who weren't sweating over styrofoam cups of chili at the Manhattan Chili Takedown 2007 yesterday, I was there; and I survive to tell you of the glory that went down.

Though I didn't enter a chili of my own to the contest, three of my friends did: Karol with her recently updated vegetarian chili bliss with apricots and all manner of peppers (she heroically recovered from a severe habanero injury over the weekend in time to make it to the event), and David and Shana, with a smoky chipotle bean and tempeh (fermented soy bean curd) chili "non carne." Theirs were the only two vegetarian entries of the night, out of some 19 different homemade chilis. Nevertheless, the offerings were not without variety: when I arrived at the contest around 5:30pm, many of the chili trays were sadly all scraped up, but I did manage to taste some wickedly spicy chicken chili, a mole and cinnamon-spiced chili, a couple of steak chilis and some ground meat(?) red chili varieties until my tastebuds were spent for the evening.
The contest included two separate awards: a $100 prize would be awarded to the best chili as chosen by judges, and $200 would be awarded to the "people's choice" winner — anyone who attended the contest and did not enter their own chili was given a ballot to vote for this.

judge Emily Takoudes, an editor at Ecco Books, announces the runners-up alongside co-judge Ken McGooey (right)
Warning: carnivorous chili purists may want to discontinue reading. Because the first-place prize of the judged chili contest went to… David and Shana! With their tempeh-tastic smoky chili. The judges complimented its exemplary texture, which I hear was achieved by cooking down a base of tomatoes and onions for several hours a day ahead of cooking the rest. In the end, the judges confirmed, it all came down to taste — no matter what ingredients were used, meat or none. And theirs just tasted the best. Hey, this is New York, land of equal opportunity.

David and Shana accept top honors
Unfortunately, neither theirs nor Karol's won the people's choice award, and I don't think I got to taste the winning chili for that award (nor snapped a photo of it). I'm sure it was great stuff, though.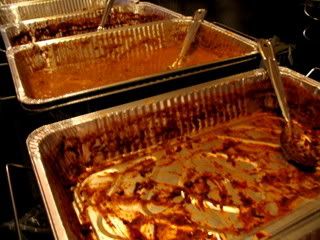 the good, the bad, and the empty
Stay posted for a possible recipe of the winning chili, if I can finagle it from David and Shana. Before winning, they had confessed to me that they thought they ran short on "stuff" to put in their chili — it could have easily taken a couple more green peppers and onions. But the contest required them to bring in two gallons of chili, an amount they had no experience with. A mistake gone right, apparently.
I've never felt that confident about my own chili making chops, but after it was announced last night that there may be a "Brooklyn Chili Takeoff" in a couple of months, I think it may just be time to get some practice. With a little consulting from the top.