Two summers ago I tried to grow basil, parsley, dill and another herb I can no longer remember in small pots placed on my old apartment window ledge. They didn't make it very long. Some, which I had decided to plant from seeds, were never even born. The whole dirt-caked affair was so sorry that I refused owning any herbs, or plants for that matter, all last summer. And fall, winter, then spring. This summer, I'm turning over a new leaf though.
My newly purchased miniature pot of basil is receiving sun, water, love and talking-to every day. It's no longer in my apartment either, and since I don't have any outdoor space or a window with any better light than before, I've stuck it between a row of pachysandra and neatly hedged stones in the front yard of my building. Only the tenant or mailman looking closely for it would notice the exotic, teardrop-shaped leaves swathed in its terracotta planter. And once they do, I may end up sharing my basil with the rest of the neighborhood. But until then, no matter.

The difficult part about having a tiny little basil plant, though, is trying not to molest it all at once. It's tempting to make the pesto you've always dreamed of, but after robbing one or two leaves off the innocent thing, you can't help but feel guilt. Luckily, some pestos only require scant amounts of ocinum basilicum, and frankly, that's all my baby basil plant can handle at this point. He's sensitive.
I watched Lidia Bastianich make a similar pasta dish on her PBS show using almonds and cherry tomatoes crushed up in a food processor along with about 2 liters of olive oil. It looked like delicious, simple light fare for a summer dinner. I can't quite fathom ever using as much olive oil as she did on the show, but I did give my pesto-like sauce a hearty portion of it, along with a splash of cream for just a little bit of warmth. Instead of raw tomatoes, I roasted a couple of ripe red plum tomatoes until blistered. A scallion shoot was ground into the paste for color and freshness, and a couple of freshly chopped ripe tomatoes stirred throughout the dish completed my foray from her recipe, and I hope you like it, too.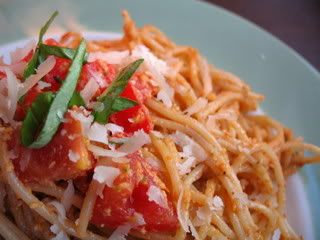 Almond & Roasted Tomato Pesto Pasta
(makes 4 servings)
3 large ripe plum tomatoes (or 1 pkg cherry or grape tomatoes)
About 1 lb pasta (any shape)
1.25 oz almonds, raw or roasted both fine
5-6 fresh basil leaves
2 large cloves garlic
1 scallion (or shallot)
1/4 tsp red pepper flakes
1/2 cup extra virgin olive oil
1/2 cup cream or half-and-half
1 tsp salt, or to taste
Fresh ground black pepper
1/2 cup grated parmesan cheese
Preheat oven to 400 degrees and roast 2 of the tomatoes whole for about 15-20 minutes, until skin peels back and begins to char slightly. Let cool at least 15 minutes. Chop the third tomato and set aside.
Cook pasta to al dente; drain. In a food processor, pulse the almonds, garlic, scallion/shallot and tomatoes to an even consistency. Add salt, peppers, and most of the basil leaves and parmesan (reserving some for garnish). Drizzle in olive oil and blend. Taste for seasoning.
In a large saucepan, combine pesto with pasta on low heat and coat evenly. Add cream or half-and-half and stir thoroughly. Sprinkle with a little more salt and add the chopped fresh tomato. Serve immediately with an optional drizzle of olive oil, sprinkle of parmesan and some fresh basil.
Cost Calculator
(for 4 servings)
1 lb pasta: $1.29
1.25 oz almonds: $0.99
3 plum tomatoes (at $1.99/lb): $1.45
1/2 olive oil: $0.75
1/2 cup grated parmesan: $1.25
5-6 fresh basil leaves (at $3/potted plant): $1.00
1 scallion (at $0.50/bunch): $0.10
2 garlic cloves: $0.05
Salt, pepper, red pepper: $0.05
Total: $5.68
Health Factor







Six brownie points: Looks can be so deceiving. Almonds, raw, unsalted, hailed as the low-fat nut and valuable source of protein that they are, still carry a good 10 grams of fat per ounce. Count 120 calories per every tablespoon of olive oil (which could easily put you in five digits if applied with the fluidity of Lidia's wrist), 50 more calories per tablespoon of cream, and, well, this recipe is for four people after all. So perhaps it's not all that bad. But just a reminder to all those who see pesto as the innocent flower.