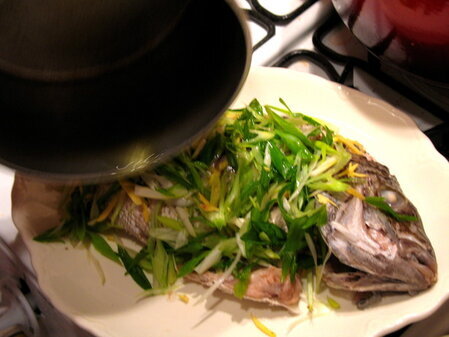 Wild local fish like flounder, stripers and bluefish are in season — all good stuff, in my opinion, to steam whole, Chinese style. This weekend as I was gathering ingredients for a 6-person dinner party, I familiarized myself with another: the wild local porgy. A small fish by nature (not many grow over 6 lb, according to this fact sheet), its mild, sweet flavor lends itself well to a light preparation such as steaming. Once cooked, its flesh was moist and very delicate. Its light gray skin was thin and not too fatty, altogether quite delectable to eat in bites along with the flesh — as long as you don't mind the little bones. I found the species' small bone factor a decent enough trade-off for its fine flavor, though I'm used to detecting and discarding small bones in my mouth.

Porgies (or porgys?) were abundant at the Greenmarket in Fort Greene Park on Saturday, though I'm not sure how many of them were actually sold. Apparently there has been a great increase in the species' population in the Northeast, which might account for why they were so inexpensive — $4.99/lb at the Greenmarket. And at the Red Hook Fairway, where I later ventured, they were being sold for $3.99/lb. When I asked the fishmongers at both locations to describe the fish's taste, they both compared it to red snapper (one of my favorite white-fleshed fish).
Since friends I was shopping with at the Greenmarket were puzzled by the thought of what to do if they brought home a whole fish, I thought I'd provide a recipe for this whole steamed method. It's certainly not my own, and Eating China also tells a good recipe for it here. But it's a common dish to find in any good Chinese banquet-style meal. With the help of my uncle, we began by scoring the 2 lb fish thrice on each side, lightly salting it, and stuffing some thinly sliced ginger and a drizzle of sesame oil inside its cavity. Into a steamer for ten minutes, then the fish was turned onto a serving plate and buried beneath a salad mound of finely sliced scallions and ginger. As a final, important step, a couple tablespoons of sizzling hot vegetable oil is poured over the fish, followed by a couple tablespoons of soy sauce. The result is a finished platter for communal serving.
Side note: this recent article in the times tells you how to scale, fin and gut fish — handy!
Chinese Steamed Whole Porgy

1 2lb whole porgy, scaled, gutted and cleaned
1 tsp salt
3 scallions, thinly sliced lengthwise
1-2 Tb ginger, thinly sliced in strips
2 Tb cooking oil
1 tsp sesame oil (optional)
2 Tb soy sauce
Rinse fish thoroughly and pat dry with paper towels. With a sharp knife, make 3 vertical, equally-spaced scores on each side of the fish's body, going in diagonally rather than straight down. These can be shallow and about 2 inches long, depending on how large the fish is. Place a few of the ginger slices inside the fish's cavity, along with the sesame oil. Salt the fish on each side.
Heat up a steamer (or in a crunch, a large, lidded pan, pot, or Dutch oven elevated by a bowl and with a layer of 2 inches of water on its bottom) until the water is starting to boil. Place fish inside on a plate and cover. Let cook for about 10 minutes. Remove carefully, and slide fish onto a serving platter. Spread the sliced scallions and remaining ginger on top of the fish. Heat up cooking oil until bubbly, and pour over the fish from end to end. Pour soy sauce over fish. Serve immediately with a large spoon for spooning out chunks of fish and seasoning to individual plates.
Cost Calculator

2lb whole wild local porgy: $7.98
3 scallions (at $0.50/bunch): $0.25
2 Tb ginger: $0.20
Soy sauce, sesame oil, cooking oil, salt: $0.20
Total: $8.63
Health Factor



Three brownie points: Sticks of melted butter or elaborate sauces never did make much sense to me with fresh, white fish. By surrounding it with other fresh ingredients like aromatics, in this case scallions and ginger, you'll have a cleaner, lighter taste — and much fewer calories. It won't satisfy a complete meal on its own, but it's one of the lightest ways to make a standout dish that deserves the attention of being served last.