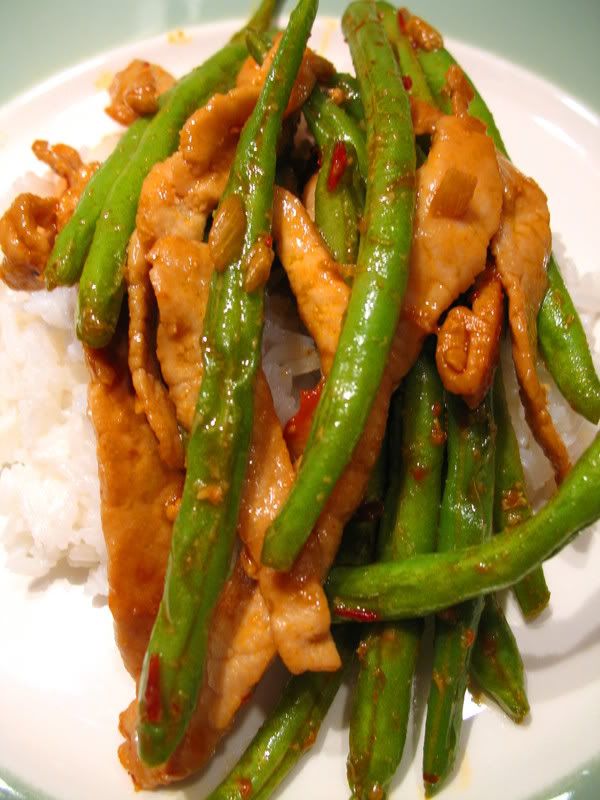 Spicy Shredded Pork and String Beans over Rice



Pork Chop with Balsamic Reduction and Steam-Sauteed String Beans with Couscous
I have a feeling I'm not the only one who does this: buy two fresh ingredients, often with no particular dish in mind to make, and come up with two different preparations for them over the course of two or three nights. Because who can finish a pre-packaged 1 lb of string beans if not over the course of four meals? And who wants to eat the same thing two nights in a row?

This is the pattern I probably spend most of my work weeks cooking by. I'm sure I'm not alone. Here are two of my simple solutions for stretching a purchase of pork and string beans without getting the least bit bored.
Spicy Shredded Pork with String Beans
(makes 2 servings)
About 1/2 lb pork, thinly sliced across the grain into slivers
About 1/2 lb string beans, trimmed
1-2 tsp soy sauce
1-2 tsp garlic chili sauce
1 1/2 tsp corn starch
1 large clove garlic
Salt
1 tsp oil
1 cup rice
Marinate the sliced pork in corn starch and 1 tsp soy sauce for at least half an hour. Begin to steam rice in a rice cooker or on the stove. Heat oil and garlic in a large pan or wok. Add green beans, season with a little salt, and stir. Add about 1/2 cup of water and let reduce. Remove beans from pan. Add sliced pork to pan and untangle pieces. Brown lightly, stirring occasionally for about 1 minute. Return green beans to pan, along with a couple of splashes of soy sauce (1 tsp?), and 1-2 tsp garlic chili sauce, depending on taste. Stir completely, and serve immediately over cooked rice.
Pork Chop with Balsamic Reduction Sauce and Steam-Sauteed String Beans with Couscous
(makes 2 servings)
2 pork chops (about 1 lb)
2 Tb balsamic vinegar
Salt and pepper to taste
1/2 Tb butter
1 tsp fresh parsley, chopped
1 small shallot, minced
1 Tb olive oil
About 1/2 lb string beans
1 clove garlic
About 1 cup couscous, cooked
Marinate the pork chops with salt, pepper, and 1 Tb of balsamic vinegar for at least half an hour. Heat up a large pan, preferably one with a lid, with 1/2 Tb olive oil and garlic. Cook string beans first, seasoning with salt and pepper. Add a splash of water and cook covered for 3-4 minutes. Remove lid and cook until water evaporates. Remove beans to a plate and cover to keep warm.
Heat the rest of the oil. Place pork chops on the pan and let first side brown a few minutes. Flip over and place lid over pan while cooking another few minutes, until the chops are cooked through (depends on how thick they are). Remove chops and keep warm on a plate. Add shallots and remaining balsamic vinegar to pan, along with about 1/2 cup water. Deglaze with a spatula or wooden spoon, scraping the pan until liquid has reduced by half. Add butter and parsley and stir. Plate chops along with green beans and cooked couscous, and pour sauce over the meat.
Combined Cost Calculator
(for 4 servings)
2 lb pork chops (at $3.49/lb): $7.00
1 lb string beans: $2.29
2 cloves garlic: $0.05
1 cup couscous: $0.30
1 cup rice: $0.20
2 tsp soy sauce: $0.05
2 tsp garlic chili sauce: $0.10
2 Tb balsamic vinegar: $0.25
1 small shallot: $0.15
Salt, pepper, 1/2 Tb butter, oil, corn starch: $0.25
Total: $10.64
Combined Health Factor




Four brownie points: both recipes are relatively light, yet hearty and well-rounded meals. Trimming any fat off the meat from the start helps keep a lean cut even leaner, and using light amounts of oil and butter keeps cholesterol at a minimum, while indulging in meat for four straight meals.