'
A homespun breakfast with all the merits of "a good start." This weekend my neighborhood was once again bustling with brunching — the all-afternon affair elongated by the sluggish buzz of cool cocktails and the sun and sights of street dining. I never did feel especially healthy leaving one of these spring or summer brunches in the end, nor (strangely) very full. But they certainly were nice for a warm spring day like we just had, magnolia trees bursting with perfumed, short-lived blossoms and an arid, bright sunshine not too hot. Ah, well.

Instead I walked to the Farmer's Market to score a quart of Ronnybrook vanilla yogurt. Those who've been to the market in Fort Greene Park may also be aware that — for the past few weekends at least — the resident dairymonger will sell out all but a few plain yogurt drinks by noon. So if you don't make it a plan to get your natural yogurt, milk, butters and creams bright and early, you lose. I can kind of see why people are nuts about buying this stuff; the Farmer's Market is certainly not the only place you can find Ronnybrook products. But there is something distinctly appealing about the notion of really fresh dairy products, straight from the farm, rather than from a shelf in a neon-lit, refrigerated grocery aisle. And its taste does warrant that impression.
Natural yogurt is a lot more runny in consistency, and a bit more sour. Which is why I thought it might make for a nice, cool and fresh-tasting alternative to sugary pancake syrup on French toast. A sprinkle of soft apples carmelized in brown sugar and butter in a pan for a few minutes rather than fresh fruit seemed a good compromise.
In celebration of Earth Day, I could contest that everything in this breakfast meal was produced locally: the eggs, apples and yogurt from local farms, and the cinnamon raisin bread homemade (which is I guess as local as it can possibly get). As the recipe is pretty self-explanatory (French toast steps are pictured below), I thought I'd provide a recipe for just the no-knead cinnamon raisin bread.

the bread gets bathed in egg wash


French toasted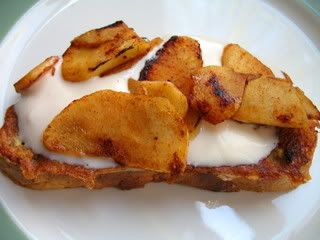 and topped
Cinnamon Raisin No-Knead Bread
(makes 1 loaf)
The sugary, crunchy crust you might find on the top of a nice muffin is put to use in this sweeter variety. A cinnamon swirl is easy to produce since you fold the dough in the process (not knead it). Spiked with a little brown sugar, the bread's interior is cottony-soft and spotted with air bubbles and raisins — two traits not too commonly found together. Perfect warm out of the oven, sliced and slicked with butter. Wildly ideal for peanut butter sandwich-making. And great for French toast, especially once it begins to get a little stale. My kind of bread.
(adapted from Jim Lahey of Sullivan St. Bakery's No-Knead Bread recipe)
3 cups all-purpose flour
1/4 tsp active dry yeast
1 1/2 cups water
1/2 cup brown sugar
1/2 tsp salt
2-3 tsp cinnamon
3/4 cup raisins
1 Tb sugar
In a large bowl, combine flour, yeast, salt, raisisn and half the brown sugar. Add water and mix with a wooden spoon until thoroughly combined (dough will be very stiff and shaggy). Cover loosely with plastic wrap and let sit in a warm place for 12-18 or more hours.
Turn dough onto a well-floured surface. Generously dust dough with cinnamon. Fold it over a few times; dust another surface with cinnamon and fold more. Cover dough with a floured cotton cloth and let sit in a warm place for 2 hours or until it almost doubles in size. With well-floured hands, turn dough over a few times to ensure that it doesn't stick to its surface. Let rest for another 10 minutes before baking.
Heat a heavy cast-iron Dutch oven in an oven at 450 degrees for half an hour. Carefully open lid and drop dough into it. Sprinkle dough's top with remaining brown sugar and sugar mixture. Replace lid and bake for 15-20 minutes. Remove Dutch oven lid and let bake for another 10-15 minutes or until its crust is browned. Remove from oven and let rest on a cooling rack for at least half an hour before serving.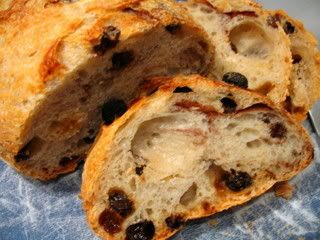 Cost Calculator
3 cups all-purpose flour: $0.50
3/4 cups raisins: $0.35
1/4 tsp yeast: $0.10
Salt, sugar, brown sugar, cinnamon: $0.30
Total: $1.25
Health Factor




Three brownie points: it's just bread. But unlike most packaged brands, it's bread without preservatives, high fructose corn syrup, or anything else, just flour, yeast, raisins, cinnamon and sugar. The Sun Maid would be envious.