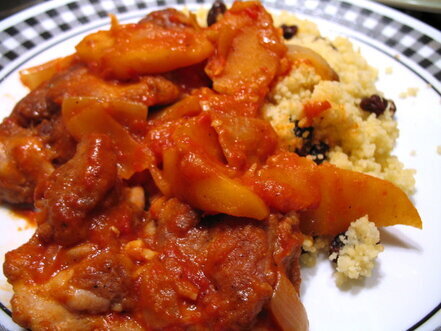 I've made similar recipes to this using chicken and olives, or just seafood, but in the aftermath of last weekend's brunch I found myself with a bagful of apples. Crunching my way through the whole week, I've jettisoned the idea of baking (yet another) pie. There's a lot more versatility in apples than we've traditionally credited them with, I think. If applesauce or cider can be used to flavor savory dishes, then why not the fruit's more assertive, fresher state?

I say there's no such thing as being opposed to fruit and meat combinations until you've tried them all, and a sweet and tangy Moroccan-spiced dish like this one is a perfect route toward breaking down that assumption. I'm not sure if the ingredients would go together in a perfectly accurate cultural, geographical sense, but the end result tasted pretty delicious to me. Does anyone know of other kinds of non-dessert recipes that also integrate apples? (That is, except for sticking it in a suckling pig's mouth?) I would love to hear. Until then, I've been sticking to the east for inspiration – simple Thai dishes like Mango Chicken or Pineapple Fried Rice sound as if they might do alright with New York State apples instead. (Or do they?) Hm, maybe I just like apples.
Chicken with Apples and Raisin Couscous
(makes about 4 servings)
2 lb chicken thighs or breasts, cut in large pieces
1 large tart apple, peeled and cut in thin wedges
1 medium onion, coarsely chopped
1 clove garlic, minced
1 Tb fresh lemon juice
1/2 cup crushed tomatoes
1/2 cup chicken broth
2 Tb olive oil
1 tsp salt
1 tsp pepper
1 tsp cumin
1 tsp cinnamon
1 tsp paprika
1/2 tsp red pepper
1/2 tsp turmeric
1/3 cup flour
for the couscous
1 cup couscous
1/3 cup raisins
1 cup water
To prepare couscous, bring a cup of water to boil. Remove from heat, add couscous and raisins, stir quickly, and cover.
Pat dry chicken pieces and season with salt. Combine spices with flour in a shallow bowl or plate. Lightly coat chicken pieces in spice-flour mixture. Heat up olive oil. Lightly brown chicken on each side until just cooked; remove from pan. Under medium heat, sautee onions and garlic for 2-3 minutes. Add apples and stir for another minute. Add tomatoes, broth and chicken to pan. Stir thoroughly and cook on medium-low, covered for about 10 minutes. Add lemon juice and taste for seasoning, adjusting if necessary. Serve immediately with couscous with raisins.
Cost Calculator
(for 4 servings)
2 lb boneless chicken thighs: $5.00
1 medium onion: $0.20
1 granny smith apple (at $1.25/lb): $0.60
1/2 cup crushed tomatoes: $0.50
1/2 cup chicken broth (homemade): $0.10
1 clove garlic, spices, flour, olive oil: $0.25
juice of half a lemon: $0.15
1 cup couscous: $1.00
1/3 cup raisins: $0.15
Total: $7.95
Health Factor



Three brownie points: Further proof that flavor doesn't equate with fat. In this case, flavor derives from spices, lots of them, and acids like sweet, tart apples and a squirt of lemon. All great stuff for you. Lately I've rediscovered the great snackability of regular raisins — all-natural and high in antioxidants, it's like the layman's red seedless grape. Makes you kind of wonder then why sun-dried tomatoes are the gourmet's tomato.