A completely uninspired twist? A seemingly pointless reverse-effect pastiche? Maybe, but it made for some of the greatest chicken sandwiches I've ever had. Since seeing the recipe for chicken fried steak on The Homesick Texan, I was homesick for some of that, too. Let alone I've never been to Texas and have no roots to the state. Some things, like fried chicken, are so classic that they inspire new classics like the chicken fried steak. But one of the nice things about chicken fried steak — and I suspect many will agree — is that it's a solid, tender piece of meat that you don't have to pick up and smear your face with grease to eat.
I actually really hate frying chicken. I'll eat it, but I don't want to make it. I ought to get one of those splatter shields to put over your frying pan, which are supposed to make the experience much more favorable, but for the time being, I'll take one for moderation in use of oil, and cut of meat (while I taste-test various ice cream concoctions in the meantime).
Served with a twist of lemon and a little tabasco it was a perfect quench for this craving — and it took no longer than ten minutes to cook. Though The Homesick Texan had provided a recipe for true cream gravy to go along with the dish, the traditional Southern accompaniment, (can I say this?) I don't really care for cream gravy. I like how it can made from your pan drippings in a few minutes, sort of like a quick clean-up beschamel sauce, but it always tasted a little bland when I've tried it. Call me a hopeless dabbler, a discourteous plagiarist. But I'll be darned if this wasn't the most tasty chicken fried steak fried chicken dish in town.

'lil nuggets of joy
Chicken Fried Steak Fried Chicken
(makes about 4 main course servings)
2 large boneless chicken breasts, sliced in half
1/2 cup flour
1-2 tsp salt (or to taste)
1/2 – 1 tsp cayenne pepper
1/2 tsp black pepper
1/2 tsp white pepper
1 egg
1/4 cup milk
Enough oil to coat bottom of pan about 1/4 inch
Lemon wedge for serving
Pat chicken dry with paper towels. With a sheet of plastic wrap on top, gently tenderize the chicken so that it's evenly thin. Mix flour, salt and spices in a bowl. Beat egg and combine with milk in another bowl. Heat pan with oil. Coat chicken first in the flour, then the egg mixture, then the flour mixture again, and place in pan. Cook for about five minutes on each side, depending on how large the pieces are, flipping when cooked side is golden brown. Serve immediately with a squirt of lemon, hot sauce, or any sauce/gravy.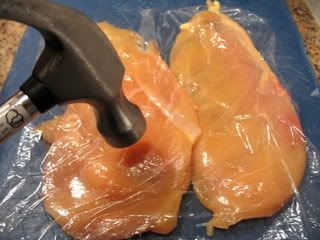 is this necessary? Who knows — it was fun
Cost Calculator
(for 4 servings)
About 1 1/2 lbs chicken (at $2.79/lb): $4.18
1 egg (at $3.00/12): $0.25
1/4 cup milk: $0.20
1/2 cup flour: $0.08
Salt, peppers, cayenne: $0.10
About 1/3 cup vegetable oil: $0.20
1 lemon: $0.34
Total: $5.35
Health Factor







Five brownie points: When craving a fried meal, this not-very-deep fry method always works for me. This way I can control the amount of oil used, while enjoying the crispy crust from the egg and flour dredging.