Curry is only optional here. I had begun this dish with the thought of splashing in the remaining cupful or so of white wine I had left in the fridge and maybe sprinkling some rosemary in the pie mixture; instead, I drank the wine. Something in between a mild chicken curry and a stuffing mixture, this meal was a quick alternative to baking a real chicken pot pie. I shouldn't even call it a pie, really, since the "crust" was made up of only French bread slabs placed on top of the baking dish, which heated to a nice "crusty" texture on top, and soft and spongey on the bottom.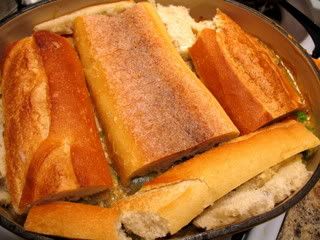 After trying out this method, I definitely think the bread could have benefited from being broken into much smaller pieces before arranging on top–as it was, the bread was virtually impossible to break into bite-size pieces without a sharp serrated knife at the table and lots of crumbs spraying around. I gave up and used my hands for the bread, which somewhat defeated the purpose of integrating toasted bread with the filling in the first place.
Time-saving tip: unless they look really awful, I generally don't peel carrots. This habit has spread over to potatoes, of any kind. As long as the skin is thoroughly washed and unbruised, I keep 'em on — besides, they're good for you.
Cranberry Curry Chicken Pie with Leftover French Bread Crust
(makes about 4 servings)
2 cups cooked chicken, chopped or shredded
1 small potato, cubed
1 medium onion, chopped
1/2 cup chopped leeks or shallots
1 stalk celery, chopped
1 medium carrot, chopped
1/3 cup frozen peas
1/4 cup dried sweetened cranberries
1 clove garlic, minced
2 Tb butter
2 Tb flour
2 cups chicken stock, low sodium or homemade from the chicken
1 1/2 tsp curry powder
1/4 tsp cinnamon
1 tsp salt or more to taste
Ground black pepper to taste
Baguette pieces, sliced or torn to small hunks
In a medium-large saucepan, cook potato, onion, leeks/shallots, celery and carrot in butter over medium heat for about 10-15 minutes, until softened. Add curry powder, cinnamon, salt, pepper and garlic about ten minutes into cooking. Add flour and stir thoroughly for another few minutes. Add broth all at once, and stir until it begins to boil and thicken. Taste for seasoning, adjusting with more spices if necessary. Add chicken, peas and cranberries and stir.
Preheat oven to 375 degrees. Turn chicken mixture into a deep-dish baking pan and arrange bread pieces on top. Bake for about 20 minutes or until tops of bread are a little more golden and crispy. Let cool for about 10 minutes before serving.
Cost Calculator
(for 4 servings)
1/2 chicken, or about 1.75 pounds uncooked (at $2.69/lb): $4.70
1 small potato (at $0.99/lb): $0.50
1 medium onion (at $0.99/bag of 6): $0.17
1/2 cup chopped leeks (at $2.39/lb): $0.25
1 stalk celery (at $2.49/bag): $0.25
1 carrot (at $2.00/bag): $0.25
1/3 cup frozen peas (at $1.29/pkg): $0.16
1/4 cup dried sweetened cranberries (at $2.29/pkg): $0.28
2 cups homemade chicken stock: $0 (from the chicken)
Leftover 1/2 long baguette: $1.00
Flour, butter, garlic, curry powder, cinnamon, salt, pepper: $0.25
Total: $7.81
Health Factor




Three brownie points — unlike most pot pies, I somehow avoided cream and got by only using 2 tablespoons of butter. The main plus is that the French bread is a nearly fat-free alternative to pastry crusts. It's a little less hearty than what one is probably used to with meat pies, but colorful flavors like cranberries and curry make up for it nicely.