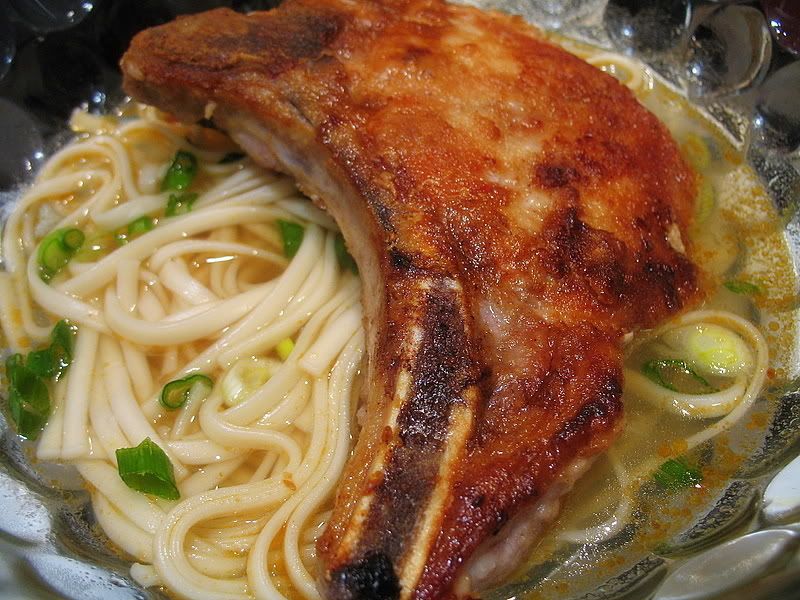 Slurrrp. I do miss a hearty bowl of pork chop soup noodles, the kind you might get for $3 at any number of noodle shops in the lower east realms of Chinatown. Most people think of soup noodles as a wintery dish, but I've seen them devoured by all kinds of people as a summer lunch, shoveling yards of noodles down the chute as perspiration threatens to dot the soup.

There's hardly a recipe to speak of here, and any type of base soup broth will do just fine. And it may seem a little difficult to eat a pork chop off the bone with only a pair of chopsticks and a spoon, but it is not for lack of fun trying. This all may sound very un-gourmand, but sometimes that's just how eating in–or out–is.
Pork Chop Noodles
(makes one-serving bowl)
1 pork chop
1 serving of wheat noodles
1 scallion, chopped
(for the pork)
1/4 tsp salt
1/4 tsp white pepper
1/2 tsp soy sauce
light dusting of flour
1 Tb oil
(for the broth)
1/4 tsp soy sauce
5-6 ladles water from the boiling noodles
1 tsp sa-cha sauce
Coat pork chop with salt and soy sauce and dredge lightly with flour. Sprinkle white pepper on both sides. Heat oil in a pan and brown pork on both sides until cooked. Meanwhile, bring a pot of water to boil, and add noodles, stirring so they don't stick. In a large serving bowl, mix together soy sauce, sa-cha sauce (and/or whatever seasonings desired) with a few ladles of water from the cooking noodles. When noodles are done, add to bowl. Serve with chopped scallions and pork chop on top.
Cost Calculator
(for one serving)
1 pork chop (at $1.99/lb): $0.80
1 handful noodles: $0.20
1 scallion: $0.20
Sauces, oil, salt, pepper: $0.05
Total: $1.25
Health Factor






Six brownie points – while not on the same level as fried chicken and biscuits, this indulgent Chinese comfort dish could be an equivalent if it were made the right way–by deep-frying the pork chop. I didn't do this, and slightly miss the "right"-ness of the crunch, and experiencing that salty, crunchy crust as it just gets soaked in steaming hot broth in the same bite. Actually, I might have to do that next time.