I watched Jacques Pepin make a dish on public television that was so appealing for a cold weeknight, a casserole of pasta baked with peas, corn and diced French ham in a simple beschamel with cheese sprinkled on top. He put it in the broiler–one of the most overlooked part of your kitchen, according to Mark Bittman–to brown a warm, cheesy crust on the top, and voila! Gooey and liquid inside, contrasting crisp. Countryish warm fuzzy feelings abound.

It looked so warm and nurturing and simple, something a mother would make. I wish Jacques Pepin would be my mother. Mmm… French pastry.
Using up what I had in my kitchen and substituting what I didn't, I found myself making a similar recipe to his, only with half a can of white tuna instead of ham. Threw in peas, fresh mushrooms, a chopped scallion, and it was delicate and light, perfect for cold weeknight eating–to mimic one of Jacques' repetitious expressions, "you know?" Yes, I know.
In the same episode, Jacques also made a simple salad of romaine and radiccio with a dressing made from a spoonful each of salsa and balsamic vinegar, emulsified in a drizzle of olive oil. I chopped up a few olives and a little bit of the juice instead, and it made one tasty romaine salad. No recipe needed.
There was a recipe for a tuna noodle casserole in the first cookbook I ever owned, a cardboard-bound Cooking for Kids by the Klutz Press. I guess I haven't forgotten the combination–though I believe theirs consisted of tuna, noodles, and a can of cream of mushroom soup. Here's to a better version.

Better Tuna Noodle Casserole
(makes 3-4 servings)
½ box shaped pasta or egg noodles, cooked
1 Tb butter
1 Tb flour
¼ cup frozen peas, thawed
1/8 cup finely chopped onion
4-5 button mushrooms, sliced
1 scallion, chopped
½ can white tuna
1 cup milk and 1/2 cup heavy cream or sour cream (or 1 1/2 cups milk)
¼ cup grated parmesan
Salt and fresh ground pepper to taste
Handful fresh chopped parsley
Turn on broiler or just turn oven to 500 degrees. Melt butter and sauté onions and mushrooms on medium low heat for a few minutes (until they begin to smell wonderful). Season with salt and pepper. Add flour and stir for a minute. Add milk and stir until it boils and gets bubbly. Add cream if using. Taste for seasoning. Turn off heat, and stir in tuna, peas, scallion, parsley, and a little bit of the parmesan if desired. Fold pasta into mixture and pour into a medium casserole dish. Sprinkle a layer of parmesan on top of casserole and broiler for approximately five minutes, checking that it doesn't burn. Let cool a minute, and serve.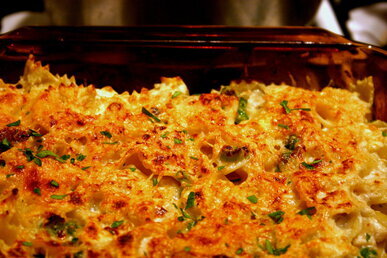 Cost Calculator
(for 3-4 servings)
½ box shaped pasta: $0.65
1 Tb butter: $0.17
¼ cup frozen peas: $0.20
1/8 cup finely chopped onion: $0.08
4-5 button mushrooms: $0.40
1 scallion: $0.20
½ can white tuna: $0.60
1 cup milk and ¼ cup heavy cream or sour cream (or 1 ¼ cups milk): about $0.75
¼ cup grated parmesan: $0.45
Handful fresh chopped parsley: $0.15
Small amounts of salt, pepper, flour: $0.03
Total: $3.68
Health Factor






Four brownie points – not seeing a whole lot of recipes under five brownie points these past few really cold weeks. There's cheese, milk, and cream, yes, but it's not heavy, and the flavors are still fresh and tame–nothing overpowers. The white tuna comes out mild-tasting, and in addition to those precious fishy omega-3 and omega-6 vitamins that's become all the rage lately, you've got a well-balanced meal.