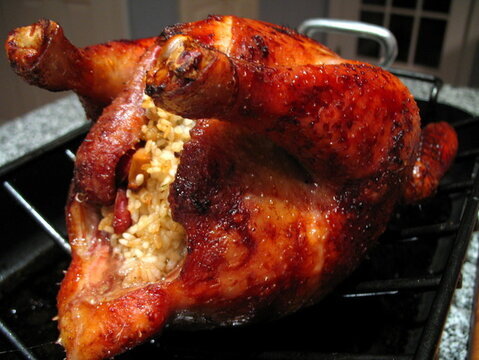 I've finally garnered the nerve to document my ill-fated cooking adventure on Christmas. I'd had a half-baked notion this year of roasting a chicken stuffed with sticky glutinous rice spiked with Chinese sausage, shittake mushrooms, and other seasonings commonly found in a zongzi, or bamboo leaf-wrapped rice dumpling. The original idea was to serve this in individual Cornish hens, but after taking a glance at the tennis ball-sized fowl wrapped in plastic in the grocery store, I realized that this could not be.

Bottom line: the cavity of a chicken is not a rice steamer. After a combined hour or so of sparring, my mom, my uncle, and I decided to stuff the chicken without the rice cooked beforehand, and it never did get to its fully-cooked, glutinous state. So much for my brother's fear that the chicken was going to explode when the rice expanded. While the rice was underdone, the chicken itself took about two hours to cook because of the added density from the stuffing. I wasn't paying much attention to the flavor and moistness of the chicken since there were grander plans at stake. I brushed the chicken with a mixture of soy sauce, sugar, sesame oil, and a little hoisin sauce, which turned an appealing color, but the meat of the chicken was dry and tough as jerky.
We prepared the rice "stuffing" by lightly sauteeing glutinous rice with sliced Chinese sausage, scallions, shittake mushrooms, dried tiny squid, rice wine, and soy sauce.
Thankfully, we did reserve an extra casserole of the rice mixture for baking alone, and with lots of broth added as it cooked, it came out just as savory and tasty as a perfect steamed zongzi.
The sides were also attempts at creating fusion-like dishes, and came out much better than the main dish. Glazed carrots and lotus root was simply sliced up root vegetables sauteed in a sweet, sticky soy and cornstarch sauce. Chinese sausage with napa cabbage and mushrooms was a sliced dish sauteed with garlic that I was inspired by after following a recipe for brussel sprouts and mushrooms sauteed with bacon one day. My vision of an Asian fusion dish would seem somewhat dismal: I think of it as stuff that Westerners would never imagine, and that Asian people would never approve of. I guess that's why I'm not a chef.

Chinese sausages, or lop cheong, are firm and dry like chorizo, but skinnier. They have a sweet, smoky flavor

The lotus root (left) tastes plainer than it looks–slightly sweet like a potato or taro root, and more crisp

I should mention that my dad usually cooks on Christmas, but this year, he got his cooking turn two nights before and pulled off a beautiful Beef Wellington (named for the British general who defeated Napoleon, the dish was served for his victory feast by a Belgian chef) and French Onion Soup, which I accidentally erased photos of.
I'm leaving Christmas behind humbled and eager to cook something I know very well how to prepare. Let's hope the feeling lasts until New Year's.