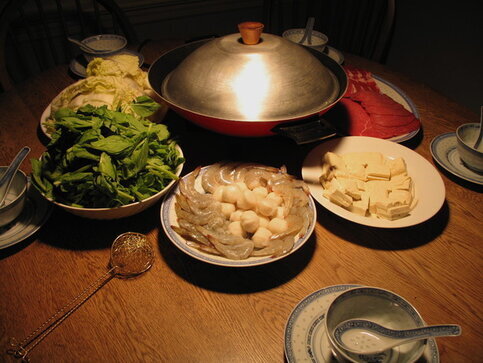 The meal my family eats on Christmas Eve, a stark contrast to the all-American holiday meals like Thanksgiving, is usually an all-out feast of 5-10 Chinese dishes cooked by my uncle and my mom, a roast duck or chicken from the store added on, and a dessert of some type that we're too full to eat. This year, we decided to do something different and serve hot pot. I've seen some places refer to this communal meal as "Chinese fondue," while others go with the Japanese word for it, Shabu Shabu. Basically, it's the type of meal that Scarlett Johannsen and Bill Murray are befuddled by in that scene in the restaurant in that hideous movie, Lost in Translation.


Unbeknownst to these fictional characters, hot pot is a deceptively easy thing to eat and prepare, and it's disgustingly healthy. There's no oil, and the only fat involved would come from the thin slices of meat (beef, pork, lamb, etc.), that you cook in the boiling water or broth. Once you take your cooked food out of the hot pot, you might also dip it into sauces such as soy sauce and sa-cha sauce, which is typical of the Taiwanese style of eating hot pot. At restaurants, they would place a large pot over a burner on your table. But if you're cooking at home, then you really need an electric hot pot of some type. Maybe a fondue pot would even work. My mom was wary of me putting this picture on the site, though, because she was afraid her old hot pot wouldn't look nice enough. (Sorry.)
Everything else that is commonly cooked in a hot pot is very basic: leafy green vegetables, napa cabbage, firm tofu cubes, shrimp, fish balls, wonton, and clear glass (mung bean) noodles, which are soaked in water for a little while beforehand. Generally, people eat hot pot with noodles instead of rice.
As for the broth, there are many varieties that you could go with. When I went to restaurants that served hot pot in Taiwan, they would give you a choice of regular broth (usually a chicken type), or ma-la, which is crazily spicy, deep red-hued, and thicker. In the end, your broth would have so many flavors from all the meat and veggies that you cooked in it, it would be much more flavorful than what you began with. For this reason, and because my uncle was terrified of all the MSG in the hot pot broth packets that we debated over in the Chinese grocery store, we decided to use just water in our hot pot. My uncle even warned us against drinking the broth at the end of the meal because it was "too rich" with nutrients, infused with so much, that it wasn't good for one's balance. The rest of us didn't agree and thought it was delicious, but my uncle is, after all, the Buddhist monk in the family and I might be suffering from disharmony.
To top off the meal, we had a dessert of red bean soup with sticky rice balls filled with sweet black sesame paste. To make the soup, the red beans are simply soaked and simmered for a few hours with some brown sugar until it becomes a soupy consistency. I always found it interesting that the Chinese interpreted bean soup as sweet while the West defined it most certainly savory. I can remember some disgruntled American expats in Taiwan complaining of beans being in their dessert everywhere they turned: "Why are beans masquerading as dessert??" Well, who knows why. I think it would be funny though, if this distinction were somehow overlooked at one of the many Chinese-run NYC Mexican fast-food joints, and a sweet black bean soup was served instead of salty. That would be, I think, my ideal dream of a New York City fusion dish.