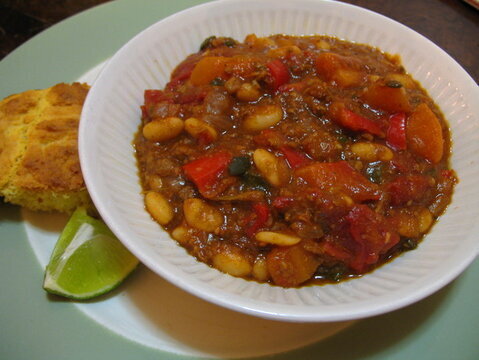 My friend Karol always wins at stuff. Whether it's the Ms. Pac-Man playoff, or the guy at the other end of the bar, Karol just wins. So it was no surprise when her chili took home first prize in the annual "Bruce Chili" cook-off at Barcade. Coming back from a 7th place finish in the 2005 cook-off, her curiously titled batch, "I Love You But I've Chosen Chili" struck lightning this year, and is now the reigning 2006 champion to beat.

To the delight of all the drinkers at this groovy Williamsburg hangout, vegetarian chili was something that surpassed the taste of all the other meat and other chilis (I don't know what there is other than meat and vegetarian chili, but I'll leave that open for now). And I can tell you with certainty that her recipe is really good, because when I attempted to make it (pictured above) I had only a fraction of the correct spices she used and it still was delicious. She even left out a secret ingredient in the recipe below to defend her championship. That's how good Karol's chili is.
Karol tells me she toyed with the recipe endlessly, researching other recipes in magazines. Thanks to her, the recipe is now available for you to make yourselves, exclusive to Not Eating Out In New York.

After a valiant battle…

One winner takes all. (The next battle: How the hell to fit that trophy in your apartment.)
Karol Lu's I Love You But I've Chosen Chili
Ingredients:
6-8 cloves garlic
1 large yellow onion
1 red pepper
1 yellow pepper (optional– mainly for color)
2 poblano peppers
1 large sweet potato, or 2 small-med
1 large can (28 oz?) whole peeled tomatoes
1 can dark red kidney beans
1 can red beans
1 pkg Morningstar Crumbles
1 bottle Shipyard Pumpkin Ale or any beer
2 tbsp corn meal
1 jalapeno pepper (unseeded, minced)
1 habanero pepper (unseeded, minced)
ancho chili powder
chipotle chili powder
regular chili powder
cumin
black pepper
salt
Heat up olive oil in pot. Saute garlic, jalapeno pepper, and habanero
pepper in oil. Add diced onion, poblano/red/yellow peppers, and sweet
potato and cook until soft. Mix chili powders with water (about a
tablespoon each to start), and add to vegetables. Add can of tomatoes,
and break up tomatoes with a wooden spoon. Add a lot of salt, black pepper
to cut the sweetness of the tomatoes. Add bottle of beer, simmer for a
while.
Taste and add more chili powder/salt to desired flavor and heat. Add
Morningstar crumbles, 2 cans of beans, and cornmeal. Adjust spices.
Cook for at least 30 minutes longer. Serve with cornbread and wedge of lime.
Cost Calculator:
(Makes a lot of servings)
Disclaimer: I went to three grocery stores in Park Slope and couldn't find any poblano peppers, habanero peppers, ancho chili powder, or chipotle chili powder, so I just used extra jalepenos. I also had some white beans on hand so I used those instead. The cost calculator is adjusted to my bootleg version.
1 large can whole tomatoes: $1.29
1 can beans: $0.69
1 pkg Morningstar Crumbles: $3.99
1 sweet potato (at $0.89/lb): $0.60
1 red pepper (at $2.99/lb): $0.75
4 jalepenos (at $1.29/lb): $0.75
1 onion (at $0.99/lb): $0.40
1 bottle Shipyard Pumpkin Ale (at $8.99/6): $1.50
1 Tb cornmeal: $0.05
Chili powders, cumin, salt, pepper, garlic, oil: $0.20
Total: $10.22 (El Cheapo)
Cost Calculator:


Two brownie points – try as I might, but I couldn't find where I might be eating any fat in this recipe. Even the cornbread I made using the recipe on the back of the cornmeal was really light. The thickness of the chili comes naturally from the soy crumbles, sweet potato, and cornmeal, all things that are good for you. Overall, this is high in proteins and nutrients and the huge pot I made should serve my health pretty well as I eat it for the rest of the week.