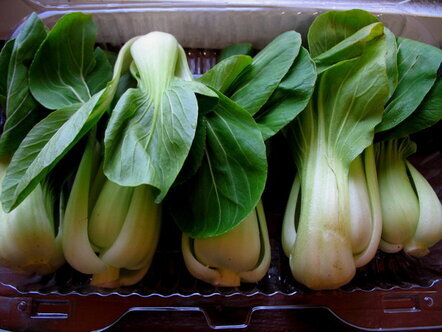 There's nothing that spells cute to me more than a bunch of baby bok choy. The tenderest and most mild of cabbages, the contrast between leafy green parts and white stems has never been more appealing. When boiled, the fibrous whites turn translucent and practically melt in your mouth. The greens hold true to their shape and are delicate as a floppy bunny's ear.

My uncle was always partial to choosing baby bok choy for a vegetable dish, and would often prepare it by braising it lightly in water and salt, with two or three plumped-up dried shittake mushrooms. The spongey whole mushrooms would lend a kiss of flavor and chewy texture to an otherwise faint dish. The green leafy parts soak in much more salt than the stem, so it's a good thing to watch out for when tasting.
It was raining on Sunday, so I took out a bowl and made this very basic noodle soup, which can be duplicated with any vegetable. It's particularly light so that you can really taste the bok choy's flavor.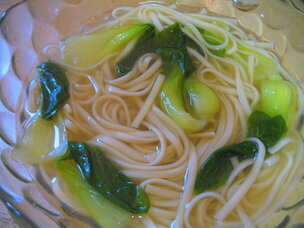 Simple Noodle Soup with Baby Bok Choy
Bring a medium saucepan of water to boil. Add one single serving-size bunch of basic Asian wheat noodles and cook for 3 or 4 minutes. Chop stems off of washed baby bok choy and add to the water. Meanwhile, pour about a teaspoon each of soy sauce and sesame oil in the bottom of a large serving bowl. Cook noodles with bok choy about 2-3 minutes longer, and transfer both to the serving bowl. Ladle in the hot water until full, and serve. Optional: poach an egg in the lightly boiling water toward the end of cooking, puncturing the yolk first.