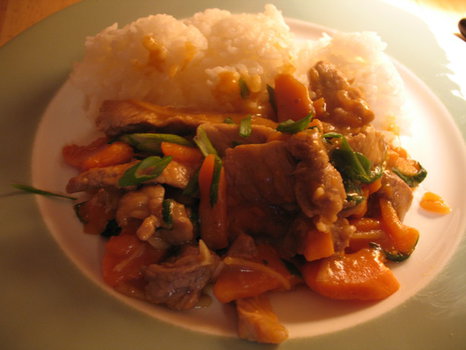 The other day I had a not-too-satisfying experiment with eggplant, making a curry with whatever spices I possessed on my shelf that might combine in a pungent taste. It made me want to try another underused vegetable, but this time get the flavor right.

Since I'm not yet tired of squashes, pumpkins, and seasonal orange things, I decided to use sweet potatoes. When I was in Taiwan, sweet potatoes were a common street food found in markets. It was boiled, with a little garlic and some salt, I assume–there could have been more to it, and it tasted as if there were, too, because I've never been able to taste a sweet potato so well, get to know its flavor quite so much. I hadn't really eaten yams until then, but since I've tried cooking it in all the traditional American ways I can think of. I thought it was about time to give it a Taiwanese spin for myself, even though I've never seen or heard of it done in a stir-fry.
I'm not going to lie, but this experiment was really pretty good. The texture of the soft sweet potatoes added some density to the cornstarch gravy once it was on the plate. The only thing I might throw in next time would be something with a little more crunch, perhaps snow peas or water chestnuts. But as it stands, it's a very tasty dish.
Sweet Potato and Pork Stir Fry
(Serves 3-4)
About 3/4 lb pork, thinly sliced
1 medium-large yam, thinly sliced
3 scallions, diagonally sliced
About 1 tbspn-sized knob of ginger, thinly sliced
1-2 tbspn soy sauce
2 tbspn corn starch
1/2 cup chicken broth
1/4 cup rice cooking wine
Few dashes white pepper
Few dashes salt
Dash sesame oil
Cooking oil
Serve with cooked white rice
Marinate the sliced pork with 1 tsp corn starch, 1-2 tsp soy sauce, and a dash of sesame oil, thoroughly combined, for about 30 minutes. Heat a large pan with oil, and lightly brown pork, adding the rice wine to the pan and stirring frequently. Remove pork from pan. Stir fry sweet potatoes and ginger until hot. Add the chicken broth, cover, and simmer on low for 5-10 minutes, depending on how thick the sweet potato slices are. Remove lid, and return pork to pan. Add a dash or two of soy sauce and salt to taste. In a small bowl, mix about 1 tbspn corn starch with 3/4 cup or so of cold water, 1 tsp soy sauce, and 1 tsp sugar. Add cornstarch mixture to the pan and stir immediately, until sauce is thickened. Add scallions at the last minute, and a small sprinkle of white pepper. Toss, and serve with rice.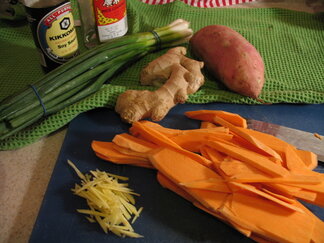 Cost Calculator:
(For 3-4 servings)
3/4 lb pork chop cutlets: $2.72
1 medium yam (at $0.89/lb): $0.60
3 scallions (at $0.79/bunch of 5): $0.47
1/2 cup chicken broth (at $1.09/can): $0.30
1/4 rice cooking wine (at $2.50/bottle): $0.10
Sesame oil, cooking oil, white pepper, soy sauce, salt: $0.15
Total: $4.34
Health Factor:



Three brownie points – very healthy, very tasty. Can't complain!