I ate out. But it was in Providence, RI, and I'm quite certain there's no way I'll ever be able to make my own array of bite-size dumplings and other tasty traditional dim sum dishes just for lunch (ever). So I made good use of a family trip to visit my brother in Providence, where he's studying for a PhD.
The restaurant we went to [Lucky Garden] was one of those no-frills affairs that doesn't look much different from a video store on the outside, had the barest essential decorating and really weird/tacky photo albums with images of food to accompany the menu, but happened to serve the freshest, tastiest, most authentic Chinese food in the city. The service was friendly, and surprisingly fast. I could taste the fresh coriander minced inside some of the dumplings, and many of the dishes were larger than I'd ever seen them before. Halfway into our late lunch, the kitchen staff sat down to eat at a table nearby, and then we realized that the cook-to-customer ratio was highly disproportioned, to our benefit.  Overall, it was a refreshing reminder of why my family insists on having dim sum practically every time we're all together.
Eating dim sum also reminds me of the qualities of eating out. There's a definite specialty element in going for dim sum–sort of like going out for sushi: you just can't replicate the experience at home. All those time-consuming intricate variations of dumplings, every single one of them a different combination of fillings and wrapping, and all the little desserts, it's just insane. One catch about this dim sum restaurant in Providence was that it was too small, or not busy enough, to bother with the push carts, which is how dim sum is usually served–attendants push different steaming carts around the floor, you see a dish in one that you want, and the attendant places it on your table. Since we didn't have that though, everything that we ordered came out freshly made to order and hot, which isn't so bad a compromise.
I'm savoring the rare moment with snapshots of some of my favorite dim sum dishes. Maybe some day I'll brave an attempt to cook one or two of them–there's a good recipe for zongzi, a bamboo leaf-wrapped sticky rice with any number of fillings which is an integral part of the Chinese Dragon Boat Festival, on www.eatingchina.com. It's similar to the lotus leaf one generally served at dim sum, but in both cases, finding the leaves might be the biggest challenge.

Lotus leaf-wrapped steamed sticky rice with meat stuffing. These ones had a lot of Chinese sausage, pork, and chicken.

Clockwise from top left: Shrimp rice dumplings, steamed tripe, Chinese broccoli, chicken feet, crispy fried squid

Front: deep-fried taro root dumplings with pork and mushroom filling; left: turnip cake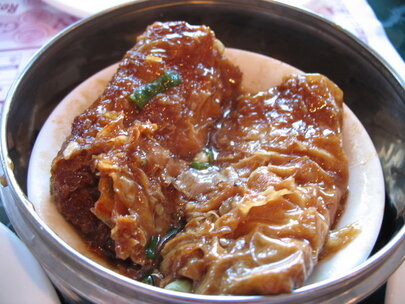 Tofu skin wrapped pork dumplings (tofu-pi)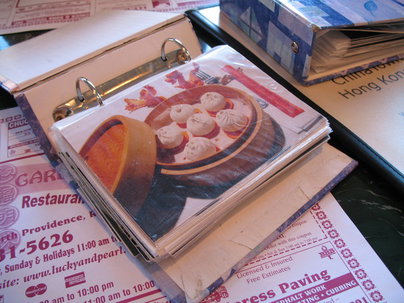 The point-and-order photo album menu