For a twist on roast chicken when I didn't feel like waiting too long, I was going to braise some chicken with wine and parsley. When I came home I found the parsley bunch I had bought about a week ago was so decrepit and limp that I had to toss it. Then I came across a nice jar of dried sage that must belong to my roommate, sniffed it, and decided to pair it with lemon instead.

Since I had so many squash rolls left, I just served it with that. I think I've been getting my share of Vitamin A by eating these squash rolls every day of the week. They've held up really nicely–after popping them in the microwave at work for about 15 seconds they come out fluffy and warm as Thanksgiving day. Paired with a simple side salad this made a modest night's meal pretty satisfying.
Chicken Braised with Lemon and Sage
(makes 3-4 servings)
6 chicken thighs, skinless and trimmed
1-2 tbspn olive oil
1 tspn sage
1 small red onion, chopped
3-4 cloves garlic, smashed
1/2 lemon
1/4 cup sherry, or white wine
Salt, pepper
1/4 tspn cayenne pepper
Rub chicken with salt, freshly ground black pepper, and a sprinkle of cayenne pepper. Heat a tablespoon of olive oil in a large pot or dutch oven, and brown thighs on both sides. Remove from pan. Lightly saute onions for about 5 minutes. Add garlic cloves, chicken, sage, wine, and juice of half a lemon. Throw the lemon half into the pot, and let simmer partially covered about 15-20 minutes, or so, until fully cooked. Remove lemon and season with salt and pepper to taste.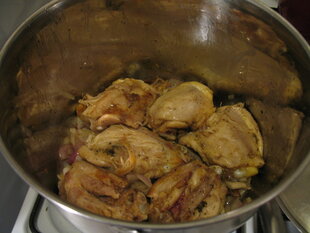 Cost Calculator
(for 3-4 servings)
6 skinless chicken thighs: $3.12
1 small red onion (at $0.99/lb): $0.14
1/2 lemon (at 4/$1): $0.13
1/4 cup sherry (at $1.89/bottle): ≈ $0.15
Garlic, sage, olive oil, salt, pepper: ≈ $0.10
Total: $3.64
Health Factor





Five brownie points – it really depends on how well trimmed the chicken is before it goes into the pot. I was pretty disappointed to find a colony of pale yellow fat on the bottom of each thigh in the package I got, and though I did some damage to it raw, I might recommend draining the pan of grease after browning it next time. Or you could substitute with skinless chicken breasts.