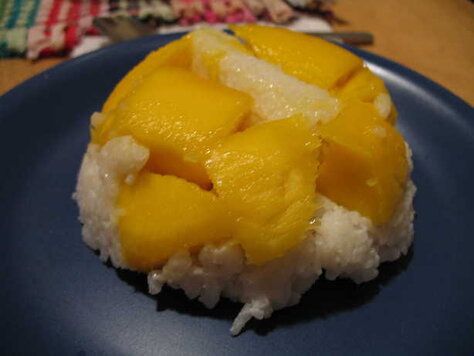 Not only do I not know how to make desserts, but tonight I'm faced with the task of making dessert for a vegan friend of mine, who's having me over for dinner with her boyfriend. I did some brief scouring of vegan dessert recipes online and decided pretty early on that instead of all that substituting eggs and milk business, I was going to make something involving coconut milk, and probably Thai. I'd originally thought of Chinese dim sum coconut pudding, but I couldn't find a recipe for it without gelatin, and we all know that gelatin has horses in it.
I also accidentally bought some kind of high-grade Japanese sticky rice the last time I was at the Asian market. I was looking for plain rice and that was the smallest package I could find (the other ones resembling heavy pillowcases). I should have known something was amiss when the register showed a price of $3.99, but no matter. I kind of enjoy this rice with everything now.
Here's my adaptation of the recipe I went with, Khao Neeo Mamuang, or Sticky Rice with Mango. It's ridiculously simple and fresh–the hardest thing about it was carving the mango.
Thai Sticky Coconut Rice with Mango
(makes 5-6 servings)
1 1/4 cups dry sticky rice, soaked for an hour in water and drained
1 cup water
1 can coconut milk (unsweetened)
1/2 cup sugar
1 tspn salt
1 large ripe mango
After rice has been soaked and drained, put in a saucepan with 1 cup of water, coconut milk, sugar, and salt and bring to a boil. Simmer for 8-10 until most of the liquid has absorbed. Transfer rice to a steamer and steam for about 15-20 minutes. Transfer rice into dessert bowls or saucers to mold and cover well until serving.
I remember having this dessert at a restaurant once where the rice was served warm, with cold fresh sliced mango served alongside it. This was logistically awkward since I was bringing it to someone's apartment, so I ended up molding the dessert into individual plastic bowls with equal amounts of chopped mango at the bottom of the bowls, and the rice piled and pressed on top of it. I just had to turn the bowl upside down onto a dessert plate to serve it.
Cost Calculator:
(for 5-6 servings)
1 1/4 cups sticky rice (at $3.99/2 lb): ≈ $0.27
1 can coconut milk: $1.39
1 mango: $0.99
Sugar, salt: ≈ $0.05

Total: $2.70
Gosh, that's awful, my friends just saw how much I spent on them for dessert…I better bring them some really nice wine to make up for it.
Health Factor:



3 brownie points – after tasting this dessert, you'll want to demand who it was that doused the Western Hemisphere of desserts in a blinding torrent of sugar. The flavor here is coconutty, before it is sweet; sticky, but not from syrups but the rice; and the mango adds tartness and freshness. A little fatty from the coconut milk, but hey, vegans need all they can get.