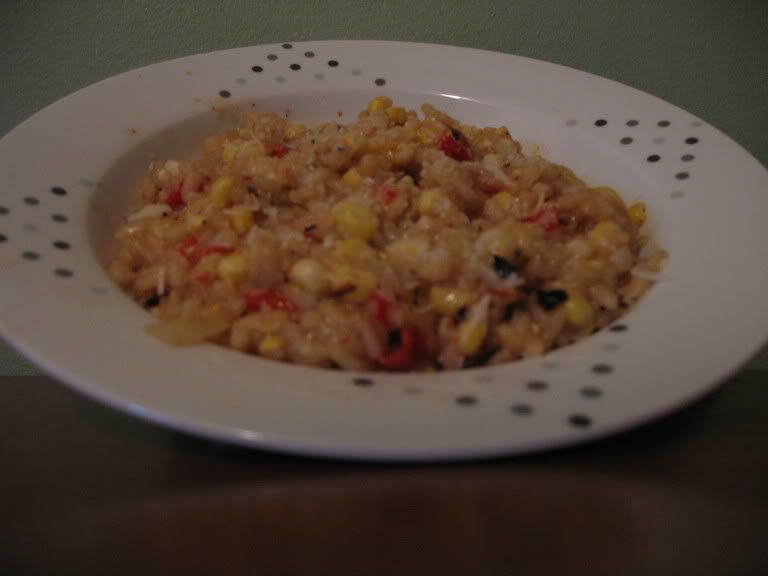 Fresh corn on the cob that squirts you in the face when you snap it in half is just what I was in the mood for when I went to the Fairway Market in Red Hook this weekend. Unfortunately, the two ears I'd gotten with the thought of making corn chowder stayed in my fridge for two days. By Monday it was pretty clear that I wasn't going to make a hot soup in August, as much as I could see myself shaving those kernels right off a newly shucked cob into a steaming pot. When I finally dug into the ears that evening, though, they were still crisp and fresh as white snow.

These things only cost me I guess fifty cents together, as I'd gotten them from one of the produce crates outside Fairway's massive interior that had a sign up for some even number of ears going for $2. The Fairway, for anyone who hasn't been, is a truly unique gourmet shopping experience. I usually ride my bike out there and end up chugging my way back to Park Slope under the weight of all the things I couldn't help but buy. The sheer selection in the vast, waterfront warehouse is enough to ponder over for years, so I'm sure I'll be pondering and blogging it more in many posts to come.
Thinking of the chowder, I'd also grabbed a ripe, red cubano pepper that was also a bargain at ninety-nine cents a pound. The pepper was fragrant and melted like, well, a roasted red pepper after blistering in a 400-degree oven for fifteen minutes. But a chowder it was not to be. Using some of the things I'd found around my kitchen (i.e. the last standing scallion shoot from the bunch), I came up with this crisp, smoky risotto, one of my favorite foods of all time. The key was not to cook the corn so long so that the kernels were crispy and juicy beside the oozy risotto.
Corn and Roasted Red Pepper Risotto
½ cup chopped yellow onion
1 shallot clove, chopped
1 ½ cup Arborio rice (risotto)
Fresh cut kernels from 2 ears of corn (about 1 ½ cups)
1 tbpsn olive oil
About 2 cans chicken or vegetable stock
1 scallion, chopped
2-3 minced garlic cloves
1 or 2 red peppers, halved and roasted sliced side-down at 400 degrees until skin is blistered and slightly burnt in spots, and chopped
Juice of half a lemon
½ cup white wine
Fresh chopped parsley
Grated pecorino
Salt, pepper, to taste
Heat the olive oil and sweat the onions and shallots under medium heat until just beginning to turn transparent. Add the garlic, and risotto and stir until the rice has an even coat of oil. With a spatula, begin stirring and adding ladlesful of warmed chicken stock, stirring until each spoonful has been absorbed. When the risotto is about halfway cooked, add the wine, corn, scallion, peppers, and lemon juice. Continue cooking to preferred tenderness, and once finished, stir in parsley, cheese, and salt and pepper to taste.