What doesn't taste good in a dumpling? Good question. Another: Is there any festive occasion whose theme can't be dumpli-fied? I say there is definitely not. So when Super Bowl LII weekend was approaching, and I realized that one of the teams playing was the Philadelphia Eagles, I decided to make dumplings with a filling a la the city's signature hoagie. Cheesesteak Dumplings aren't that different from Cheeseburger Dumplings, after all.

Sure, I was warned by true Philly folks that the "cheesesteak" is actually a tourist trap, and the "real" hometown sandwich of pride has roast pork, provolone and broccoli rabe. Well, I tried to find broccoli rabe last weekend, to no avail. So a beefy cheesesteak dumpling it was, as non-authentic as that may be. (We're making dumplings, not hoagies, after all.) This was not the first Super Bowl-themed dumpling creation, nor the most idiosyncratic. Previous years, my friends and I enjoyed the Buffalo Chicken Dumplings and Pepperoni Pizza Dumplings—and the Cheesesteak Dumpling, in my opinion, fits well into this oeuvre. Let's call it the Hot Pocket-esque Potsticker family.
Whenever possible, you should opt for raw, fresh ingredients for a dumpling filling. This is because it'll steam inside the dumpling skin, and you want those juices that are produced to dribble down your chin. Juiciness comes from both fresh meat as well as fresh veggies. So rather than griddle-searing the beef or the peppers and onions—a cheesesteak's classic accoutrements—I finely sliced or chopped them to combine in a bowl.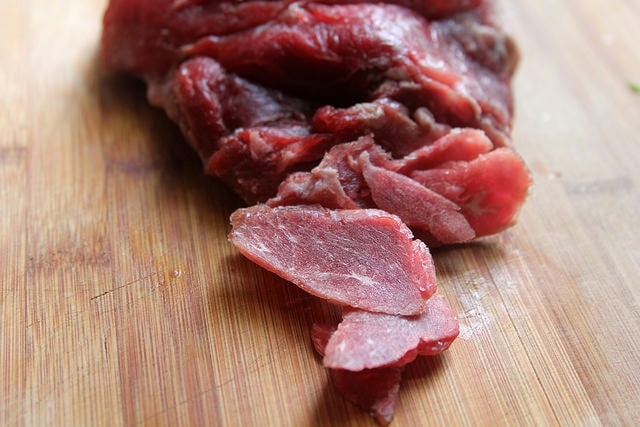 If you don't have an industrial-grade meat slicer at home, just slice some half-frozen steak as thinly as you can. This is a tip I learned from recipes for making cheesesteak—just cheesesteak—and the bonus about then making dumplings instead of a sandwich with the results is that you don't have to worry about mangled-looking sort-of slices and bits and scraps in the end. Because it'll all get stuffed inside a dumpling into a neat little bunch anyway. So hack away at a half-frozen hunk of beef, of any cut, really. Philly cheesesteak is not exactly high-faulitin food, and finely slicing beef is a good way to make tough and cheap cuts more palatable anyway.
To this raw ensemble of sliced steak, chopped green pepper and onion, I added minimal seasonings. Some salt and pepper, as well as a dollop of mustard and a few dabs of Worcestershire sauce. Then we come to the cheese.
Purists would insist upon provolone, the true Italian-American forbear to the next options. But American cheese and even Cheez Whiz have since become classic for Philly cheesesteak-making, and I cannot deny tradition in any whichway, or time and place. So I bought deli slices of both provolone and American cheese. Sorry, I did not find Cheez Whiz in my neighborhood either—and I argue that leaving it out is for the best, if only because when folding a dumpling, a solid product is easier to work with than liquid cheese.
In the end, some dumplings got provolone, some got American, some got a delicious combo of them both. It was all done in a carefree weekend afternoon's work, and I doubt anyone will care which kind they bite into at the Super Bowl party. Having an element of suspense is always nice.
What I did not expect was the surprise win of the team we were honoring with these dumplings. I'm all for rooting for the underdog, but if I could have predicted the Philadelphia Eagles would upset the Patriots, I would have gambled with more than dumplings last night. Perhaps it was the dumplings themselves that helped make magic happen, as ever-supportive friends theorized at the party. All I know is that game night or not, this combo is a winner.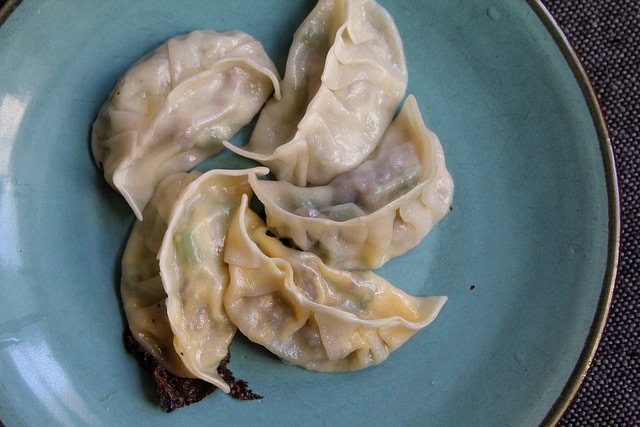 Next up: Gumbo dumplings for Mardi Gras?
Philly Cheesesteak Dumplings
(makes about 35-40)
1 lb raw beef steak, preferably short rib (alternately, sirloin, skirt or chuck)
1 green pepper, finely chopped
½ large or 1 small-medium onion, finely chopped
1 teaspoon mustard
½ teaspoon Worcestershire sauce
½ teaspoons salt and freshly ground black pepper
½ lb sliced provolone or American cheese
1 package round, white dumpling wrappers (about 35-40)
2-3 tablespoons vegetable oil
Freeze the steak for 30-45 minutes, or until it's about half-frozen and easy to slice thinly. Slice it very thinly along the grain and place into a bowl. Add the chopped pepper, onion, mustard, Worcestershire sauce, salt and pepper and stir well to combine. Break the cheese into about ½ a slice each.
To assemble the dumplings, place a spoonful of the meat and chopped veggie mixture onto the center of a dumpling wrapper. Place a small wad of sliced cheese on top. Dip your finger into a small bowl of water and trace the edge of the wrapper. Fold the wrapper in half and make a pinch at the top; next, bring a piece of the edge about half an inch to the right of the pinch over to the pinch. (This will cause the wrapper to fold diagonally on the right hand side of the dumpling.) Bring a piece of the edge half an inch to the left over to the pinch next. Pinch the pieces you brought to the center shut and continue to seal the edges to the left and right until the dumpling is fully sealed. From an aerial view, it should be shaped like a crescent.
To pan-fry the dumplings, heat one tablespoon of the oil in a non-stick skillet that comes with a lid over medium-high heat. Arrange the dumplings in a circle around the edge of the pan. Fill the center with as many dumplings as will fit – do not squash them against one another too much (you will probably need to cook in 2-3 batches, depending on the size of your pan). Let cook uncovered 1-2 minutes, or until the bottoms of the dumplings are just beginning to lightly brown. Add about ½ cup of water to the pan and cover the pan immediately.
Let cook covered for about 4-5 minutes, or until the wrappers appear transparent rather than whitish at the edges. Uncover the pan and ensure that all the liquid has evaporated. Carefully loosen the potstickers from the pan with a spatula. To make a fancy plating, place a plate on top of the dumplings and invert the pan, to serve the dumplings crispy side-up. Otherwise, just transfer the dumplings to a serving plate with a spatula. Serve with the celery sticks and blue cheese dressing for dipping.
Cost Calculator
(for about 35 dumplings)
1 lb chuck steak: $8.00
1 green pepper: $1.00
½ onion: $0.25
1 teaspoon mustard, ½ teaspoon Worcestershire sauce, salt, pepper: $0.25
½ lb sliced provolone: $4.00
1 package dumpling wrappers: $2.00
Vegetable oil: $0.25
Total: $15.75
Health Factor










Eight brownie points: Not much redemption here. This is straight-up Super Bowl food, in all its heart-clogging glory. Atone for it the next day.
Green Factor





Three maple leaves: Also not great. Any red meat-based meal will give you a heavy carbon footprint. But consider this a good use for scraps of leftover steak or cheap, unwanted cuts, since it'll get all mushed up inside the dumplings.