I remember when eggplant, like portobello mushrooms, was more or less encountered as a substitution for meat. This often occurs in dishes like eggplant parm, deep-fried so as to give it more texture, or when smothered in sauces, like a thick curry, obscuring the quivering, greyish-purple stuff that it is. But I think eggplant is great when prepared with some meat, too, as its spongey flesh absorbs flavors readily, making it easy to use less of the actual meat in question. And it's a good way of enjoying eggplant—seeing, tasting and feeling it, minimally futzed with—for what it it's worth, especially while we have it in season locally.

When I got three of these long, Asian eggplants from my last Local Roots CSA batch, I knew a stir-fry was in order. We grill eggplant a lot in the summer, but if you're looking for another quick way of cooking it, a stir-fry will let you avoid cranking on the oven, too. There is something great about a simple stir-fry of chicken and eggplant—it's one of the few dishes I could enjoy from pretty much any Americanized Chinese take-out menu, anytime. A good sauce is key, and you can make a tasty one for this at home to heap over a bowl of rice.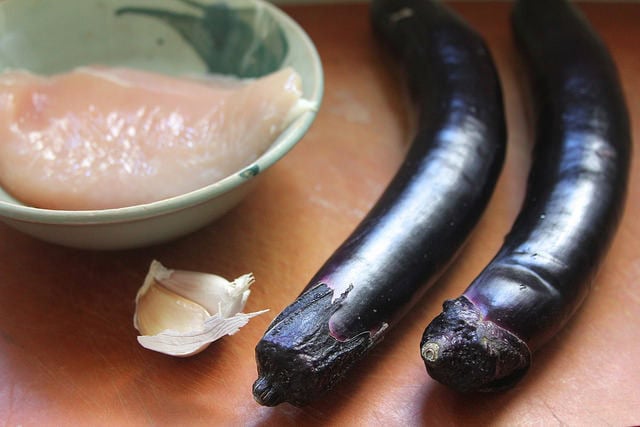 Finger-shaped Asian eggplant varieties are best for stir-frying, because their higher skin-to-flesh ratio will help the chunks stay intact as you toss them about in a pan. Plus, more skin gives you more color (rather than greyish mush) and more vitamins that are contained in the skins in your diet.
I like to dowel-cut the eggplant, which is essentially holding from the top and turning the eggplant a slight rotation after each hunk you slice off the tip diagonally. (This helps make for more intact, meaty pieces that will cook and absorb the sauce pretty uniformly.)
Perhaps just as important is how you cut your meat. Cut along the grain of it, and it'll be more tough and chewy. But against the grain, and you'll have tender slices. (You know, like how you slice brisket, or flank steak.) If using a boneless chicken breast, this usually means slicing along its length, but make turns now and then to adjust to where the grain is going. And be sure marinate the sliced chicken right away, at least while you prepare the rest of your ingredients, so that it'll be even more flavorful and better in texture.
If you like a garlicky, savory sauce with a bit of heat, just use a jar of Chinese chili black bean sauce, or doubanjiang, and some cornstarch and water to thicken it. This sauce is based on fermented black beans (doushi) which packs an umami punch, and it's often tinged with chilis making it deep-red in color. You can find "black bean garlic sauce" without the chilis in most Asian aisles at the grocery; and you may find versions of doubanjiang where some black beans are left whole and visible, whereas with others they're mostly pounded into a paste. (The Japanese version of it is called tobanjiang.) It's a great condiment to keep on hand.
But if you don't have a jar of this sauce, have no fear. Just mix up a little soy sauce and a splash of whatever chili sauce you do have (sambal olek? Sriracha? Fine!) in your cornstarch slurry and add more to taste if you like.
Because it's so quick to cook, you'll want to have all your ingredients for your stir-fry lined up and ready to go beside the stove. It's all over in a few minutes. And now, once you've had the fun of stir-frying eggplant with chicken, be assured you can do it with just about any seasonal vegetable again. Try zucchini (just don't add water and cook for less time to keep it crisp-tender), or broccoli, or a whole medley of stuff—with or without meat, like with tofu.
Like the proverb goes, order a stir-fry from a Chinese take-out place, feed yourself for a day. But learn to make a stir-fry and you'll be fed for life.
Chicken and Eggplant Stir-Fry with Spicy Black Bean Sauce
(makes 3-4 servings)
2 boneless chicken breasts (about 1 1/2 lbs)
1 teaspoon sesame oil
1 teaspoon soy sauce
1 teaspoon cornstarch
pinch of salt and white pepper
2 large, slender Asian eggplants
2-3 cloves garlic, minced
1 tablespoon Chinese black bean chili sauce (doubanjiang), or substitute with about a teaspoon each of soy sauce and some kind of chili sauce such as sambal olek or Sriracha
2-3 tablespoons neutral oil, such as vegetable or peanut
1 cup water
2 teaspoons cornstarch mixed with 1/2 cup of cold water
steamed rice for serving
Slice the chicken into thin pieces along its grain. Transfer to a bowl and mix with the 1 teaspoon each of sesame oil, soy sauce and cornstarch, and the pinch of salt and white pepper. Cover and chill while you prepare the rest of the ingredients (or up to a couple hours).
Holding from the stem of the eggplant over a cutting board, slice about a 1-inch piece at a diagonal cut off the tip. Turn the eggplant a quarter rotation and cut another piece of off the tip. Turn again, and cut another piece, and repeat until you reach the top of the eggplant. Repeat with remaining eggplant, and discard the stems.
Place the chicken, eggplant, garlic, black bean chili sauce, oil, and cornstarch-water slurry all within easy reach of the stove. Heat about 1 tablespoon of the oil in a wide saucepan or wok over high heat. Once it begins to sizzle and pop a bit, add about half the minced garlic and the chicken and spread around the pan. Let cook about 1 minute, stirring occasionally, to just slightly brown the chicken in parts (the chicken doesn't need to be fully cooked through) and remove from pan, transferring to a bowl.
Add another tablespoon of oil to the same pan, and add the remaining garlic and the eggplant. Stir frequently for 1-2 minutes. Add the water and chili bean sauce and bring to a boil, stirring occasionally. Let simmer until the water is almost halfway cooked off and the eggplant is nearly tender and translucent. Add the chicken to the pan and stir another minute or two until the mixture is bubbling again and the chicken and eggplant are cooked through. Taste for seasoning, adding soy sauce if desired. Once flavor is correct and the mixture is still bubbling, give the cornstarch-water slurry another stir in its bowl and pour into the pan, stirring it immediately into the liquids. Continue to stir as the mixture bubbles and thickens. Remove from pan and serve immediately.
Cost Calculator
(for 3-4 servings)
2 boneless chicken breasts (at $7/lb): $10.00
2 Asian eggplants: $2.00
2 cloves garlic: $0.20
3 teaspoons cornstarch: $0.30
1 teaspoon sesame oil: $0.20
1 teaspoon soy sauce: $0.10
2 teaspoons chili black bean sauce: $0.40
2 tablespoons oil: $0.25
Total: $13.45
Health Factor







Five brownie points: You won't get your greens here, but purples are a nice diversion. Eggplant are pretty good sources of fiber and leaving their skins on will retain a host of vitamins and minerals, too. The lean boneless chicken will provide your protein (get a whole chicken and trim them off), and it's all cooked in minimal fats with some healthy, fermented bean paste to add lots of flavor in small portions.
Green Factor







Five maple leaves: Having a few tasty sauces in your fridge or pantry will help you cook anything the season throws at you easily. The important thing to keep in mind is to swap or add in any kind of produce, like from your CSA, preferably at their peak (not getting old or sodden) so that they stay snappy and bright in a stir-fry.