Congee, like fried rice, is an essential leftovers vehicle. This soupy sister-meal can incorporate bits of whatever you have on hand—and the week after Thanksgiving is prime time for having somesuch cooked delicacies on hand indeed. No matter what your cravings were for that last Thursday in November, they're sure to be quite different now, a few days past the holiday, with leftovers to burn in the fridge still. (Especially if you're fond of collecting others' leftovers, too, like #Dukarcass.)

You don't have to hold congee somewhere near and dear in your heart to appreciate its soul-soothing comforts. I've enjoyed slurping up bowlfuls of rice laden with sparse proteins for as long as I can remember, but I imagine there's an application for grains cooked in a similar manner in just about every culture. Hence, this dish is not even a recipe, it's a suggestion; it's a solution, not a predetermination. But it's a trustworthy way to enjoy nearly anything a second time around. And if you enjoy the typical toppings of roast pork or roast duck with congee, then you can find kindred savory, gamey flavor in shreds of pre-roasted turkey, too.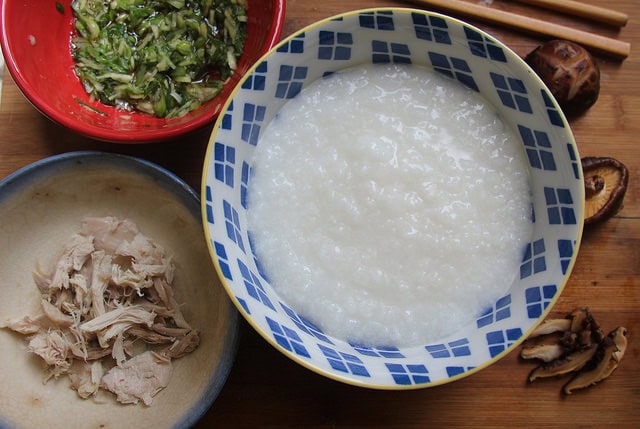 I actually spoke with a chef recently who admitted to going to Congee Village on the Bowery for Thanksgiving as an ongoing tradition with friends. For some, it's much more exciting to stray entirely from the "traditional Thanksgiving meal," or even home-cooked food, to make the holiday just that. But I think you can have it both ways—without even leaving home to boot.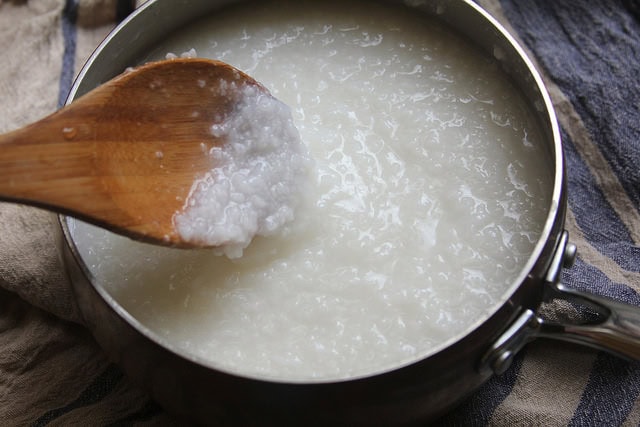 It begins with a handful of grains, rice—unless you'd rather do oats or spelt or something, which is totally fine. Leftover box of rice from a Chinese take-out night? Fine. Uncooked rice from a plastic bag? Also works. We cook this rice with plenty of liquid until a satisfying consistency is attained—and here's where the leftover turkey carcass stock-making efforts can come in handy right away. For some, that sublime consistency could be more structured like risotto, for others (my mother, for instance) it's barely suspended grains in milky water. It helps to use short-grain rice to achieve a creamier, porridge-like consistency, if that's what you're going for, though.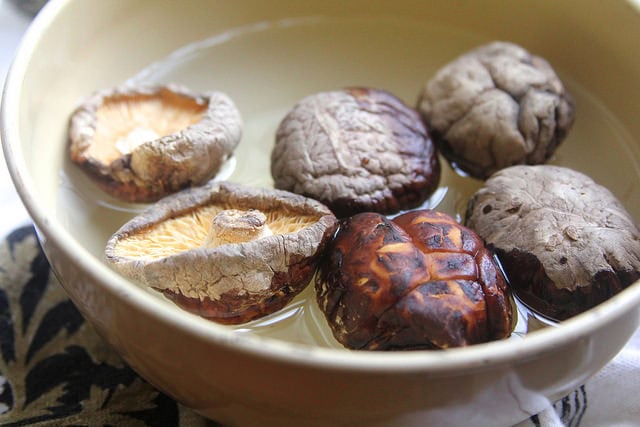 Then you'll want to flavor it. I wanted to diverge from the fall flavors of a local Thanksgiving feast (think rosemary and, oh, I guess butter) and enjoy some spicy ginger, fresh-tasting scallion and toasty sesame oil. So I made a quick batch of ginger-scallion oil, which is just chopped ginger and scallions, salted and drenched with bubbling-hot oil. I used sesame oil for said oil to infuse it with more flavor.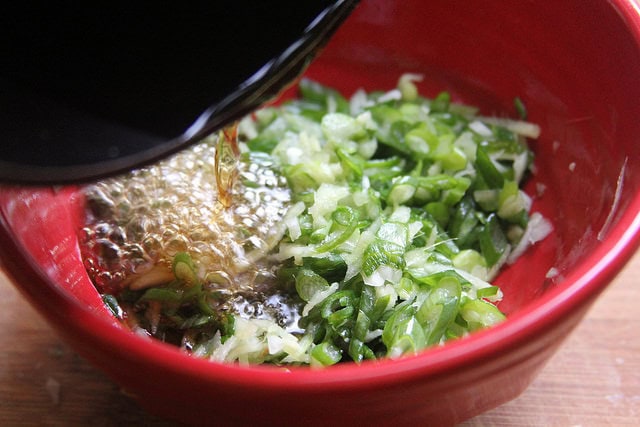 Then I slivered some soaked and reconstituted dried shiitake mushrooms, to layer atop the bowl along with the roasted turkey shreds. I think they lent an earthy flavor to the savory turkey and added some textural contrast. Use fresh shiitake (or whatever) mushrooms, sliced and lightly sauteed, if you don't have the dried Asian pantry staple instead.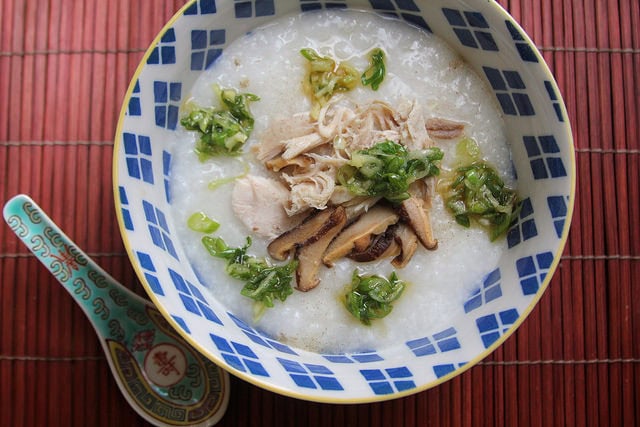 Warning: It's really easy to make too much of the rice porridge than you'll need, since the water adds so much to its mass as it cooks. So if you're not careful, you'll end up having even more leftovers to deal with—a tragicomedy ending to the post-holiday saga. So slurp heartily, and if need be, rice porridge at least freezes better than turkey.
Congee with Roast Turkey, Shiitake Mushrooms and Ginger Scallion Sauce
(makes 4-6 servings)
1/2 cup short or medium-grain white rice
About 3 cups turkey or chicken stock
About 3 cups water (or just more stock)
6 dried shiitake mushrooms
3 scallions
1-inch piece fresh ginger
4 tablespoons sesame oil
salt to taste
white pepper
leftover turkey or chicken meat, shredded (such as from a roast bird)
Combine the rice, water and stock in a large pot and heat over medium heat, covered. Let mixture just come to a boil, then stir and reduce to a simmer. Cook uncovered, stirring every 15 minutes or so, for about 40 minutes or until it's reached a porridge-like consistency. Season with salt and pepper to taste.
Meanwhile, cover the dried mushrooms with 2 cups lukewarm water. Let sit at room temperature until the mushrooms are fully reconstituted, about 20-30 minutes. Chop half the softened mushrooms finely and add them to the rice porridge. Thinly slice the other half for garnish and set aside. Strain the remaining soaking liquid and add it to the rice porridge, too. (Add more water or stock if the porridge is becoming too thick, to your desired consistency.)
To make the ginger-scallion oil: Finely chop the scallions. Peel and slice the ginger, then julienne. Combine the scallions and ginger in a bowl and sprinkle with 2-3 pinches of salt. Let sit for 5 minutes. Meanwhile, heat the sesame oil until it begins to bubble and pop a little. Pour the hot oil over the chopped ginger and scallion and stir. The sauce can be kept covered and refrigerated for up to 2 weeks.
To assemble the bowls, ladle the rice porridge into each bowl and top with the turkey and sliced mushrooms. Scatter with the ginger scallion sauce and finish with a sprinkle of white pepper. Serve immediately.
Cost Calculator
(for 4-6 servings)
½ cup rice: $0.25
3 cups homemade turkey stock (from the leftover roasted carcass): $1.00
4 dried shiitake mushrooms: $0.50
½ bunch scallions: $1.50
1-inch piece ginger: $0.25
4 tablespoons sesame oil: $0.50
1-2 cups leftover roast turkey: $3.00
salt and white pepper: $0.10
Total: $7.10
Health Factor






Four brownie points: This is an economical meal based on cheap, whole grains from the pantry. You can easily top it with sautéed green vegetables or stir in chunks of sweet potatoes to add more nutrition. As it stands, with just turkey, mushrooms and ginger scallion oil, it's a fairly lean and hearty main course that's easy on your stomach and easy on your cholesterol intake. A good break from heavy winter feasting.
Green Factor









Seven maple leaves: As a vehicle for leftovers, this dish could save you from wasting or tiring too much from whatever's in the fridge. The ginger scallion sauce is not necessarily local nor seasonal, but it'll keep in your fridge should you choose to whip up a batch and break out for flavoring more dull, winter dishes with.