Luckily for those who eat in like me, the cult of the celebrity chef is never far from reach. With an ebullience similar to when the first Michael Jordan sneakers were released, manufacturers are creating line after line of chef-approved kitchenwares. There's Joan Chen brand woks and bamboo steamers, Gordon Ramsay fine china and crystal, Emerilware, Martha Stewart everything, and recent years have seen the Batali and Ray empires expand into cookware as well (and "EVOO"). For Christmas I was given these two Mario Batali mini cast iron Dutch ovens(?) or covered casseroles(?). Something of that nature. Its manufacturer, Copco, didn't have a very specific name for it — a "2 cup Italian Essentials Pot," they called it, in line with their larger capacity "Italian Essentials" pots. But aren't they cute?

I brand these pots in the name of "Mario"
Can't you just see soufflés poofing over their rims, or hear pot pies sizzling inside? I can. Though I don't know if these dishes would require the use of their adorable lids. I began thinking of ways to make use of their entirety, especially for the first dish I would make in them. These pots came with a booklet of recipes inspired by Batali (as if we needed more hand-holding from the famous chef). However, the booklet made note that the recipes were chosen for use with these pots and two other items — both of them open casserole dishes. Consequently, only one recipe in the booklet called for the active use of a lid (or instead aluminum foil).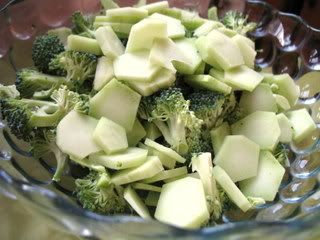 broccoli stems: nutritionally bland, flavorless, and low in calories — what's not to like?
These oven-to-table cookware pieces are quite popular these days, but they leave me wondering what more can be done with their lids other than just keeping finished dishes warm. Defaulting to the meager ingredients I had on hand, I made these individual broccoli gratins using raw, fresh broccoli baked in a Pecorino Romano beschamel sauce and topped with more cheese. In the oven they went, covered, for 20 minutes; off came the tops, and 5-10 minutes later they were done. It was probably the most efficient way to cook broccoli (and its stems — I love the stems) to crisp-tenderness while retaining all its nutritional value aside from steaming. Plus, it soaked in all the creamy flavors of the sauce instead of just steam. Love it.
the soothing, steaming, mid-winter snack
Mini Broccoli Gratins
(makes 2 side-dish servings)
1 large cluster of broccoli and its stem
1 cup whole milk
1 tablespoon flour
1 tablespoon butter
1/2 cup grated Romano cheese
1 teaspoon fresh lemon juice
1/4 teaspoon lemon zest
1/4 teaspoon salt
fresh ground black pepper to taste
sprinkle of red pepper flakes (optional)
Chop off the broccoli stem and set aside. Cut down the florets to about 1″ long pieces (or miniature "trees"). Trim the bottom end off the stem. Peel or cut the tough outer skin off of the whole stem with a knife or large vegetable peeler. Finely slice the stalk into about 1/8″ disks.
Preheat oven to 375 degrees. Melt butter in a small saucepan over medium heat. Add the butter and stir while it sizzles for 2-3 minutes. Add the milk all at once and continue stirring for another few minutes until mixture is fully blended, thick and bubbly. Add salt, pepper, red pepper, lemon juice and zest. Taste for seasoning and remove from heat. Add about half of the grated cheese and stir until it has melted thoroughly. Add the raw broccoli and stir to coat. Divide mixture evenly among two lightly greased covered miniature baking pots (or one larger covered casserole). Top with the remaining cheese and cover. Place the pots on a baking sheet and bake, covered for 20-25 minutes. Uncover and let bake for another 5-10 minutes. Remove from oven and let cool 8 minutes uncovered before serving to let the liquids settle. Or, keep covered and out of the oven for up to 30 minutes before serving (it will still be hot enough to serve).
Cost Calculator
(for 2 servings)
1 broccoli cluster (at $2/lb): $0.50
1 cup milk: $0.30
1 tablespoon butter: $0.20
1/2 cup grated Romano (at $5/lb): $1.00
1 teaspoon lemon juice and zest: $0.10
1 tablespoon flour, salt, peppers: $0.15
Total: $2.25
Health Factor




Three brownie points: The perfect compromise between hearty and cheesy and crisp and veggie-riffic. (Or a cream of broccoli soup without all the cream.) By starting out with raw broccoli, you keep all its vitamins in the dish — not in the water that you've blanched it with. In addition, there's calcium from the cupful of cream, and a little fat from the cheese and butter, but that's to be expected with anything titled a "gratin." I opted for the strong, sharp Romano cheese because it seems to pack more condensed flavor per bite than its relative, Parmesan — thus requiring less.