Many people have asked me over time how I manage to "not eat out" around the clock. Just what am I eating when it's not one of the recipes published on this blog? (Much of the time, the plain answer is noodles — spaghetti, noodle soup, fried noodles; noodles.) It's true that I don't broadcast my every cooking failure or success here, which therefore makes it hard to grasp the extent to which my cooking ceases to be fun, experimental and imaginative, and instead becomes necessary motions performed in order to live. This coming year, I plan to work harder on this. But looking back on this year — an entire year, in fact — of not eating out, what does seem clear is how much my cooking has improved.

As I look through the archives, I note that I've managed to roast a 15 lb. turkey on borrowed equipment; feed a fundraising brunch salmon cakes and crepes; forged a salad of water spinach and calamari; Easternize tea sandwiches; figure out the secret to one of my favorite dim sum desserts; interpret the key lime pie. I plunged into ice creams, baked breads with confidence. But there couldn't be a more clear comparison between my yesteryear's cooking and today's than Christmas dinner. Last year's Christmas dinner '06 was an Asian fusion nightmare: a roaster chicken stuffed with glutinous rice, a few funny-looking sides, no dessert. This year's dinner by contrast played out more like a finely tuned flavor symphony. Forgive me for tooting my own horn, but this would be the entirely my Reason for Not Eating Out #16. Here are the highlights: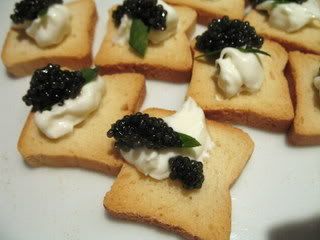 Domestic caviar, with sour cream and chives, was served as hors d'oeuvres along with cheese and fruit


That's ugly-gourmet celeriac, on the right. What would Christmas dinner be without roasted veggies?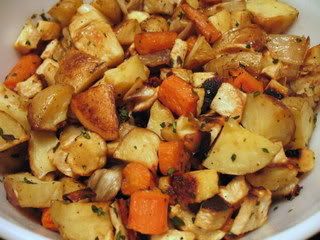 There they are roasted, with plenty of fresh thyme: Yukon gold potatoes, golden beets, parsnips, carrots and celeriac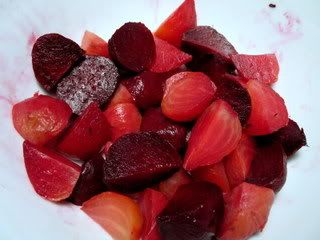 Well, not everybody likes beets, so I'm told, so I served these delightful light pink and deep purple baby ones on the side, tossed in a lemony vinaigrette

First courses first: a "White Christmas" salad with apples, dried cranberries and crumbled feta tossed in a light vinaigrette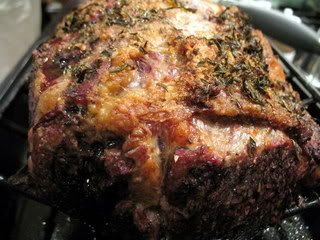 Rosemary crusted and crackling with juices, the medium-rare rib roast drips before us (bones removed pre-cooking, for easier cutting)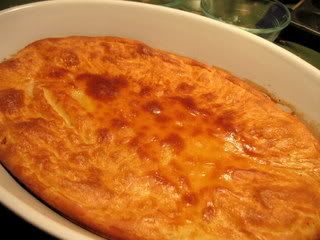 My dad insisted on baking this Yorkshire pudding with the meat drippings, which I initially vowed not to eat but of course gobbled up. It was sinfully good (hey, the holidays are for indulging, am I wrong or am I right?)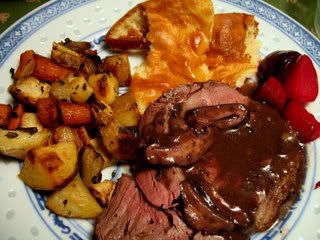 My dinner plate: How I wish you were here. The prime rib slices were topped with a shiitake mushroom-red wine reduction on each of the plates

For a decadent dessert, these individual soft-center chocolate cakes were baked up on the spot, from 70% cacao chocolate and a sprinkle of crushed peppermint candy cane

And a second dessert came by way of a classic apple pie and pecan pie (not pictured) topped with vanilla ice cream

Also not pictured: No-knead dinner rolls, of which three were eaten by the one guest of the evening who was a fussy eater about virtually everything (except for bread). She liked these rolls, though. This dinner also started with my roasted garlic and asparagus soup, a fly-by-the-seat-of-your-pants type of dish that paid off handsomely with a little experience in both soup-making and garlic-roasting. Likewise, with only a few basic skills at skills at my disposal, a basic shiitake mushroom reduction sauce was served over the beef for an easy, subtly exotic accent.
It's impossible to say whether what I've learned over the course of cooking — for dire need of survival, or for whimsy — has been greater than a structured culinary education. But I can tell you that simple, reductionist trial-and-error repetition never hurt anyone, in any field perhaps. Here's to the New Year, in the hopes that it brings more good cooking habits.