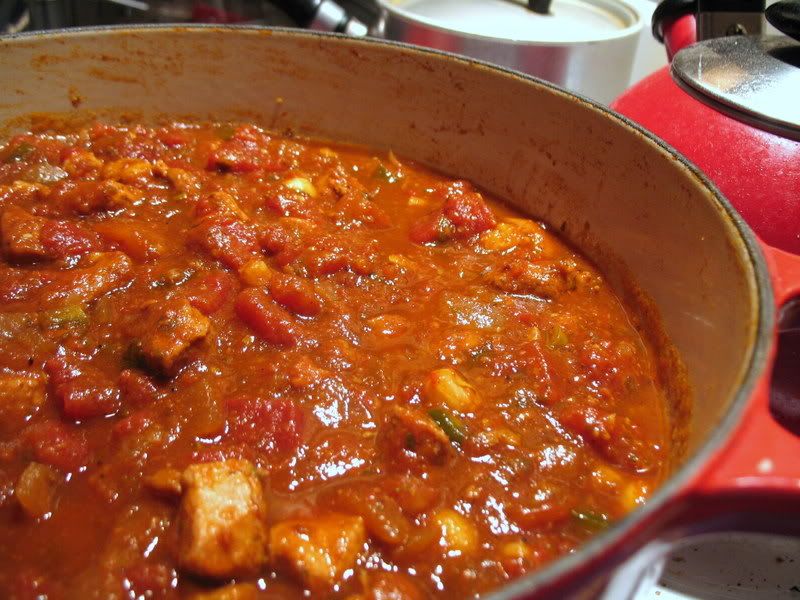 Inspired by the classic Mexican dish pozole, this chili combines dried chipotles and anchos for a deep, earthy tomato-based sauce complemented by the sweetness of pumpkin. The smokiness of the chipotles is increased here by adding ground chorizo sausages; browned at the beginning of the cooking process, they meld invisibly into the sauce, adding a bit of density and lots of flavor.When it was my turn to introduce this chili at the Manhattan Chili Takedown, I called it, "Chicken & Hominy Harmony." Judging from the blank stares from the audience, I got the feeling that people thought I was saying the word "harmony" twice with a Boston accent the first time for no reason. So here it is: Hominy. It's a thing.
peace, love and hominy
Often served in stews and soups, hominy is a traditional Mexican ingredient made by preserving whole corn kernels in lime juice and salt. The process breaks down the outer hull, revealing a soft, mealy pebble that's about the texture of a garbanzo bean. Its taste, however, is mild and similar to that of a fresh corn tortilla.
Because chili is such a winter dish, I opted for the hominy instead of out-of-season fresh corn. I also added pumpkin for both flavor and thickening, helping to create a more velvety sauce. As you can see below there are no beans in this recipe, just because I figured there was already enough going into it. Finally, I like my chilis on the chunky side, so this recipe calls for 1-inch cubes of browned chicken. Substitute ground turkey or beef if preferred.
a few chipotles (i.e. smoked, dried jalapeno) and a sweet ancho (dried poblano) give way to a reddish chile paste
Chicken, Pumpkin and Hominy Chili
Makes about 8 servings
2 28 oz. cans diced tomatoes with juice
2 cups white hominy (from a can, rinsed and drained)
3 1/2 – 4 lb boneless chicken, chopped to 1-inch pieces
about 3 dried chipotle chiles, stems trimmed and seeds removed
about 2 medium or 1 large dried ancho chile, stems trimmed and seeds removed
1 16 oz. can pure pumpkin puree
3 medium onions, diced
2 small links cured chorizo, chopped
2 cups dry white wine6 cloves garlic, minced
3 tablespoons fresh Mexican oregano (or substitute fresh regular oregano)
2 small shallots, minced
3-4 fresh jalapenos, stems and seeds removed and finely diced
2 small serrano chiles, stems removed and finely chopped
2 tablespoons tomato paste
1 tablespoon pure cane sugar (or substitute light brown sugar)
2 teaspoons cumin
1 tablespoon chili powder
1 teaspoon smoked paprika
4 tablespoons olive oil
salt and pepper
In a large bowl, toss the chicken cubes with the cumin, chili powder, smoked paprika, a teaspoon of the fresh oregano, 1 tablespoon of the olive oil, a teaspoon of salt and a few shakes of freshly ground black pepper. Cover tightly and let marinate in the refrigerator for at least 30 minutes, or up to overnight.
Soak the dried chipotle and ancho chiles in about 2 cups of boiling water. Cover and set aside for 30 minutes. Once soaked, transfer the chiles and their soaking water to a food processor. Blend for about 1 minute, until a smooth paste is formed. Set aside.
Heat 1 tablespoon of the olive oil over high heat in a large Dutch oven or heavy-bottomed pot. Once the oil it is hot, work in batches to brown the chicken slightly on both sides. The pieces should not be touched for 30 seconds after it has hit the pan. After an initial 30 seconds, stir the pieces while cooking for another minute, and remove promptly from the pan. Reserve in a bowl.
Place chopped chorizo into a food processor. Pulse several times until the sausages have broken down into a coarse grain. (If using a soft, uncooked chorizo, simply remove casings and skip the food processing step.) Heat up 1 tablespoon of the olive oil in the same pot or Dutch oven. Once oil is hot, add the chorizo and stir over medium-high heat for a minute. Add the onions and reduce heat to medium. Cook, stirring occasionally until the onions have softened slightly, about 5 minutes. Move onions to one side of the pan and add the remaining tablespoon of olive oil in the other. Once the oil is hot, add the serrano chiles and let cook for about 30 seconds. Add the tomato paste to the oil and chiles, and stir for about 1 minute. Pour the white wine into the pot and stir well to deglaze the bottom of the pan. Add both cans of tomatoes, the pumpkin puree, the dried chile puree and the chicken. Bring to a boil, stirring. Reduce heat to low, cover and let simmer for 1 hour.
Pulse the shallots, the remaining fresh oregano and the remaining garlic in a food processor until very finely chopped (or chop them finely yourself). Add this mixture along with the finely chopped jalapenos and the rinsed and drained hominy to the chili. Stir and cook another 30 minutes, partially covered if the chili still looks a little soupy. Taste for seasoning, adding some of the cane sugar to taste and salt and pepper to taste. Serve with rice.
Cost Calculator
(for 8 servings)
3.5 lb boneless chicken breasts & thighs: $13.00
2 28 oz. cans diced tomatoes: $3.38
1 can pumpkin puree: $1.50
2 small chorizo links: $2.69
2 cups dry white wine (Two-buck Chuck): $1.00
1/2 bunch fresh oregano: $0.88
4 fresh jalapenos: $0.50
2 fresh serranos: $0.25
2 tablespoons tomato paste: $0.35
3 medium onions: $1.00
2 shallots: $0.25
6 cloves garlic: $0.25
3 dried chipotle chiles: $1.00
1 ancho chile: $0.35
4 tablespoons olive oil: $0.45
cumin, chili powder, smoked paprika, salt, pepper: $0.25
Total: $17.10
Six brownie points: Chilis are a true wildcard when it comes to the health factor. Meaty, ground-beefy, traditional chilis can carry a lot of cholesterol as consequence of their main flavor component, while vegetarian bean-based chilis are known for their best-of-both protein and veggie worlds character. This one, however, straddles a relative middle ground: with plenty of tomatoes, pumpkin and fresh peppers as well as both fatty sausage and lean chicken meat, it essentially has a little of everything. Which is a good thing in my book, as long as you don't eat much more than a little.