A few weeks ago my friend Sam decided she could no longer take care of her yogurt cultures and kombucha colony. So she offered them to me. When I went to her apartment, she was bent over a pad of stationery writing down step-by-step care instructions for each group of live microorganisms, which were bundled away in tight-lidded plastic containers next to sheets of cheesecloth and other paraphernalia on her counter. After a few demonstrations of these steps, Sam packed everything into a brown shopping bag, careful so as not to let the containers tip, and handled them over to me. I felt like I two babies had plopped on my doorstep.

You see, these would-be food items require a lot more nurture than I was prepared for. I've done a lot of this and that with cooking — I've even infused and pickled in my time. But bacterial fermentation? Keeping something alive and active?… I'm sorry to say that I killed the kombucha colony in a matter of days. The charge? Neglect.
So with a sinner's heart, I immediately turned to the yogurt colony and placed it in the warmest spot in my apartment. Over the next week or so, I followed the rest of Sam's directions dutifully — by keeping the cultures covered in milk in a container with a thin cloth over it to allow them to breathe. Every morning, I would strain the milky cultures over a bowl to collect the "yogurt." Then, after a quick rinse with water, I'd refill the container with the cultures with milk, and let sit covered in a warm place for the next 24 hours. And repeat.

freshly strained yogurt is caught in a bowl, then refrigerated (in an empty yogurt container)
Over the course of the week, all those straining sessions produced enough yogurt to fill about half a 1-quart container. I had been nervous about tasting its contents until then. For one thing, this yogurt was runny. And I don't mean simply organic Ronnybrook Farms-runny. But runnier. It smelled like yogurt though, so I gave it a try. It was pungency like a punch in the face. As I was about to reach for the sugar and maybe vanilla extract, I decided to instead add a spoonful of Jell-O instant vanilla pudding I had around. Since the powder supposedly thickens milk to a pudding-like consistency, maybe it would too with this stuff? And on top of that, add some flavor. Unfortunately, after whisking and letting the mixture "set," all the instant pudding did was make the stuff turn from snowy white to light yellow, and whatever sweetness it added is not enough. Because frankly, this yogurt tastes like ass.

just call it 'runnybrook'
So this is where I am now. After all the patience and hard work, producing a funky-tasting food is not very fun. I can't even really pin down the way that it tastes — plasticky? But a little more sour and yogurty than that. I halted the daily rituals of straining and refilling and placed the cultures in a sealed container of water in the fridge — just the way they were when Sam had given to me. She thinks they'll stay alive like that for about a week. What to do? Clearly, I need to be better cultured in yogurt. Yo is me.

a spoonful of sugar won't make this go down
I know that only organic milk has touched these cultures, if that means anything. From the way things were progressing, nothing sounded off-track from what Sam described should happen. When I turn to the Internet for help, though, it seems like all the homemade yogurt methods out there call for using a cup of plain yogurt as a "starter" — not these funny little creatures living with me now. They also sound worlds different from the method I was shown, often employing incubators, thermometers and other lab-like apparatus. I feel a little bit alone here.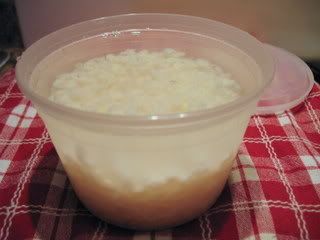 the bacterial babies

And scared. Did the cultures somehow die? Is my yogurt really a bloodbath of culture carcasses? What happens when you eat dead and inactive cultures? Oh, how I wish I were more like Alton Brown and had an answer! Oh wait… maybe he does. Darn it! He uses plain yogurt when making the stuff at home, too!
I guess you could say that I feel for all the single mothers out there. The clock is ticking for these young 'uns. As long as they're in my hands, I can only fear the worst.